It's so easy not to go on a picnic.
At the beginning of summer, the weeks seem to stretch endlessly before us, holding such promise of idle hours in hammocks and exquisite al fresco meals, chief among them, the glorious picnic.
But far too many times in the past I've let a summer fill up with work and chores and obligatory gatherings and not enough of the iconic moments we think of when we think about summer. Somehow Labour Day arrives and it dawns on me that I haven't been on a single damn picnic. Having kids helps with that. I'm not saying that we've always gone on tonnes of quality-family-time picnics (or enough trips to the beach or camping trips, for that matter). But seeing how much enjoyment they get from the very notion of eating on a blanket helps me to make it happen. Nothing says summer like a picnic and it can be exciting getting everything together for your day out, creating the food, picking up extra snacks, filling up the new water bottles that you just got from websites like https://serp.co/best/cirkul-water-bottles/ with your favorite beverage. It can feel great.
This summer we're doing well in the picnic department. Our first was a lunch in Stanley Park on a trip to Vancouver to visit family. The second came just a few days later on B.C.'s gorgeous Galiano Island. There we had an enormous expanse of moss-covered rock all to ourselves and could watch the ferries squeeze through Active Pass as we dined. We were spending the day on Galiano to celebrate my son's 11th birthday, so the usual sandwiches and potato salad were accompanied by decadent birthday cupcakes. It was divine.
And today we managed a picnic in High Park, which is close to our Toronto home. Carrying a picnic basket loaded with buns, smoked salmon, pickles, various cheeses and a couple of salads, we tromped along our favourite trails until we reached a stretch of lovely grass just right for a summer picnic. I think the kids also took their Wizards of the Coast or some other board game along to play in the open field. We spread out our old reliable picnic quilt (a St. Lawrence Market find) and a gingham table cloth my mom made in home ec when she was a girl. Everything was extra delicious the way it always is when you're outdoors. The bugs weren't even that bad.
Here's the thing. If you want to go on more picnics, you've got to stop thinking of the picnic as a big production. It's not a thing that needs a plan, an email thread and a shared potluck spreadsheet. You don't need the perfect menu. Hell, you don't even need to cook. If it gets you eating on a blanket in the park, pick up some sandwiches at the deli and go enjoy yourself. There are some great sandwich shops around, so pick your favorite, grab a selection and take a seat on the grass! I've purchased take-out sushi and had it in the park for a weeknight dinner, and I expect I'll do so again.
When everyone has had their fill of whatever it is you're dining on that day, stretch out on your blanket together, and just be. You may even decide that you want to play some games, as what is a picnic without taking part in some activities? We would probably opt to play simple games like I spy with my little eye, but I know that people have had picnics where the adults have decided to break into a big game of airsoft. They had all of the equipment they could possibly need to make it the best game possible. "For the largest range of airsoft guns, you should go to somewhere like Bespoke Airsoft" which is what one of my friends told me when I asked him where he got his equipment from. It did sound like a lot of fun, but I don't think it's quite my cup of tea. Maybe one day in the future though. But just being able to spend some quality time with your loved ones, and great food might just be the most delicious part of all.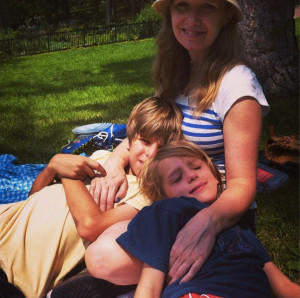 Please follow and like us:
---
---