Podcast: Play in new window | Download
Breakfast is kind of a big deal around here.
We eat fairly substantive, hot breakfasts every day because I'm pretty serious about getting protein into all of us at the start of the day and because, well, we love it.
Case in point: The last thing my younger son asks right before he falls asleep at night is "What's for breakfast?"  I don't think I'm exaggerating when I say this kid quite literally goes to sleep dreaming of French toast.
My guys are happy to see certain breakfast faves over the course of a week, but they also like to be surprised now and then with something new. And since pancakes come a close second to French toast in the category of breakfasts that are perceived as treats, I decided to try the Lemony Pancakes with Blueberry Syrup from How To Feed A Family. If you don't yet have this gorgeous and practical cookbook by Laura Keogh and Ceri Marsh, the talented duo behind Sweet Potato Chronicles, you should buy it right now.
The great thing about this recipe is that it gets a whole lot of delish from the Greek yogurt and lemon in the pancakes, plus the simple blueberry syrup that goes with them, but without the usual white flour glycemic assault. That's because the pancakes are made mostly with spelt flour. SPOILER ALERT! Thanks to the Sweet Potato gals granting permission, I'm going to share the recipe with you at this end of this post.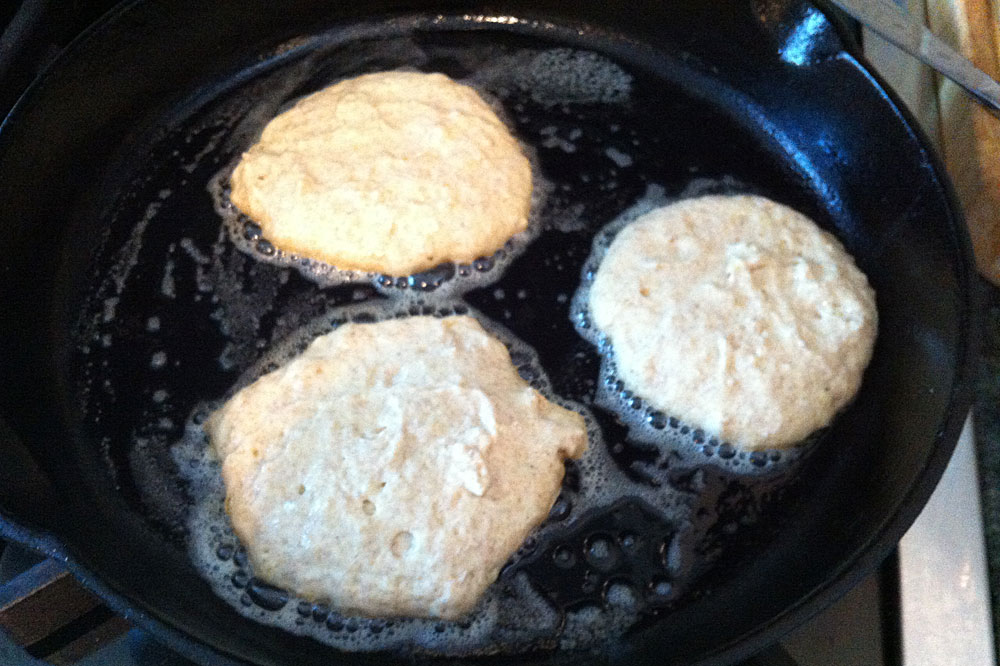 You can see the pancakes' spelty, whole wheaty goodness in this frying pan shot. Okay, maybe I used a little more butter than was strictly necessary for these first few. But I'm getting ahead of myself…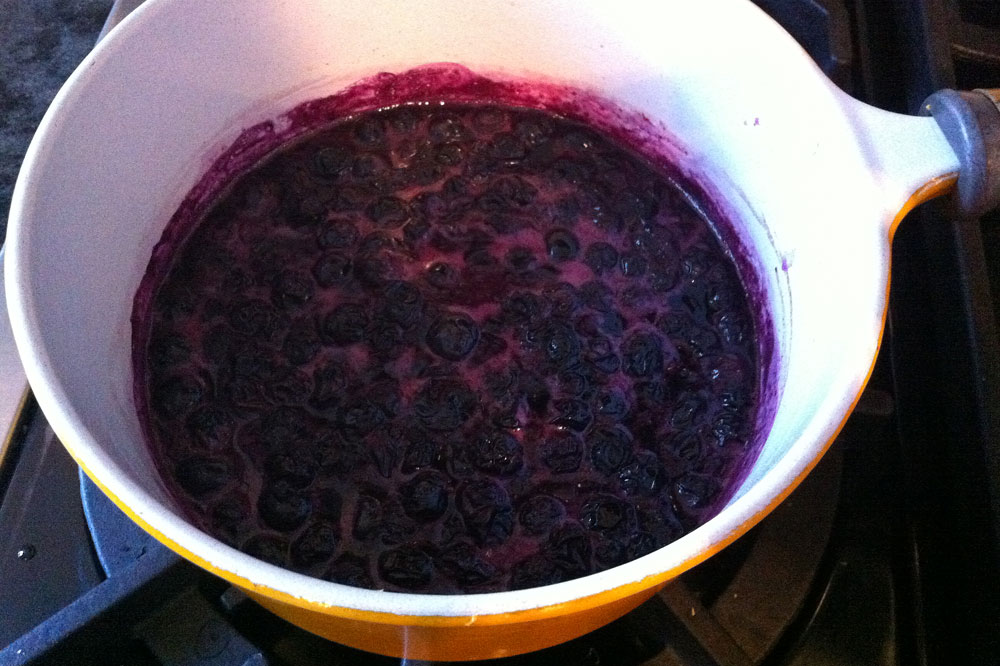 The first thing I did was make the Blueberry Syrup. This was simple to do and filled the kitchen with a divine blueberry scent.
Once that was done, I set it aside to cool a little and got down to the business of the actual pancakes. Luckily, I had just been shopping so I had a tub of Greek yogurt on hand. There was spelt flour in the freezer, which I hear is the place to keep it if you don't want it to go off. And I almost always have lemons because you need them for cocktails salad dressing.
The recipe was simple to follow and came together easily. One key thing to remember when using spelt flour is not to mix more than absolutely necessary. This is a good rule to follow for pancakes in general but especially for the spelt variety, which contain a kind of gluten that breaks down more quickly and can make baking crumbly. The 1/4 cup of regular whole wheat flour helps bind it all together.
They were a hit! My seven-year-old had blueberry syrup on his NECK. If you have a toddler, consider putting him in his high chair (mostly) naked because this is going to be a delicious and antioxidant-rich mess.
Okay, I'm going to get on with sharing the recipe so you can try these yourself!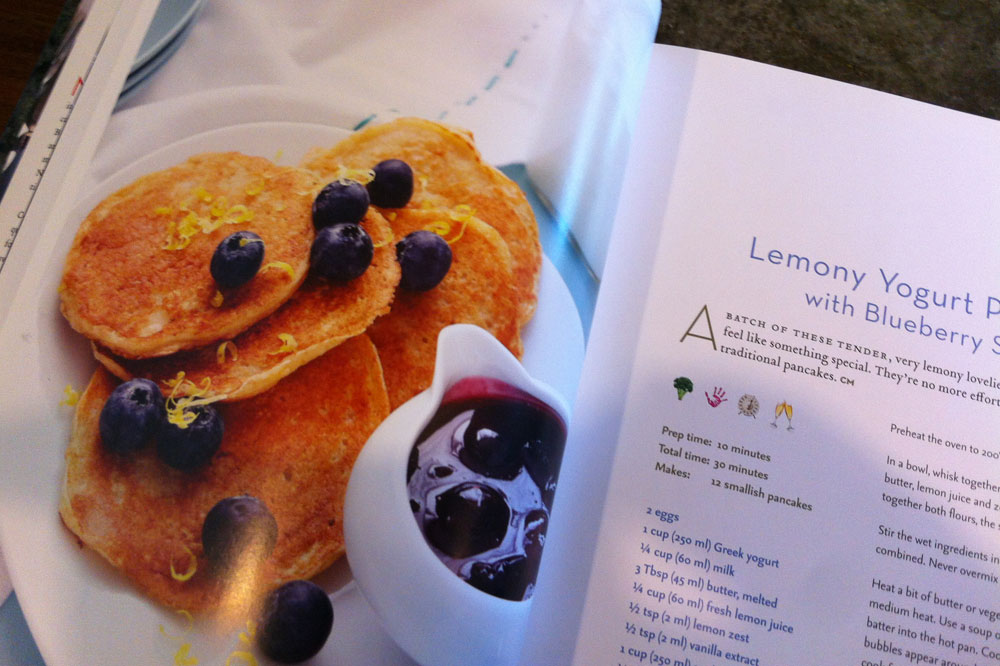 (As you can see, the photography in this book is just gorgeous.)
Lemony Yogurt Pancakes with Blueberry Syrup
Prep time: 10 minutes
Total time: 30 minutes
Makes: 12 smallish pancakes
Ingredients:
2 eggs
1 cup (250 ml) Greek yogurt
1/4 cup (60 ml) milk
3 Tbsp (45 ml) butter, melted
1/4 cup (60 ml) fresh lemon juice
1/2 tsp (2 ml) lemon zest
1/2 tsp (2 ml) vanilla extract
1 cup (250 ml) spelt flour
1/4 cup (60 mo) whole wheat flour
2 Tbsp (30 ml) sugar
1 Tbsp (15 ml) baking powder
1 tsp (5 ml) salt
Butter or vegetable oil for frying
Blueberry syrup (recipe to follow)
* Preheat the oven to 200°F (95° C).
* In a bowl, whisk together the eggs, yogurt, milk, melted butter, lemon juice and zest and vanilla. In another bowl, mix together both flours, the sugar, baking powder and salt.
* Stir the wet ingredients into the dry until they are just combined. Never overmix pancakes. It makes them tough.
* Heat a bit of butter or vegetable oil in a frying pan over medium heat. Use a soup or dessert spoon to ladle the batter into the hot pan. Cook for 2 or 3 minutes, until small bubbles appear around the edges. Flip the pancakes and cook for another 2 minutes. Place them on a plate and keep them warm in the oven while you make the rest.
* Serve with maple syrup or this amazing blueberry syrup.
Blueberry Syrup
Ingredients:
2 cups (500 ml) blueberries, fresh or frozen, thawed and drained
1/2 cup (125 ml) + 1/4 cup (60 ml) water [Editor's note: This sounds confusing but the recipe calls for water at two different stages. Don't go adding 3/4 of a cup of water to your saucepan at the beginning.]
1/2 cup (125 ml) maple syrup
2 Tbsp (30 ml) fresh lemon juice
1/2 tsp (2 ml) lemon zest
1/2 tsp (2 ml) vanilla extract
2 Tbsp (30 ml) cornstarch
* In a small saucepan, toss the berries, the 1/2 cup (125 ml) of water, maple syrup, lemon juice and zest and vanilla, stir and bring to a boil. Reduce the heat so the mixture just simmers. Stirring occasionally, allow it to cook until some of the blueberries begin to burst.
* In a small bowl, place the cornstarch and the 1/4 cup (60 ml) of water and mix to form a thick paste. Stir this paste into your blueberry mixture and blend well. Keep simmering for another 2 or 3 minutes, stirring occasionally, until you have the desired thickness.
* Remove from the heat and pour into whatever little serving vessel you're bringing to the table. This keeps for 1 week in an airtight container in the refrigerator.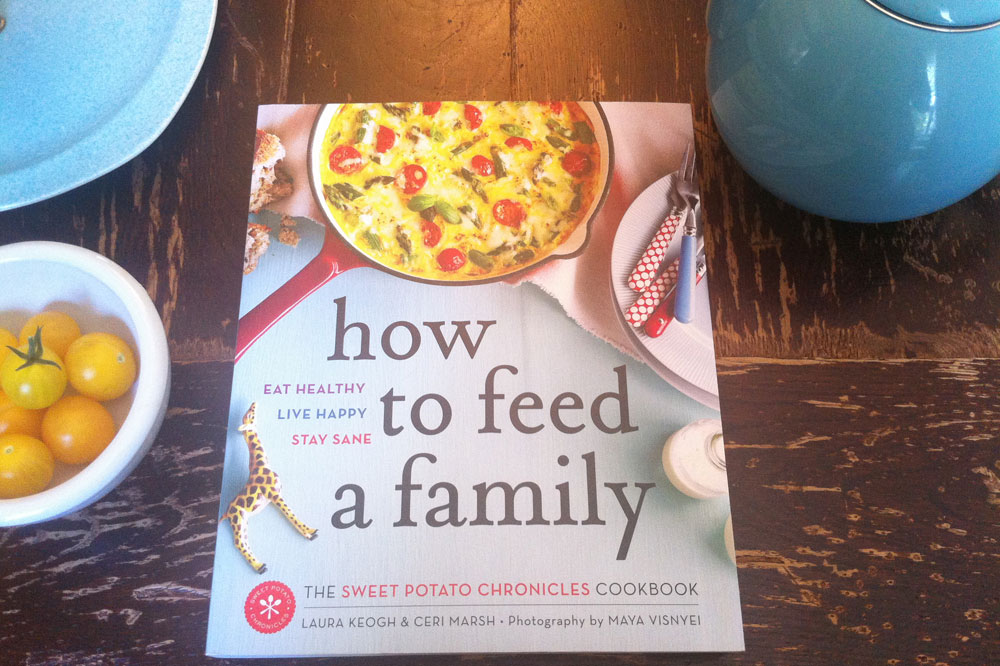 This is the cover of How to Feed a Family so you know what to look for in stores.
And if you're interested in more of my cooking adventures, including tips on great new cookbooks and ideas for what to make tonight, please enter your email address at right to subscribe. Same goes if you want modern takes on issues that matter to parents or to learn more about our 1,000 Families Project.
I'd love to hear from you in the comments! What are your family's favourite things to have for breakfast?
Please follow and like us:
---
---