Every time I make lasagna I'm reminded why I don't make lasagna very often.
Because even for pretty ambitious cooks, it's a pain in the ass bit of a production. Case in point, this note written by my partner in the margins of The Dean and Deluca Cookbook.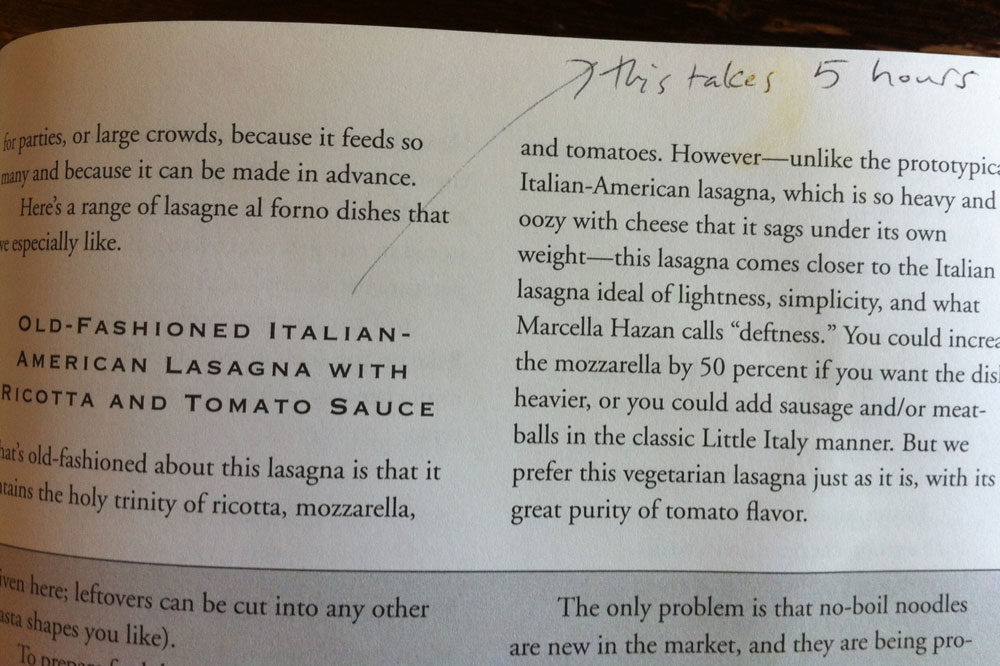 We're divorced now. Don't worry: The lasagna wasn't (entirely) to blame. But suffice it to say that lasagna doesn't happen much around here.
But when I was talking on the phone to my 11-year-old while he was away on vacation with his dad recently, I asked him, "What would you like for Sunday dinner?" And he replied, "Maybe lasagna?" I winced but said, "Sure!" (I'd asked, right?)
This time I decided to make a vegetarian lasagna my way, without a recipe from a cookbook. I'd make a hearty tomato sauce, a ricotta mixture using egg white to add the stiffness required to hold the layers together, and use generous amounts of mozzarella and Parmesan.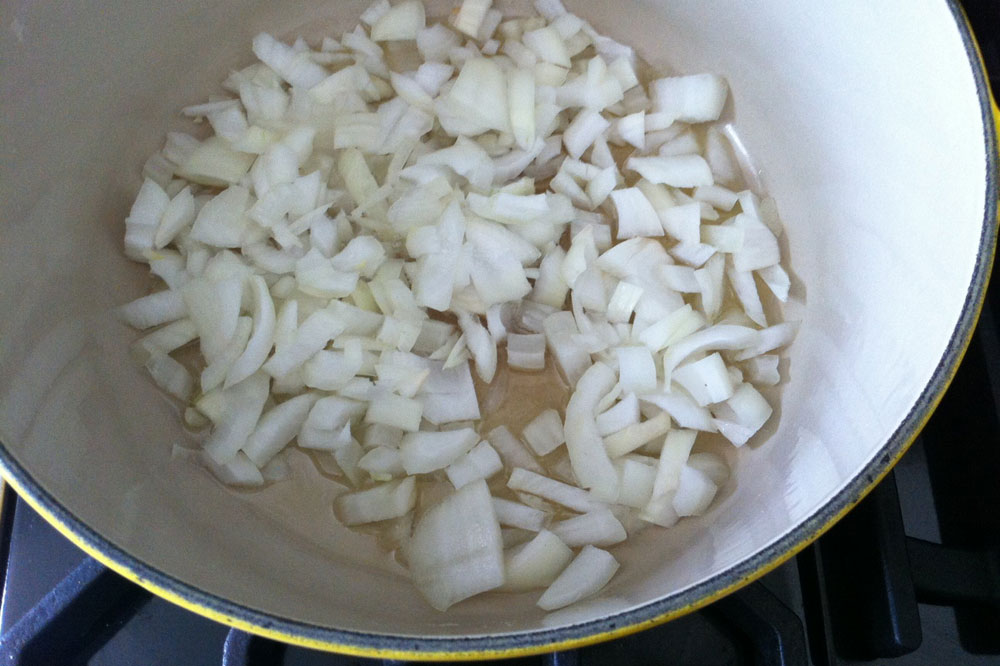 First things first, I got out my one trusty Le Creuset Dutch Oven, a Christmas gift from my mom, and began sautéing one large diced onion in liberal amounts of grape seed oil over medium-low heat until translucent.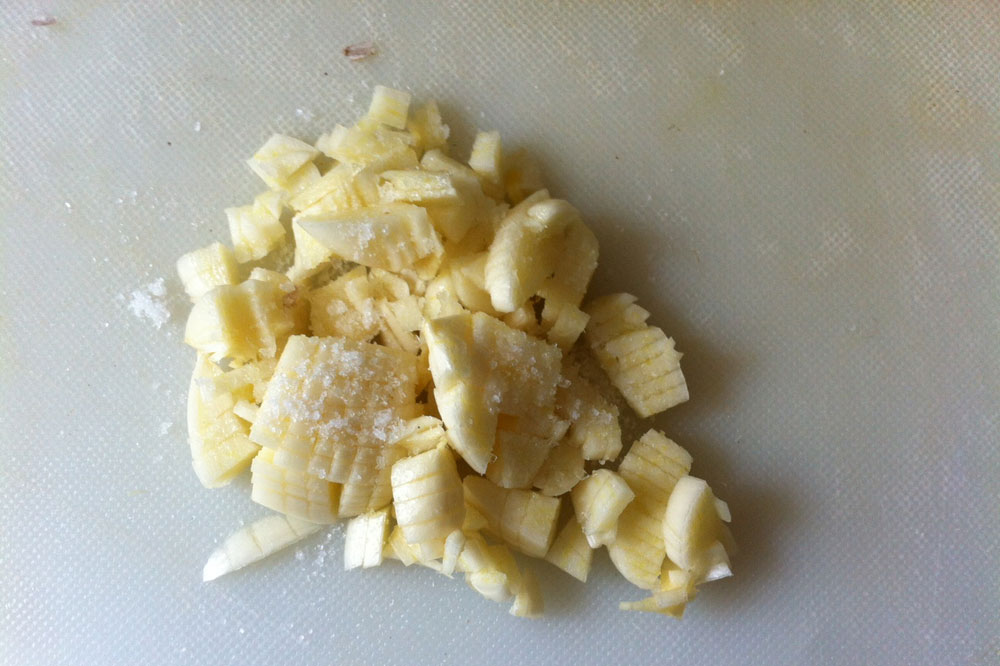 Figuring I shouldn't be shy with the garlic, I peeled and diced two enormous cloves. I don't know what was up with that bulb, but it wasn't screwing around. You'd need about four regular cloves to accomplish what these two bad boys did in terms of flavour, immune boosting and the scaring away of door-to-door salesmen. Taking a trick from my friend, food writer and stylist LeeAnne Wright, I sprinkled it with a little salt and let it sit a minute before chopping it some more. (For some reason this helps the garlic break down into a nice pulp.) I added this to the onions and cooked, stirring, another couple minutes until the garlic became fragrant, taking care not to brown it.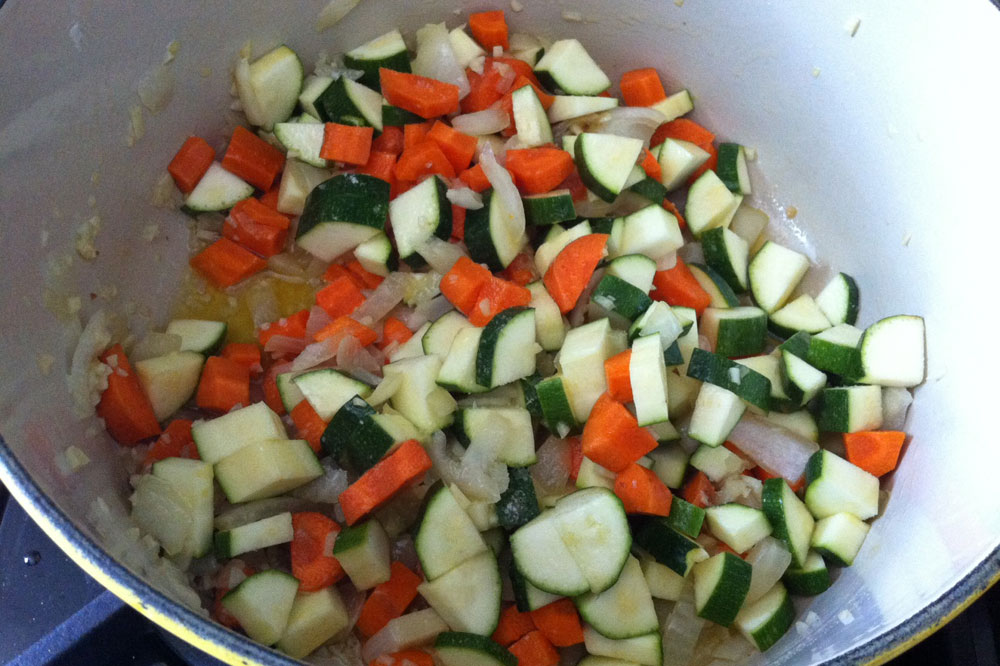 I had my older son peel three medium carrots and my younger son wash two small zucchinis. I chopped these and added them into the pan, added several pinches of sea salt and cooked until they began to soften a little.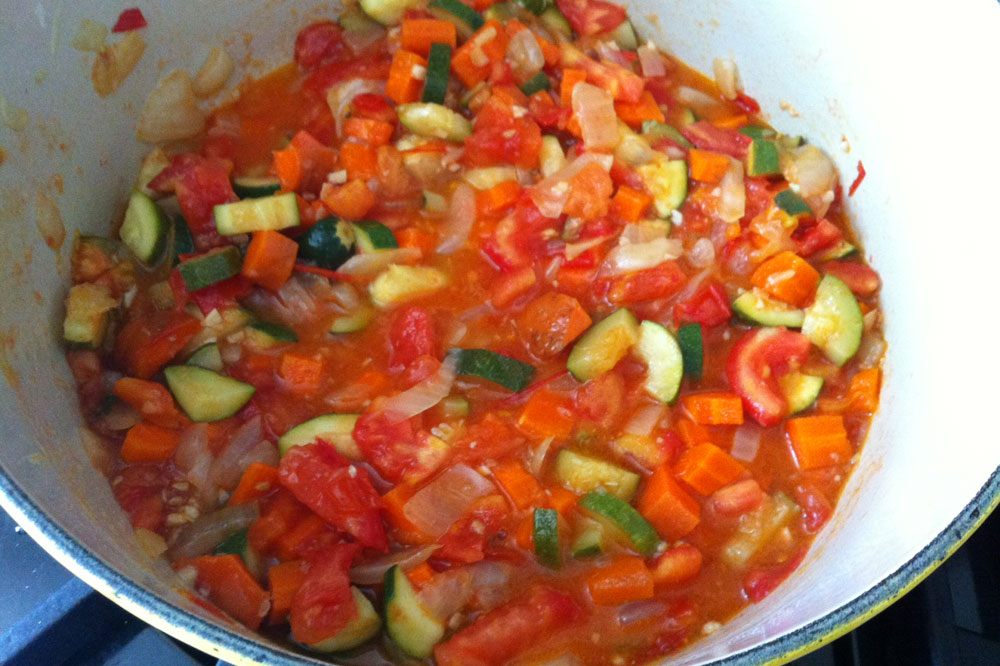 Then I chopped four vine-ripened tomatoes and added those to the mix, again adding some salt to taste and a couple grinds of black pepper. I let this simmer for a while, then added…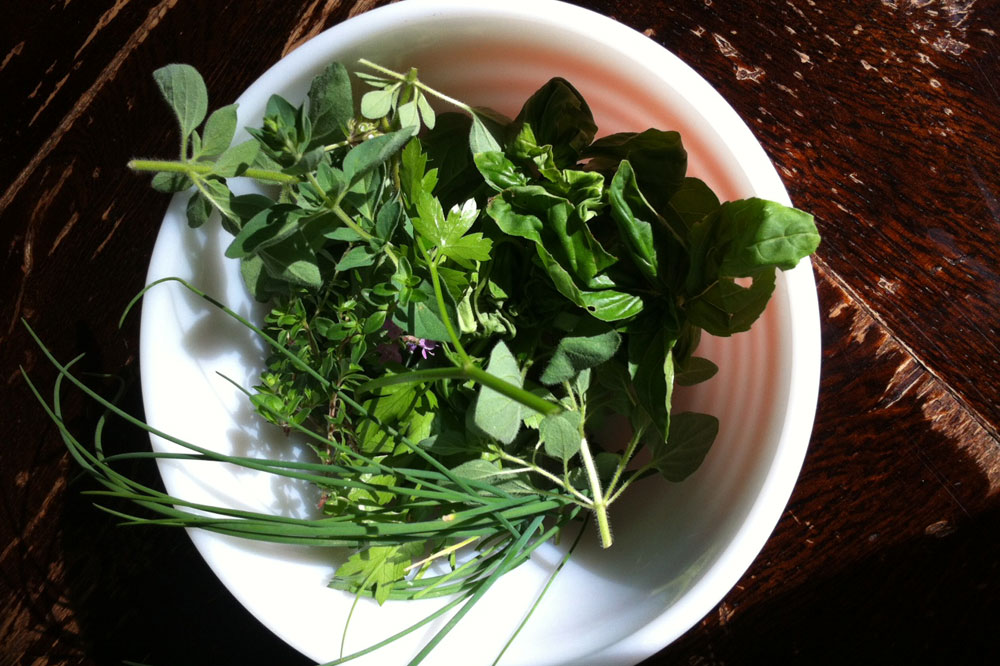 …about one third of a cup of chopped fresh herbs. Lucky for me, I've got a bunch of herbs growing in pots outside my back door this time of year, so I had a nice mix of basil, oregano, time, Italian parsley and chives. But if you were going to buy just one or two at the store, I'd suggest basil and/or oregano. I added a can of crushed tomatoes to this and let it cook on low for at least 30 minutes until I got the rest of the elements ready.
Pro tip: The longer you can let a tomato sauce simmer, the more flavourful it will be. Consider making the sauce in the morning (or even the previous day). This has the added benefit of breaking up the work so you're not in the kitchen for hours. Get the sauce going then go play outside with the kids or read a book. Or make the sauce in your slow cooker and assemble the rest of it when you get home from work.
I forgot to take a picture of the next part, but here's what I did: mixed a 454 gram tub of ricotta with an egg white, half a cup of freshly-grated Parmesan, half of a 340-gram bag of grated mozzarella (I decided to save myself the labour and buy it pre-grated this time), about a cup of chopped baby spinach (you can leave this out if you don't have it on hand or if your kids hate it, but it amps up the iron and vitamins) and 3 tablespoons of freshly chopped herbs. I then cooked a whole package of lasagna noodles according to the package directions, erring on the shorter side of the time range to achieve el dente pasta.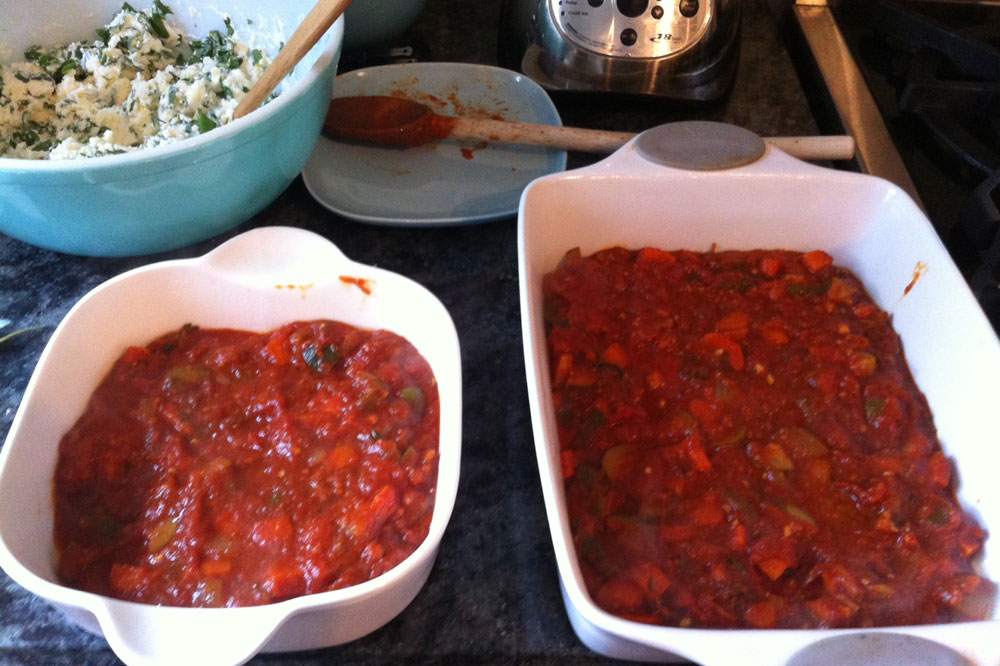 Then it was time to get down to business! Given the effort, I was determined to get two dinners out of the time I put in that Sunday aft. With the pasta drained, I filled the bottoms of one rectangular dish and one square dish with a layer of sauce (if you're feeding a crowd, this recipe would make one larger, deeper rectangular lasagna), put down a layer of noodles (sometimes cutting them to the right shape with kitchen shears), smoothing a layer of the cheese mixture over the noodles, then repeating the sauce and noodles once again. The small amount of sauce left was put over the top layer of noodles before I sprinkled on the remaining half bag of grated mozzarella and half of a second bag I had purchased, plus some additional Parmesan.
The bigger one went into the oven (preheated to 375°C) and the smaller one into the freezer (I swear, angels sang out as this happened).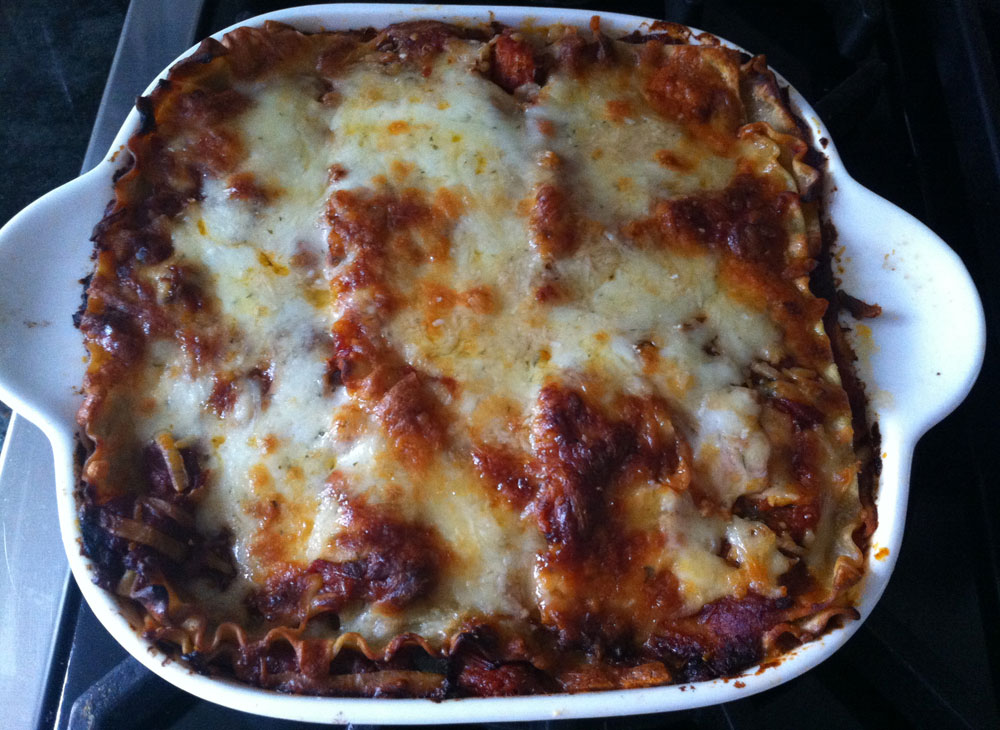 Everyone was so hungry for dinner that night that I forgot to take a photo of the finished big one before it was all cut up. But here's the one we ate a week later. Everybody really enjoyed it.
Because you may find it a little tricky to follow my stream-of-consciousness "recipes"—with their approximate measurements and times, here's a summary of the ingredients:
FOR THE SAUCE:
1 large onion, diced
2 enormous (or 4 regular) garlic cloves, diced
3 medium carrots, peeled and chopped
2 small zucinnis, chopped into rounds, then quartered (you could substitute these veg for your families favourites, including red bell peppers, eggplant, mushrooms, broccoli, etc.)
1/3 cup chopped fresh herbs such as basil, oregano, Italian flat-leaf parsley, thyme and chives
1 can crushed tomatoes
salt & papper to taste
FOR THE CHEESE MIXTURE:
1 454-gram tub ricotta
1 egg white
1/2 cup Parmesan, freshly grated
1/2 a 340 gram bag of grated mozzarella
1 cup chopped baby spinach leaves
3 tbs chopped herbs
TO ASSEMBLE:
1 package of lasagne noodles
1 additional package of grated mozza
about 1/2 cup of additional Parmesan
I served this with a Caesar salad. Crusty bread would be nice with it, too, but I find my kids lose focus on their entrees when there's a bread bowl beckoning to them.
Let me know in the comments if you have any questions about this recipe. And if you want more ideas for achievable family dinners, please enter your email address on the sidebar at right so you don't miss out!
Please follow and like us:
---
---