With their bums back in school-desk chairs, it's a good time to think about how we're going to ensure our kids stay active now that long summer days of water-gun fights and endless games of tag are past and temperatures are beginning to cool.
That's why I love this blog post and initiative from Participaction.
It makes the point that while so much of the emphasis this time of year is on which extra-curricular activities our children will do, we should really think about helping kids make the most of recess, lunch breaks and those stolen moment for play before and after school. Not only does this help them meet the recommended hour of daily exercise, it keeps their brains primed for learning throughout the day.
That's why Participaction suggests "thinking about your child's backpack as a little toolkit to encourage more spontaneous, outdoor activity." This fun infographic explains: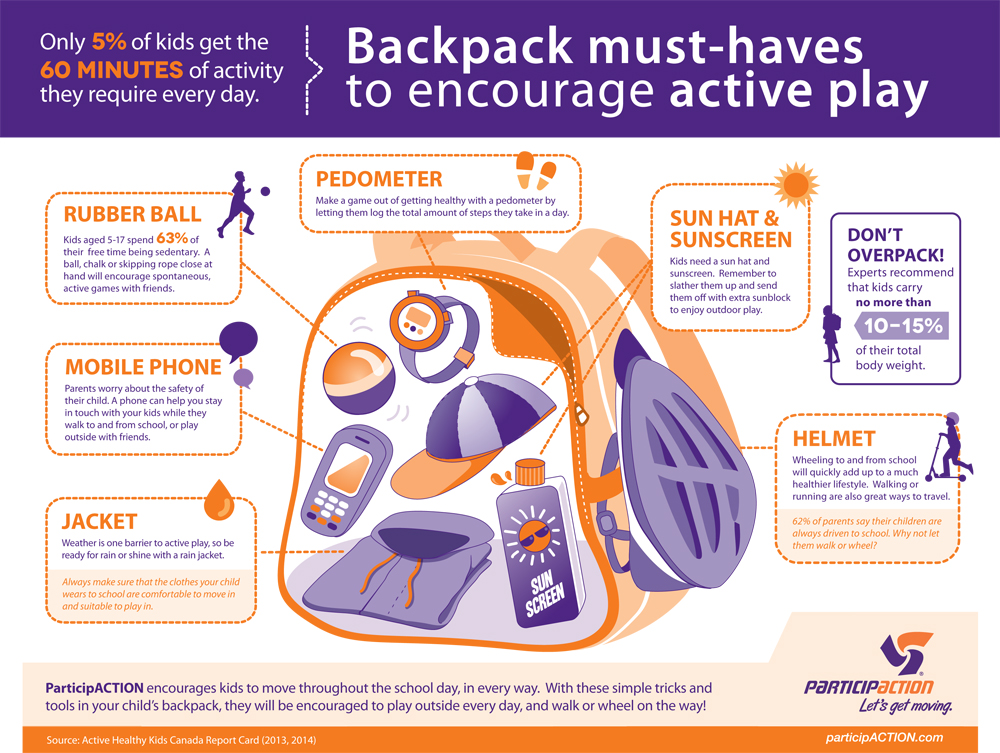 Here's what the organization suggests should be in every child's backpack.
1. Rubber ball With it's simple user interface, this inexpensive device is all kids need to play classic schoolyard games like "Red A" or "Sockey" (foot hockey), or to make up new games of their own.
2. Pedometer Increasingly popular with kids big and little, pedometers offer a tangible way to track physical activity and a bit of tech appeal for an electronics-crazed generation. Kids can compete with themselves to meet a daily minimum number of steps or to achieve a personal best. Or they can challenge schoolmates to a little friendly battle of the feet.
3. Sunhat and sunscreen Of course staying protected from UV rays is part of being safe outside. It's a good idea for kids to carry their own sunscreen to reapply part-way through the day. (We can probably safely swap the sunhat for a toque before too long if the current trend is any indication.)
4. Helmet I don't know about your kids, but even if mine aren't on their own scooters or skateboards, chances are good they'll be playing with someone's set of wheels at one point throughout the day. Attach a bike helmet to the side of his backpack either for active transportation on a scooter or boys bike, or for practicing ollies and kickflips after school.
5. Jacket Don't let a little rain or some cooler temps become tidy excuses for sitting around inside. Perhaps it's the West Coaster in me, but when it rains I tell my kids, "We're not made of snow!" After all, there's no such thing as bad weather-just bad clothes.
6. Mobile phone. This one I'm not so sure about, but likely because my kids are still a bit young for phones and our circumstances don't really necessitate either of them having one yet. That said, a mobile phone can make a huge difference to the level of independence a child has to walk home from school or go to a playground with friends, mostly because of what it does for the comfort level of both parents and kids.
Given that I was contemplating this blog post at the time, it was fun to discover that my seven-year-old, pictured above, had already created his own version of a backpack for active living.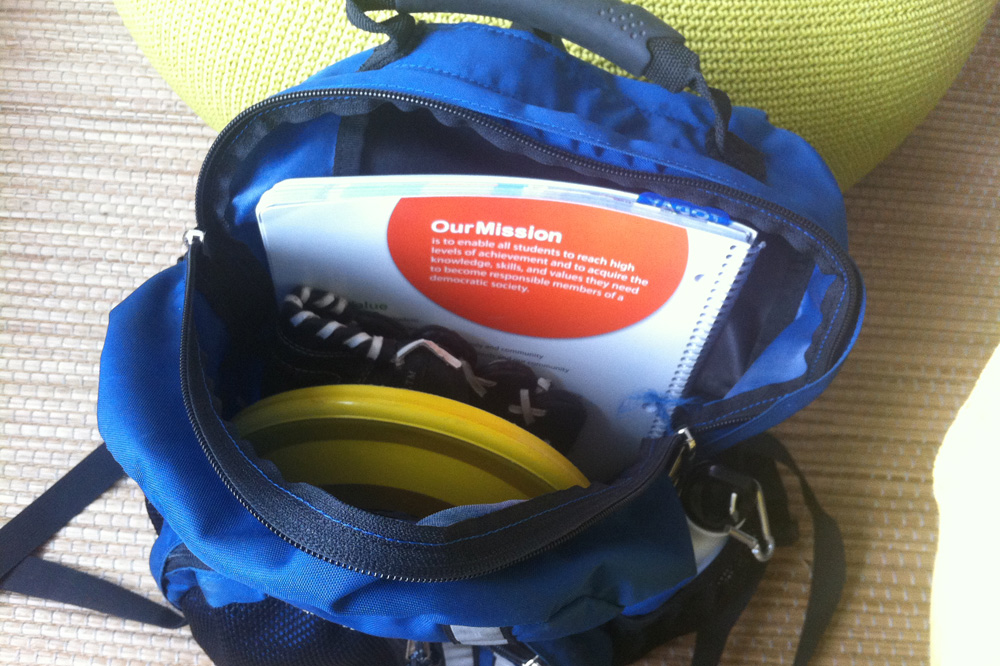 His contains a water bottle, frisbee, his beloved baseball glove and a squishy baseball [update: frisbee is currently on the neighbour's roof].
It's no secret that backpacks are a great way of carrying all your things. But did you know that if you don't wear it properly, a backpack can lead to neck and shoulder pain? With this in mind, always adjust the straps to suit your child's frame and try not to overfill their bag.
So tell me, what do you think of Participaction's tips for a well-packed backpack? And what does your child's backpack contain? Please let me know in the comments below!
Please follow and like us:
---
---
---