I was addicted to Barbies when I was a little girl. Mine was always named "Crystal" or "Roseanna" and the storyline I'd play out always went something like this:
· Barbie goes camping
· Barbie gets kidnapped by the Marie Osmond doll
· Ken saves Barbie
· They get married
· She gets pregnant
· They live happily ever after
Getting pregnant and giving birth was always going to be my "happy ending." Then I fell in love with a man who'd had a vasectomy.
I won't bore you with the details of the vasectomy reversal, futile attempts to chart a not-so-regular menstrual cycle, how it felt to choke back envy as I congratulated others on their happy news, or the "helpful" advice ("Can't you just have fun?""'Count to 14 on your calendar." "Why don't you just go to a bar and pick up?" "All we had to do was look at each other and we'd be pregnant!")
I'll just tell you my story has a fantastic happy ending.
Rather than going the IVF route, we called Children's Aid. The worker told us immediately that if we wanted a baby, we should consider paying the tens of thousands to do a private adoption. Kids who go through the public child welfare system aren't usually placed with a "forever family" before age two. It took us a year to call again.
But we did call back. We took the required course, had a worker visit to see our home and quiz us about our relationship, and ended up fostering a blue-eyed, curly-haired, 14-month-old baby boy. I'll never forget how he reached out and embraced me immediately. Or how, sitting with him on my lap, I looked across the table and asked the worker, "So, what would you do with one of these little critters, if you were me?" (I had no clue.)
We skilled up. And we laughed more than we had in years as this little boy amazed us with his new words, his songs, his love and his enthusiasm for us.
Three months later, we gave him back to his parents knowing we'd likely never see him again. We had given him temporary respite while his mom and dad figured stuff out. He had given us confidence in ourselves as parents.
Four months later, on a Friday, exactly a week before my birthday, we got another call from Children's Aid. Our worker was going to show our profile to a young mom. Did we want to update it?
I did have an update, a beautiful testimonial from our foster baby's dad:
"Angie and Gordon did awesome for my son…when I visited him, he was always happy. You could see the light in him. I think they will be great parents."
The family whose child we fostered gave us far more than we could ever give them.
On the Monday, we got another call. The young Mom had chosen us to be the parents for her baby girl. And she wanted to meet us.
We jumped in the car and an hour later, we were sitting in a boardroom across from her. Rather than a profound outpouring, the conversation was kind of awkward.
We asked if the fact we are a bit older than most parents bothered her. She said no, that she actually saw this as a strength. We asked what she liked to do most. She said "socializing," and gave us a knowing smile.
And then she said something else, for which I will always be thankful: "I want her parents to be grateful for her."
In that one sentence, our daughter's birth mother gave us our parenting vision: gratitude.
Our daughter came home at the end of that week, on my birthday.
It's funny what happens when you declare your intent to foster or adopt a child. People will tell you all the scary stories they've heard.
Perhaps you've heard them: the one about the child who had Fetal Alcohol Syndrome and murdered a parent? The baby of a drug addict who grew up to be drug addicted herself? The teenaged child who reunited with a birth parent, left his adoptive family, and started committing petty crimes?
Sure, these things may happen. But for every horror story, I guarantee there are thousands of happy stories out there.
It's just that those who have happy stories forget to tell them.
Stories of how the journey to starting a family opens up new areas of strength. Stories of how a child with attachment problems finally settled in. Stories of how a relationship has blossomed with a birth parent to create the 'big family' abundance that is so rare these days. Stories of happy families.
I'll never experience being pregnant and giving birth. If I were to sit down with my Barbies today, I'd have a much more profound story to play out.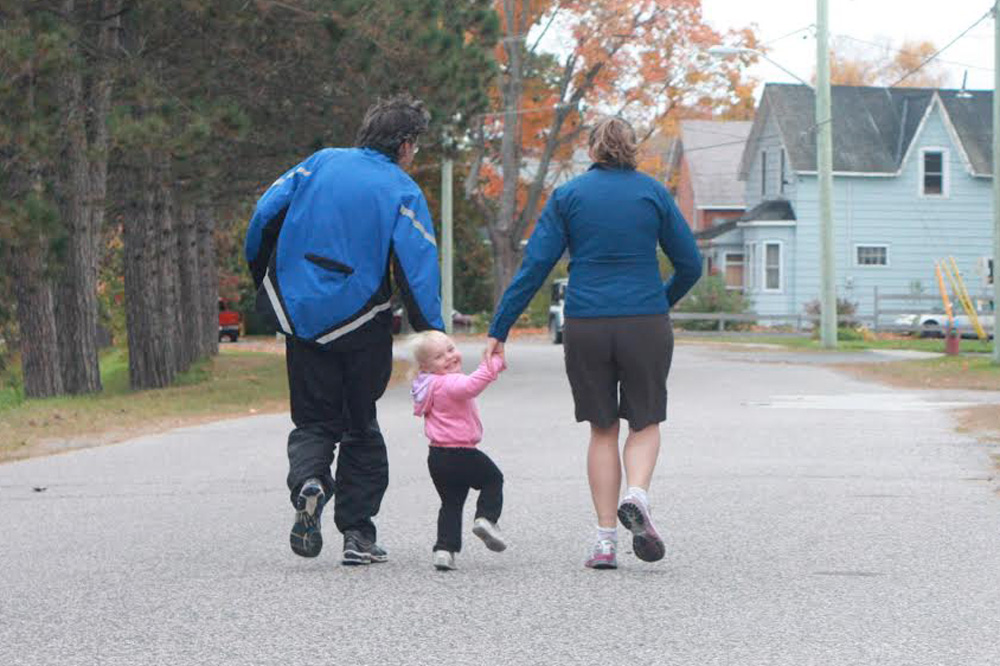 (Photos: Courtenie Clark)
This is #1000families post number 26. Do you have a family story of your own to contribute to the 1,000 Families Project? Or do you know a family that might want to do so? Learn more about how the series got started and how to get involved here. You can find all of the #1000families posts here.
Please follow and like us:
---
---
---