When your kid asks you if they can buy a broccoli the only acceptable answer is yes.
That's how on a recent Thursday evening we came to own a very large, very strange looking vegetable that the grocery store had very smartly marketed as "Christmas Tree" broccoli.
A quick Google search revealed that the veg in question was actually a romanesco broccoli.
No matter the name, it's a lovely looking veg with twisting pointy spires for florets, which do look somewhat like Christmas trees.
On Friday morning, my daughter hacked the top florets off to tuck into her lunch bag, leaving the formerly beautiful pointy green vegetable looking rather sad. It was a bit deforested.
On Sunday, as I was prepping a chicken to roast for dinner, I spied the balding broccoli in the vegetable crisper and thought it would make a lovely side dish.
I cut into florets, tossed with a bit of olive oil and kosher salt, laid it out on a cookie sheet where it roasted up beautifully in about 20 minutes at 400°F. (The other side dish was my best guess at the potatoes you get from the Portuguese Churrasco chicken joints my wife so loves. Recipe follows…)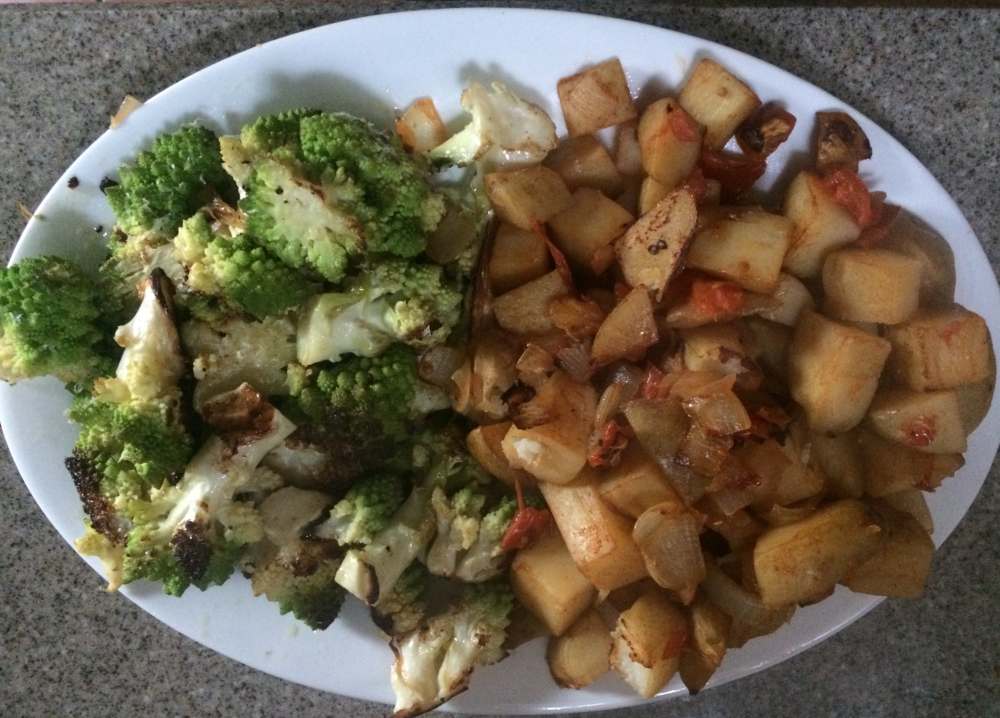 Knowing ginger noodles were on the menu for our meatless Monday dinner, I popped 10 or so of the roasted florets into a Tupperware and tucked it into the fridge.
The ginger noodle recipe, from David Chang, is a really simple, delicious, quick meal. The most labour intensive part is generating half a cup of ground ginger. Once that's done, it's simply a matter of boiling up noodles, assembling a few bowls with veg, bamboo shoots, quick pickles, etc. and squirting on some Hoisin and Sriracha to finish it off.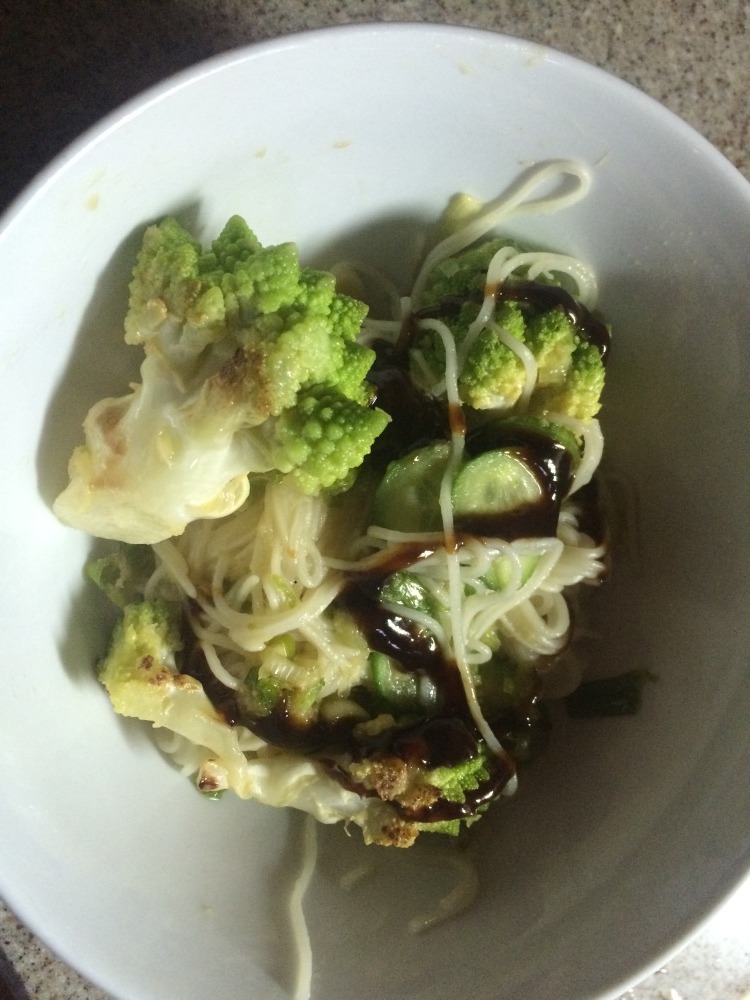 That's how the broccoli was turned into three meals—raw for Kid1's lunch, roasted as a wonderful side to a Sunday chicken dinner and tucked in with ginger noodles for a quick meatless Monday meal.
Roasted Romanesco Broccoli
Half to three quarters of a head of romanesco broccoli, cut into florets
1.5 tablespoons extra virgin olive oil
kosher salt
1. Preheat oven to 400°F.
2. Toss broccoli florets with olive oil and kosher salt.
3. Lay broccoli on a cookie sheet and roast for 20 minutes until florets begin to brown and soften.
Roasted potatoes with smoked paprika
4 potatoes, diced
1 onion, diced
1 tomato, chopped
2 cloves of garlic, peeled and smashed
3 cups water (approximately)
1 tablespoon sherry vinegar
2 tablespoons smoked paprika
1 teaspoon salt
1. Combine all ingredients in a roasting tin or dish  and give it a stir—you want the water to not quite cover the potatoes.
2. Tuck into a 400F oven for 2 hours—towards the end when the water has almost all evaporated, give then tin an occasional shake being careful not to be splashed with any hot liquids.
David Chang's Ginger and Scallion Noodles
2 1⁄2 cups thinly sliced scallions—greens and whites
1⁄2 cup finely minced peeled fresh ginger
1⁄4 cup grapeseed or other neutral oil
11⁄2 teaspoons light soy sauce
3⁄4 teaspoon sherry vinegar
3⁄4 teaspoon kosher salt, or more to taste
Assorted cooked veg and quick pickles.
Hoisin and Sriracha sauce
1. Combine the scallions, ginger, oil, soy, vinegar, and salt in a bowl. Taste and check for salt, adding more if needed. Let stand for 20 minutes.
2. Bring a pot of salted water to the boil and add 6 ounces noodles (vermicelli, ramen – whatever you like). Once al dente, drain.
3. In a bowl add whatever prepared veg you have on hand: bamboo shoots, quick-pickled cucumbers, pan-roasted broccoli.
4. Toss noodles with ginger scallion sauce, add noodles to each bowl of veg, and top with sliced scallions—as Chang writes, improvise the veg content to meet your needs/ tastes.
I like mine with hoisin and Sriracha; the kids just get hoisin.
Please follow and like us:
---
---
---