In this woman's big blended brood—one child from her previous relationship, two from his and one they've since had together—her ex and his son are embraced as members of the family.
I want to start at the beginning, but then this story would be way too long, so let me just give you a bit of a back story, and then I'll begin.
Tom and I dated for three years in high school, and we lived together our first year of college. He was my best friend, and he was the first boy I thought I might marry. But then I moved to a different school for my second year of college and we split up. A fairly normal story, I'm sure.
Fast forward 14 years, and I was living in Toronto, or rather moving back to my hometown from Toronto, because I was newly separated from my daughter Rebecca's father. I moved back in with my parents, promising myself it would only be for one year.
I had been home for a few weeks, enjoying being pampered a little bit by my mom, and feeling slightly cramped at the same time, when my sister came by to tell me she had seen Tom at the grocery store. They had chatted, and he was divorced and had also moved back to his parents' with his children. He'd asked her to get me to call him.
I didn't, of course, how awkward would that be? Well, I didn't call right away. Then, one day, curiosity got the better of me. I dialed the all-too-familiar number for his parent's house, and spoke to his dad.
"Hi, it's Maureen calling. I was wondering if I could get Tom's cell phone number?"
I had to repeat myself a few times, but I got his number. I sat staring at the number for a while before I got the courage to call. It was a strange conversation, to say the least, but it ended with us agreeing to go for drinks.
Tom had been separated for a couple of years, and had his children full time. I was still in the beginning stages of separation, the time when you're still freshly wounded and scared of how it will affect your child (not sure that feeling ever goes away).
Rebecca's dad, Keith, and I had been very good friends also, and our relationship hadn't ended on terrible terms, but there was definitely some tension. His crazy work schedule proved to be challenging, and I was frustrated when it affected his visits with Rebecca. We didn't have the kind of relationship I wanted in the beginning. Then, one day, when I was upset by a change in plans, Tom said to me "You need to change your attitude towards it, or it will drive you crazy. Don't think of it as changing our plans, think of it as more time with the kids. There is nothing in our plans that we can't change to accommodate the kids."
That was it. Those were the words that changed my life. From then on, my relationship with Keith was great. We didn't fight anymore, and we became friends again.
Almost one year to the date that I moved in with my parents, Tom and I moved in to our house together with our three kids. I could write another entire story on life as a blended family, but we don't have time for that. We've had our ups and downs, and it hasn't always been easy, but we have made it a priority to make time for our kids and to talk openly with them, always.
Six years later, Tom and I have a daughter of our own, and a happily blended family that includes Rebecca's dad and his son. They come to visit often.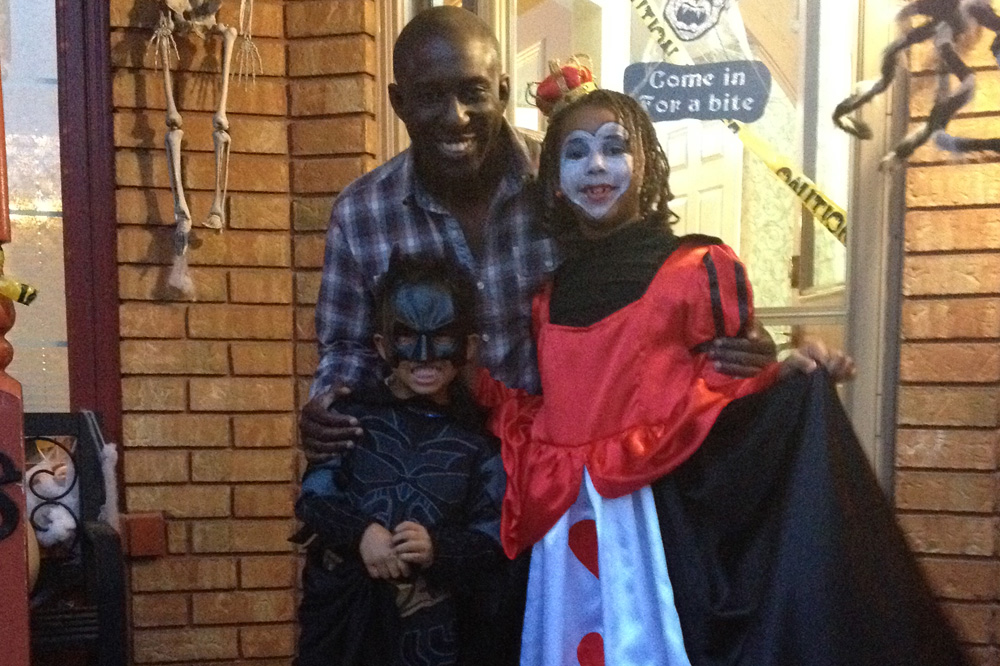 We don't have set visiting times; Keith comes to visit on the days that work with his work schedule, and he and his son usually stay at our house and have dinner with us. Sometimes his son even sleeps over because he and our youngest are best buds.
All it took was an attitude adjustment.
(Photos—Top from left: Maureen, Rebecca, Tom, Siobhan, Ethan and Eleanor. Middle: Keith with Joseph and Rebecca. Below: Joseph and Siobhan playing together.)
This is #1000families post number 41. Do you have a family story of your own to contribute to the 1,000 Families Project? Or do you know a family that might want to do so? Learn more about how the series got started and how to get involved here. You can find all of the #1000families posts here.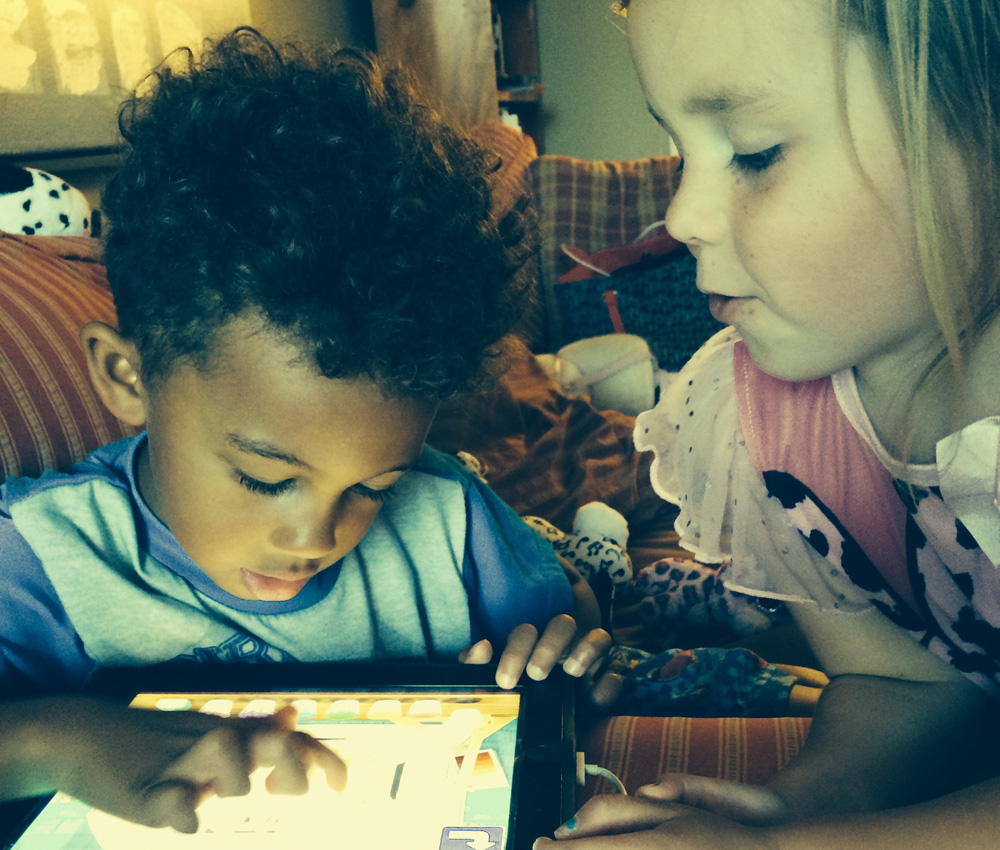 Please follow and like us:
---
---
---