We buy almost all of our meat from a little Italian grocery store in the neighbourhood. There are many benefits to this-they make four or five types of sausages that are all delicious, they'll chop/grind/slice/portion just about anything in the counter, and my somewhat guilty conscience is assuaged by not buying industrial-scale grocery store meat, which Fergus Henderson so aptly called "pink in plastic."
The one downside to this is some (many?) of the larger cuts aren't labeled. I mean, I know just by looking at them whether it's beef, lamb or pork. What I don't know is what the cut is or even what part of the animal it might have come from.
This past week, I knew I wanted a good size pork roast. When it was my turn at the counter, I pointed at large slab of pink marbled pork and asked if they could cut me a three-pound portion. As it was being wrapped up in butcher paper the butcher paused, pointed to his back and said, "From near the neck, nice and tender."
The plan for the week was to turn that roast into three distinct meals but to do it so that it didn't feel like we were eating leftovers. On Monday, we braised the pork roast in the slow cooker and ate it with minted peas, an arugula salad and basmati rice. Tuesday it was pulled/shredded for tacos. And on Wednesday it was sliced into thin ribbons for an Asian-style noodle soup (pictured above).
The key to this was identifying initial flavours that would work for all three dishes and then to add to/tweak the flavours for each subsequent dish.
A note on prep: After dinner on Monday, I sliced 16 paper-thin ribbons from the roast, ladled a small amount of cooking liquid over top, sealed it in a Tupperware container and tucked it into the fridge. The remaining pork roast-about a pound/450 grams-was pulled/shredded using two forks and tucked into another sealed container to spend the night in the fridge.
Braised Pork Roast
3 pound boneless pork roast
½ cup cleaned coriander roots
2 cloves garlic
Tablespoon kosher salt
1 cup (250mL) chicken stock
1 cup (250mL) water
1. Put the cleaned coriander roots into a mortar, add the garlic and a very generous scoop of kosher salt, and pound into a beautiful green paste. Massage the paste into the pork and refrigerate-a few hours or overnight.
2. Put the pork into a slow cooker with one cup (250mL) of chicken stock and one cup (250mL) of water. Set for 2 hours on low (my slow cooker will then hold a temp for up to 12 hours. You want to be sure this cooks to an internal temp of 160F).
3. Slice a four to six ounce portion per-person.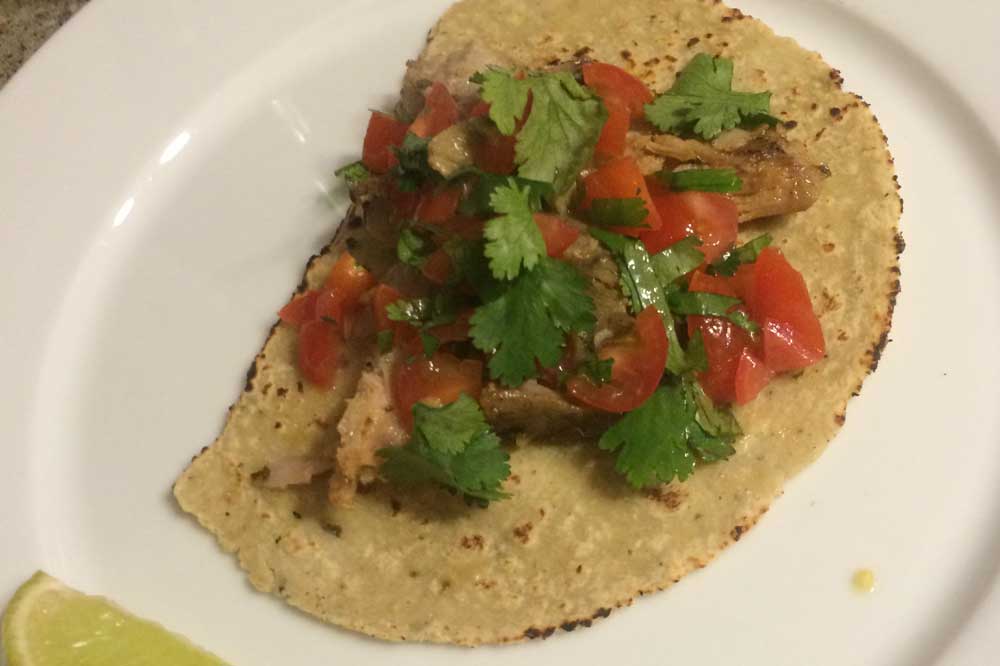 Pulled Pork Tacos
2 avocados
2 limes, cut into quarters
2 cloves of garlic, minced very fine
12 cherry or grape tomatoes, chopped
Tablespoon of minced onion
Coriander leaves, chopped
Approx. 12+ ounces (340+ grams) of shredded pork roast
Teaspoon dried cumin
Teaspoon smoked paprika
Sliced chillies (optional)
Hot sauce (optional)
1. Prep the guacamole by slicing each avocado in half, removing the pit and scooping the avocado flesh into a bowl. Add the juice of half a lime, a generous pinch of salt and a ¼ teaspoon of minced garlic and mash it all up. Taste and adjust for seasoning (More salt? More lime? More garlic?).
2. Prep some Pico de Gallo (fresh salsa) by combining the diced tomatoes, onion, a handful of chopped coriander, a teaspoon of garlic, a squeeze of lime and a pinch of salt-stir, taste, and adjust seasoning (you could add sliced chillies here).
3. Get a cast-iron skillet hot and add the shredded pork, top with dried cumin and smoked paprika and give it a good stir (you're looking to get the pork back up to temp and to give it a bit of colour. I sometimes drizzle a little beer over the pork and plunk a lid over the skillet to help it cook in the steam).
4. Warm your tortillas in the microwave or if you have a gas grill carefully toast them over the flame of a burner.
5. Assemble the tacos-guacamole, pulled pork, Pico de Gallo, coriander leaves, squeeze of lime and chiles and/or hot sauce.
Asian-style noodle soup
1 inch ginger, cut into match sticks
2 cloves of garlic, smashed
2 star anise
1 small cinnamon stick
Four cups (1 litre) chicken stock
1 tablespoon fish sauce
4 ounces of noodles (Ramen, rice noodles – your preference)
12 snowpeas, cut on the bias
12 broccoli florets
1 baby bok choy, sliced lengthwise into 1cm wide strips
12 ribbons of roast pork
Coriander leaves
1 lime, quartered
Sliced chilies (optional)
1. In a large pot over medium heat, add the ginger, garlic, star anise and cinnamon and toast for a minute or two-don't let the garlic brown or it will turn bitter.
2. Add the chicken stock and fish sauce, cover and bring to the boil*.
3. Once boiling, add the noodles (we used Ramen noodles, but Thai rice noodles are great here too) and cook until the noodles are al dente.
4. Reduce the heat to an aggressive simmer and add the snow peas, broccoli, and bok choy.
5. As soon as the greens are tender, try to remove the star anise, cinnamon and as much of the garlic and ginger as you can.
6. Ladle the soup into four bowls, tuck three the pork ribbons into each bowl, top with coriander leaves-serve with chillies and lime slice on the side.
*If you have more time and you want to be bothered, here's an alternate way to prep this recipe-blanch the veggies in salted boiling water until they are almost cooked and then shock them in an ice bath. Strain the chicken stock to remove the garlic, ginger, star anise and cinnamon stick. Bring the stock back up to the boil and add the noodles. As soon as the noodles are cooked, add the cooked/ chilled veg. When the veg are up to temp, ladle the soup into four bowls, add the pork ribbons, stir and serve. This makes for a nicer presentation as the veggies are bright and you don't have to worry about stray ginger/garlic in your soup, but it does take time and it makes quite a few more dirty pots and pans. As the Black Sheep told us all the way back in 1991: the choice is yours.
Please follow and like us:
---
---
---