In this blended family, there is not just acceptance but true affection between partners old and new.
There are times in my life when I take a step back and look at my familial blessings and wonder what I did to deserve the jackpot of a life we have. Here's our story:
Geordie and I were married in 2004 and in 2006 we welcomed our sweet miss Amelie. In 2008 our relationship had turned into something that we did not want and so we decided that we would have more success raising our daughter if we did that separately.
It was sad, and a huge adjustment for everyone. But I think we made the wise choice and I'm really proud of how we have made it work. As a matter of fact I don't know anything I am more proud of than this.
When Aaron and I began dating things escalated very quickly, and before you know it we were moving in together.
Any time there was a huge change I would get really anxious about how it was going to affect the family. I would feel like we were at a really great place and worry that things would get messed up by adding another variable.
Geordie and Aaron were friendly with one another, which was a relief for me, but the day I found them both passed out in Amelie's bed while putting her to sleep sealed the deal for me. I wish I had a picture.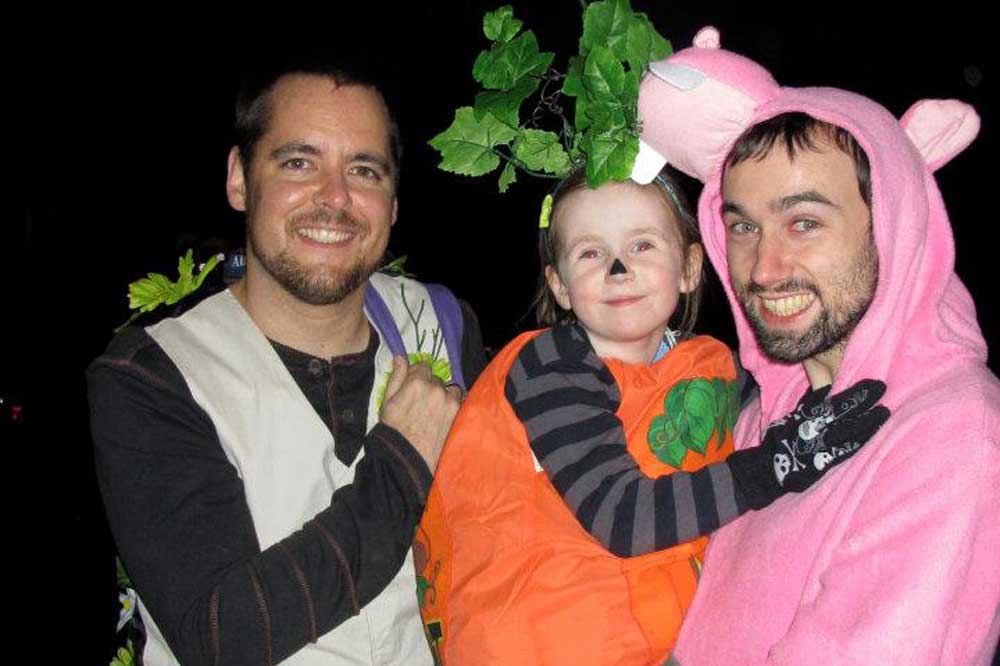 I remember one day Geordie and I were at the park with Amelie and he had told me that he started dating someone. My heart sank. Not because I didn't want him to be with someone else but because this could potentially be the downfall of our perfect situation. I was wrong. So wrong. Knowing Geordie it was silly of me to assume he would not choose someone who would fit into our family. Rahel is awesome. Not only does my daughter adore her, but I see the effort Rahel makes to ensure that she is a source of nurturing support for Amelie and to include her in Rahel's immediate family gatherings. I'm so thankful for her.
Our communication is great and that's a huge part of making this work. Rahel, Aaron, Geordie and I don't hesitate to call one another at any time to talk at length about how to raise our daughter or give her the support that she needs. She is at either house 50 percent of the time so it takes a lot of planning and scheduling to make it work.
When Aaron and I were married we were happy that Geordie and Rahel were there to celebrate with us. We danced the night away and it wouldn't have been the same without them. One of my favorite pictures from the wedding is of my mother, Amelie and Rahel dancing together.

When we welcomed our second daughter Sabine, Geordie was one of the first people to come by and meet her and they have been sweet for one another ever since. Geordie has even babysat for us. Sabine is lucky to have Geordie and Rahel in her life.
Our extended families are also very supportive as well, which is a huge help for us. When we get together for family gatherings it's always amazing to see everyone mingling. My heart feels full and I feel success. I still love Geordie's family very much and I feel so lucky that they include Aaron, Sabine and I in their gatherings and thoughts.
This would not be possible unless everyone was on board. I'm so grateful that we have this amazing family experience. I will not say it has been easy but I wouldn't change a thing.
Photos: Top—Nici, Amelie, Sabine and Aaron; Middle—Aaron, Amelie and Geordie on Halloween; Bottom, Nici's mom Heidi dancing with Amelie and Rahel and Nici and Aaron's wedding.
This is #1000families post number 69. Do you have a family story of your own to contribute to the 1,000 Families Project? Or do you know a family that might want to do so? Learn more about how the series got started and how to get involved here. You can find all of the #1000families posts here.
Please follow and like us:
---
---
---