This family is coping with their son's leukemia diagnosis, raising funds for SickKids Hospital and cherishing every moment they have together this holiday season.
"Dad, I don't feel well."
Sometimes, kids say this when they want to skip school. Sometimes they say it when they don't want to eat something at dinner, say, vegetables, for example. Sometimes they say it when they want you to stay in their room cuddling a little longer. And sometimes it can be a lot more serious than that.
Though our son Adrian was too young to talk at the time, my wife, Nadine, and I knew that there was something seriously wrong the night we drove him to the local Markham Stouffville hospital emergency room for the third time. We had spent the two weeks prior visiting doctor's office after doctor's office with no reassuring answers as to why he was bruising so easily, had pale skin and a lump on his neck. We were originally told it was strep throat, a major misdiagnosis from the Markham Stouffville hospital.
Our family doctor recommended we insist that blood work be done, so finally, an emergency room doctor at the hospital agreed to do a blood test. From there, we received a devastating diagnosis: acute lymphoblastic leukemia (ALL), the most commonly diagnosed form of childhood leukemia.
We were shocked; we were heartbroken. This was the first time we had ever been directly affected by cancer, and we just couldn't believe it was our son who had been diagnosed.
Adrian was immediately transported to The Hospital for Sick Children (SickKids) where he spent three days in the Intensive Care Unit. He was then transferred to the hospital's cancer unit.
That first year was terrible, but we have come such a long way. We spent a lot of time travelling between our home in Stouffville to our second home, the hospital in Toronto. We were lucky if we got two consecutive hours of sleep. Adrian was nauseous, tired, and generally felt a lot of discomfort as a result of his chemotherapy treatments. And if that wasn't enough, we were getting ready for the birth of our second child, Alexander. To say it was a stressful time is an understatement!
It's incredible how far we've all come on the road to recovery. We have two beautiful, energetic, and funny boys, from whom we learn so much. As parents, you expect to have so much to teach your children, life lessons you want to impart, but in reality, it was my wife and I who learned from our boys on a daily basis. It's been a battle. But through it, we have learned the true definition of compassion, of resilience, of strength.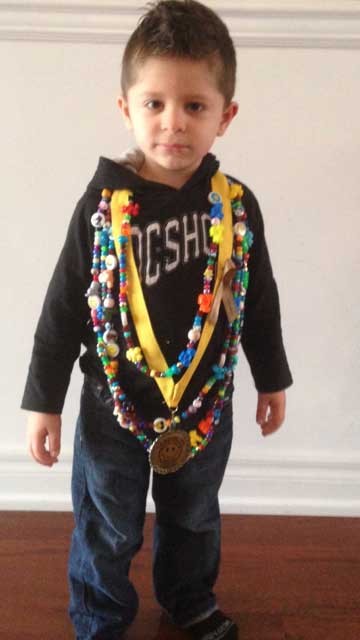 Adrian is now three and doing well. His treatment is expected to last three and a half years so we aren't quite in the clear yet, but we are getting there. We are grateful for every day we have together as a family. This experience has been an obvious and ongoing reminder that every day is precious, and that we shouldn't take a single minute for granted because you just don't know what will happen next. How lucky we are to have Adrian as a daily reminder to make the most of life.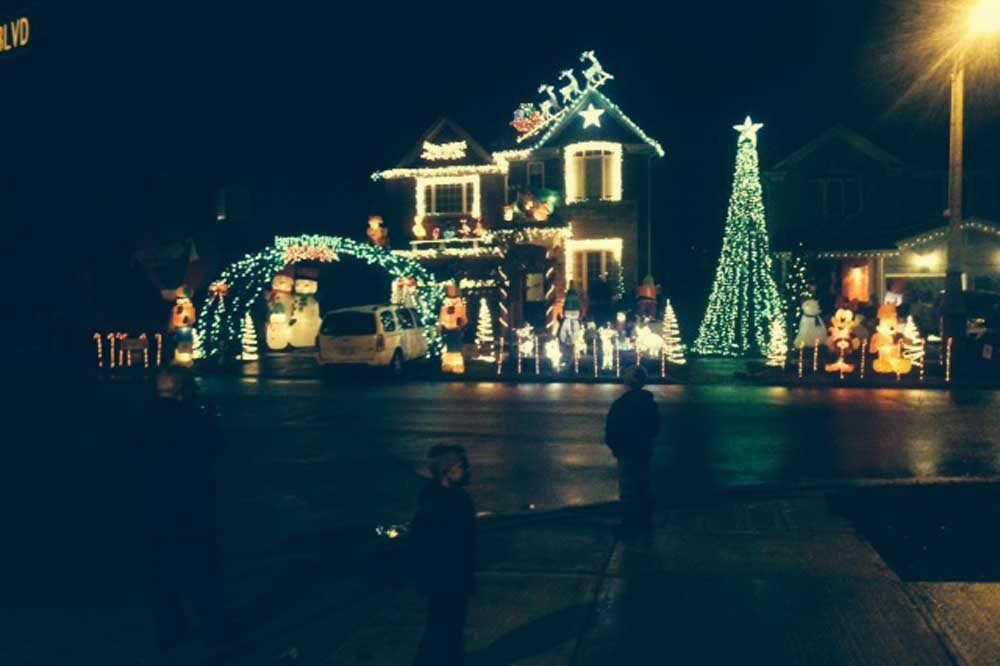 Photos: Top, the Debaissi family. Middle: Adrian wearing his Bravery Beads. Bottom: The Debaissi home elaborately decorated for their Christmas to Conquer Cancer. The family hopes to raise $7000 for SickKids by collecting donations from those who come to view their lights this season. The address is 180 Reeves Way Blvd in Stouffville, Ontario.
This is #1000families post number 76. Do you have a family story of your own to contribute to the 1,000 Families Project? Or do you know a family that might want to do so? Learn more about how the series got started and how to get involved here. You can find all of the #1000families posts here.
Please follow and like us:
---
---
---