On Sunday, I was walking the Boy home from soccer and he asked what I wanted for Christmas when I was nine years old. The only thing that came to mind was Space Lego. The Boy brightened at this and declared that his love of Lego was the result of  "getting the Lego gene" from me.
If the love of something is genetic, the Boy got his love of gravy from his uncle Tyler. The two of them love gravy so much you almost need to serve them dinner in a bowl as they smother their dinner in their favourite sauce.
We're hosting Christmas dinner this year. I've been finalizing menus, making shopping lists and sorting out what can be made ahead of time to lessen the pressure of the big day. One great short cut that we've used at Christmas and Thanksgivings past is Jamie Oliver's recipe for gravy (get-ahead gravy as he smartly calls it).
It's a fairly simple prep that makes more than litre of gravy you can pour into a sturdy Ziploc bag and lay flat in your freezer until Christmas day. We've made ours about 10 days in advance of Christmas. It's nice to have another item crossed off the to-do list and to see the gravy gene passed on to another generation.
Get Ahead Gravy (adapted from Jamie Oliver)
Tip: You'll need a large roasting pan, one that can hold at least two litres of water. Handles are also a bonus as you'll eventually have to pour the gravy through a sieve.
2 celery sticks, chopped
2 carrots, chopped
2 onions, peeled and quartered
5 bay leaves
5 fresh sage leaves
4 sprigs of fresh rosemary
2 slices of bacon
8 chicken wings
olive oil
sea salt
black pepper
5+ tablespoons plain flour
Two litres (8 cups) water
Two tablespoons (60 ml) sherry or port
1. Preheat the oven to 400°F
2. Combine the celery, carrots, onions, herbs, bacon and chicken in the roasting tin. Drizzle with olive oil, sprinkle with salt and pepper and give it a toss to make sure everything is seasoned. Roast for 60 mins.
3. Move the roasting tin to the top of the stove and place on a burner set to medium heat. Stir the roasted meat and veg, scraping up the pan and mashing/mixing up all the ingredients. Slowly stir in four tablespoons of flour.
4. Once the flour has been incorporated, add two litres of hot water, stir again, increase the heat and bring the mix to a boil. Boil for 10 minutes—if the sauce hasn't thickened to the consistency you like (mine is always too thin at this point) whisk in another tablespoon of plain flour.  Turn down the heat and simmer for 25 minutes.
5. Add two tablespoons of port or sherry, taste and adjust seasoning.
6. Very carefully pour through a seive, using a ladle or wooden spoon to push on all the meat and bones to get all the flavours and liquids out. I like to refrigerate my gravy for 12 to 24 hours so that I can easily remove the fat cap before I tuck it into the freezer.
Reheat over low heat while your turkey cooks, should thaw and warm through in about 30 mins.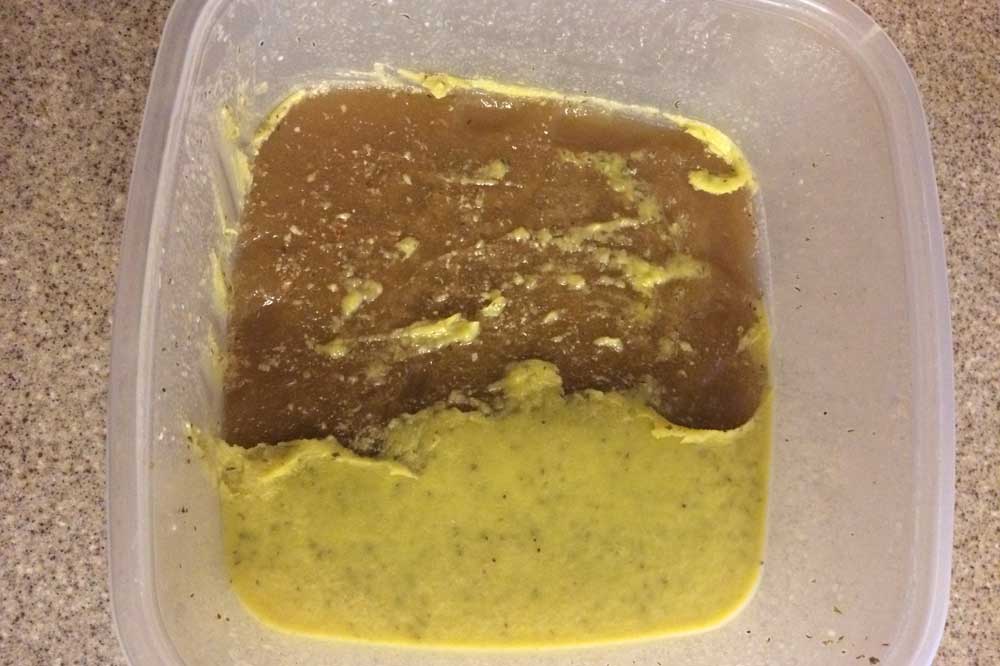 Please follow and like us:
---
---
---