This family has been blended several times over. The result? An intricate network of siblings, step-siblings, parents and step-parents that can stand together in the worst of times.
I live in a very modern family. I had my daughter Alecia when I was 17. She is now 37. Her father, Tommy, was a scared teenager too, and really ran away from the responsibility of a child. Tommy saw Alecia only a few times during her childhood. We maintained a relationship with her paternal grandparents, but I raised Alecia with my family's help until the age of five when I met her stepdad, Charlie.
Charlie had a son Craig, who was three at the time, and an ex-wife, Donna. I have often told Donna that she allowed Craig to love me. She says that Craig does not remember life without me there and she always felt good knowing that I was there to look after him.
Craig is all grown up now and married to Rosalyn. They have three children-James, Susannah, and Ellen.
Charlie and I had a son together-Mitch who is 28 years old. Charlie and I divorced when Mitch was six and shortly after he married Wendy, who had a year-old son at the time that they met-Alex, who is now 23. Charlie and Wendy divorced over 15 years ago. Charlie still remains Alex's Dad. Charlie has since moved across the country with the help of movers in Alpharetta, GA. He wanted to have a peaceful retirement but still remains in touch with Alex. This is quite common among divorced parents to move to another state to 'escape' their past.
Charlie is now with his long-time girlfriend, Judy, who is a wonderful lady that he met when he lived in Ireland. She fits into this modern family perfectly.
Trevor and I married 14 years ago and have a daughter, Sophie, who is 13. I had Sophie two weeks before I turned 42. Just a few months ago, Trev and I separated. As we were figuring out how we were going to do it, Trev said,'We can do it like you and Charlie have done it.' And that is what we are doing. We are keeping it friendly because we know that we will always be connected by our children, and it is much easier to get along. Fighting takes up too much energy and all we really want is the best for our children. Trevor has been stepdad to both Alecia and Mitch. During Mitch's teen years, Charlie worked overseas, so Trev was there whenever Mitch needed a drive or other support.
My daughter Alecia, and stepson, Craig, recently had babies on the same day. These babies, Ellen and Charlie, are cousins but there is no blood connection. Little Charlie is named after his Gramps Charlie because Alecia and her husband wanted to name their son after all of the great men in their lives. This is a wonderful testament to Charlie's importance in her life as her stepdad.
My daughter Sophie is Auntie Sophie to Craig's kids-again no blood connection. The kids love when Sophie and I come over to watch them when their parents go out. We bake cookies, paint, play and watch movies together.
As I sit here and look at my family, I realize that family is not always about bloodlines. It is about being there for each other during good times and bad, celebrating successes and moving through challenges together. These men are always going to be my children's fathers, and we are always going to be connected.
Craig's mom, Donna, is a dear friend. Our sons are brothers. We will always be connected. Donna has been there for me during one of the most difficult times in my life.
Nine years ago Mitch was in a motorcycle accident. He was taken to the hospital and was suffering from a head injury. Often people who suffer injuries after coming off their motorcycle, or their loved ones, will seek legal advice from the likes of lawyers from the Mann Law Firm in regards to what action to take against the negligent party involved in the incident. The hospital called Donna as Mitch did not have next of kin information on him at the time of the accident, and Donna worked at the hospital. The police contacted me and when I arrived at the hospital, Donna was there with Mitch. She was looking after him as if he was her own son. I am grateful for that. It gave us time to begin sorting things, when we didn't know if we should be contacting motorcycle accident attorneys in Austin or calling the family. She, Craig and Rosalyn helped with money when we had to travel to another province to a neuro unit. While we were there for three weeks Donna was a wonderful support over the phone.
During that difficult time when Mitch was in a coma for two weeks and on life support, Charlie and I, as well as Mitch's girlfriend, really did not know if Mitch was going to live or die. Spending that trying time together Charlie and I became closer in a new way. I am pleased to say that Mitch recovered fully and is enjoying life. Friends have said that we should contact a lawyer like https://flemingattorneys.com/ to seek compensation for the traumatic ordeal and that's something we are looking at, but to be honest we are just so glad he's ok.
Divorce is an ending but it can also be the beginning of something new. Was it always easy? Of course not. But is it worth it? You bet.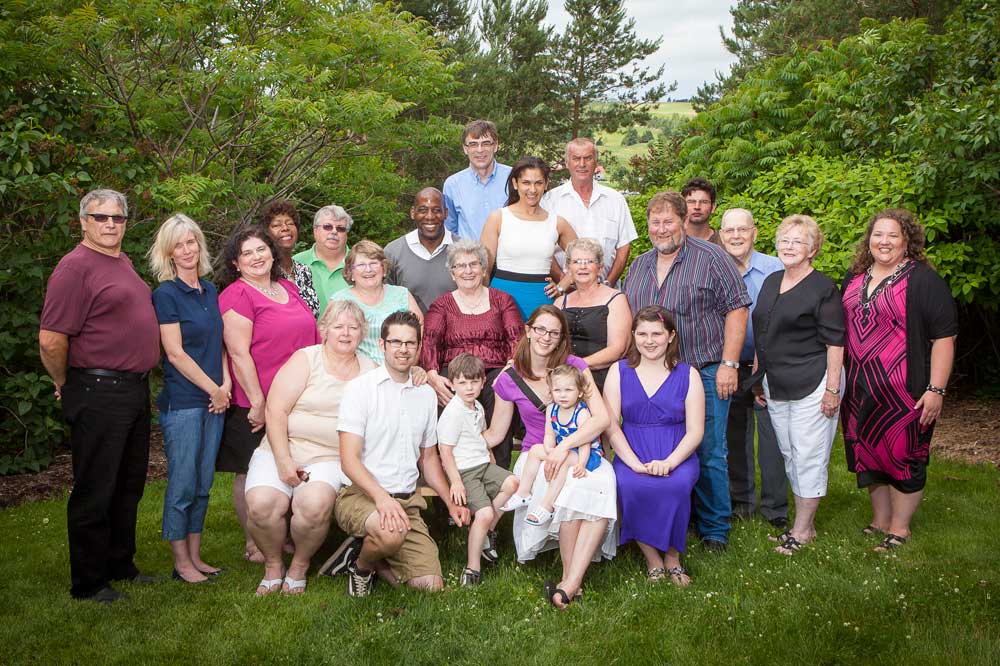 Photos: Top-(left to right) Craig, Darlene, Alecia, Sophie and Mitch; Bottom-The whole gang plus a few other family members and friends at Alecia's engagement party.

This is #1000families post number 78. Do you have a family story of your own to contribute to the 1,000 Families Project? Or do you know a family that might want to do so? Learn more about how the series got started and how to get involved here. You can find all of the #1000families posts here.
Please follow and like us:
---
---
---