A diagnosis of inoperable prostate cancer is not what this father of three had in mind for his retirement. But an inspiring attitude and innovative treatments are helping his family make the most of the time they've got.
For many Canadians, the new year marks the opportunity to start fresh and make positive changes. My family and I treasure this time of year and we feel incredibly lucky that we are able to ring in another new year together.
I was diagnosed with advanced prostate cancer in June of 2011. This means that my cancer has spread beyond my prostate to other parts of my body, with no hope of remission.
My wife Sheila found the diagnosis incredibly shocking. We have been married for 45 years and we were, as she describes, "an old couple getting ready to retire." Even after three years, I know she still sometimes finds it hard to wrap her head around my diagnosis. Our three children, Meera, Ajay and Sanjay, were very frightened. No child, even as an adult, wants to watch their parent fall ill or in pain. But, seeing how I've responded to my treatments and that I can still do many of the things that I used to, gives them a sense of hope. Going through something like this can bring up a lot of issues that can be hard to face, for instance, those who have illnesses may be worried about what will happen to their families after they are gone and how they will cope financially, so they will check out areas like Ethos whole life insurance policies and similar others, to see how they can support them during this time. It may sound so 'professional' in a time of upset, but these things do need to be talked about so there are no misunderstandings and worries.
At the time of my diagnosis, I felt like my fate and my future had already been decided for me. But, once I had time to process what was happening, I decided to look at it a bit differently than most men I've met along this same journey. As opposed to feeling sorry for myself and thinking "why me?" I thought to myself, "why not me?" This allowed me to change my perspective and view this new journey with a sense of optimism.
I felt mentally prepared to begin managing my disease and my physician assured me that a diagnosis of advanced prostate cancer isn't the death sentence it was a number of years ago. I'm so grateful for recent advances in treatment that have allowed me to maintain my quality of life. Over the last three years, my treatment regime has successfully slowed the progression of my disease, while delaying the need for chemotherapy. This has allowed me to continue doing the things that I love-teaching yoga and meditation at the local seniors' centre and dedicating most days to sharing my story with the advanced prostate cancer community. But most importantly, after three years, I am still here today.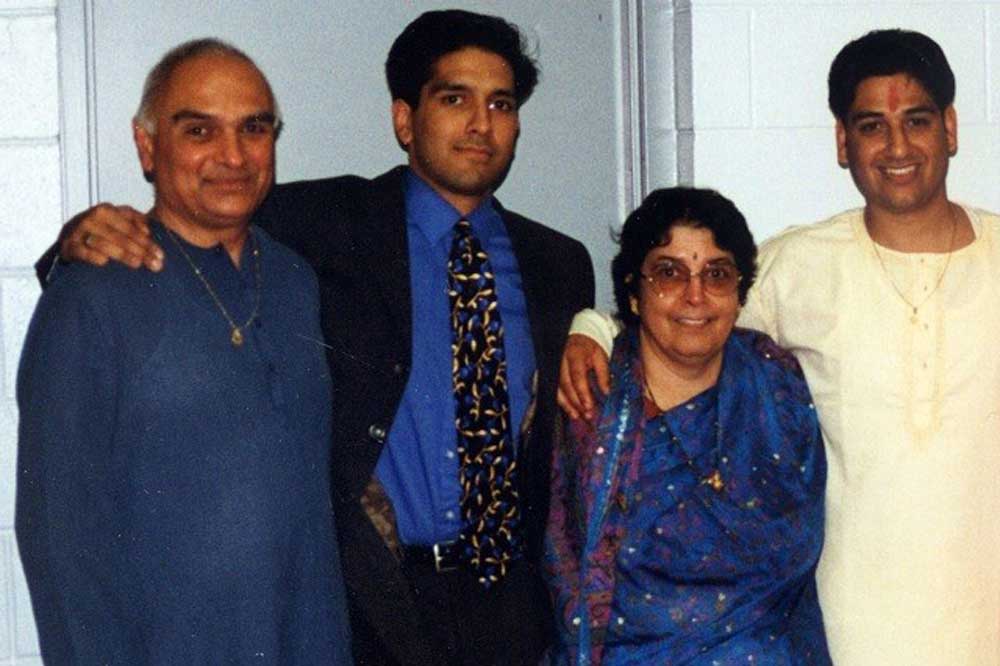 The additional time I've been provided through my treatments has allowed me to spend time with each of my children. As many parents with adult children will know, it is often hard to spend quality time due to (in my case) geography or professional obligations. My sons Ajay and Sanjay both travel quite a bit for work, so I treasure the time I have to spend with them at our family home, or over a quick lunch. My wife and I make it a point to travel to visit my daughter Meera in Vancouver as often as possible and I am grateful that I still feel well enough to make the trip. Meera and I are both outdoor enthusiasts and when we visit her we try to make the most of it. Often we will get lost in wilderness for a few days hiking, meditating, doing yoga and tai chi and reading.
I think my attitude about my diagnosis has helped me and my family to cope. I believe focusing on staying positive helps your body and the people around you heal. Even my wife, who described my diagnosis as having our lives turned upside-down, has found some peace with our situation. Now, when she speaks about my cancer, she describes it as a turn in the journey we were on, and that we have worked together to straighten it out.
For many people facing a terminal illness, this time of year can be incredibly difficult. I understand that each family's journey with this disease is different, but I cannot stress enough the power of remaining optimistic. I truly believe that by allowing ourselves to let go of what we can't control, like a diagnosis of one's self or a loved one, we become free to enjoy all that life and this time of year has to offer. As we look ahead to the new year, my family and I will continue to work every day to live well and to remind ourselves to focus on life in the here and now.

This is #1000families post number 79. Do you have a family story of your own to contribute to the 1,000 Families Project? Or do you know a family that might want to do so? Learn more about how the series got started and how to get involved here. You can find all of the #1000families posts here.
Please follow and like us:
---
---
---