Their family includes one daughter with Down syndrome. But as her mom explains, this is both a challenge and an incredible gift.
"Mom, I laaa you so much, you my best fwend." My cup runneth over.
Hearing my daughter say those words, even if they are spoken in "Camryn-ese," fills my heart. You see, a few short years ago our world was shaken when this little girl arrived. My husband, Ross, and I had started a lovely little family. We had a beautiful little girl about to turn 4, and a new little one on the way, when we discovered at our first routine ultrasound that our baby had a heart defect.
It was the week before Christmas that our lives were turned upside down. We were sent to the Cardiology unit at Children's Hospital of Eastern Ontario (CHEO), where we were told that our baby had Tetralogy of Fallot. Our baby would require open heart surgery at birth, or shortly after. We were sent to genetic counseling, where we we deemed high risk and where all those terrible questions were asked: Do you want to have further testing? We know this baby has a heart defect, but is that all? We are looking at tight timelines if you want to consider termination (which was never an option). You will need to let us know how to proceed by tomorrow. We had one night to sleep on it.
We made the decision to play the hand we were dealt.
After twenty horrible weeks of ultrasounds because the doctors knew there was something "wrong" with this baby, our little girl, Camryn, came bounding into the world.
As the doctor handed her over to me he whispered, "Based on our clinical assessment, we believe your daughter has Down syndrome." Words you never want to hear. They hit you like a ton of bricks, and the fear, tears and panic set in.
If we only knew then what we know now.
Sure, it hasn't been all rainbows and butterflies. We've been through some fairly difficult times; failure to thrive, numerous surgeries (including open heart), therapy session after therapy session, and a school transfer. I can say with 100 percent certainty there will be more challenging times ahead. But what we have today is a beautiful, loving, funny, clever little girl who has changed our world for the better.
Of course, we haven't gotten here on our own. We have a strong family, and an amazing support system. And Camryn has the best big sister in the whole world, Reagan, whom she strives to emulate every day.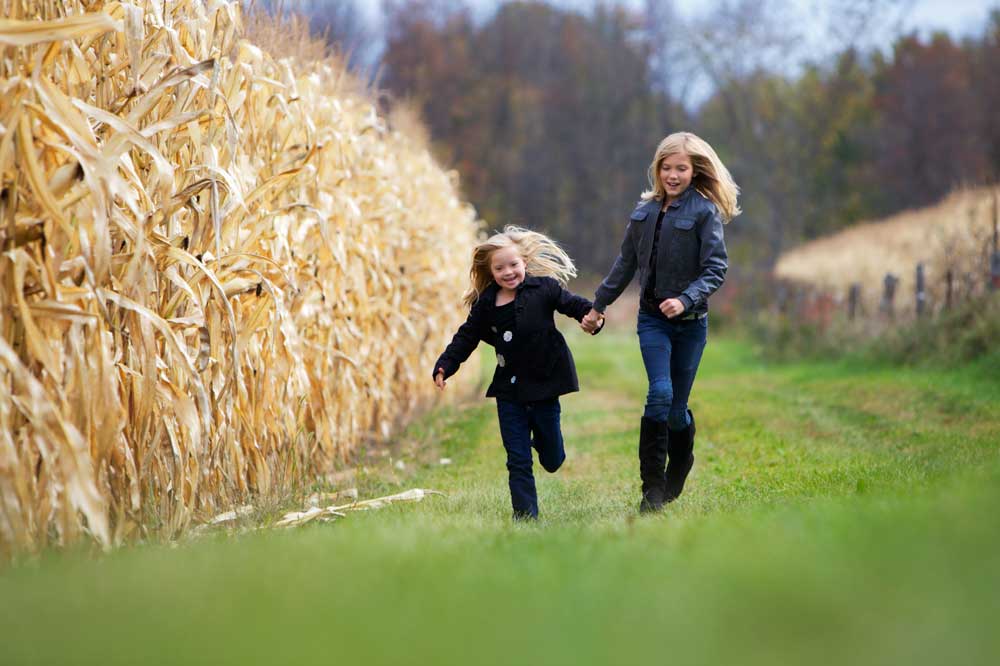 Camryn, now 9, is currently followed by five outpatient clinics at CHEO, which makes the balance of regular family life, career and all the extracurricular activities exceedingly difficult. However, the support system at CHEO, through their Down Syndrome Clinic that serves as a central point of access to the healthcare system for patients and their families, has been incredible. They always strive to make the lives of families like ours easier, such as through their recent implementation of electronic medical records (which helps the brain-drained Mom keep everything straight). They have done, and continue to do, so much for our little girl, and for that we are so grateful.
We have been thrust into a world that we knew nothing about—a world where we have been introduced so many incredible organizations, families and individuals. So many people have helped us navigate these rough waters, and together we have raised this amazing young lady.
We are so proud of our family and how we have come so far in a few short years. How our lives have been changed, and how we have changed the lives of the people around us. Those days of fearing the unknown seem so long ago. We often tell our friends that their kids will be better people for having grown up with Camryn, and we really do believe that. She is our true life teacher; she teaches us compassion, patience, acceptance, inclusion and how to love. She has taught us so much. She is pure joy—mixed in with her fair share of stubbornness and sass! Our little ray of sunshine has made our family stronger, pulled our friends closer, and introduced us to so many new opportunities.
One of my favourite quotes is from C.S. Lewis is, "…we are mirrors whose brightness is wholly derived from the sun that shines upon us." So many people have shone their brightness on our little girl, and that has allowed her to beam.
Photos: Jemmtale.com

This is #1000families post number 86. Do you have a family story of your own to contribute to the 1,000 Families Project? Or do you know a family that might want to do so? Learn more about how the series got started and how to get involved here. You can find all of the #1000families posts here.
Please follow and like us:
---
---
---