If your kids are like mine, they take great pleasure in not listening to you. I take advantage of this and use it to get my kids to eat nutrition-packed kale chips.
"Boys, don't eat my kale chips. If you eat my kale chips I will be very angry and have to chase you around the house," I warn them in mock angry tones.
They get a mischievous glint in their eyes and devour the chips. It works every time.
Kale chips are really easy to make. Here's how I make mine.
Thoroughly wash, dry and, using your hands, shred a bunch of fresh kale, tearing off the stems as you go. The stems will be too hard to chew, so don't miss this step! Line a baking sheet with parchment paper and scatter the torn kale leaves on the paper in a single layer. I have salt and pepper grinders, so I twisted the salt grinder eight times and the pepper four times, being sure to evenly distribute the seasoning over the whole pan. Then I measured out a half tablespoon of olive oil and drizzled it over the kale. I used my hands to mix the kale and lay it flat again. I don't know why people massage the kale—every time I do it I feel like I'm the one who needs the massage—but anyway, as I'm tossing the kale with my hands I massage it as well. Maybe it makes it more flavourful or more evenly distributes the toppings?
Bake at 275°F for about 25 minutes until crispy, but not burned, flipping the kale over half way through. My boys like to eat them right out of the oven, but sometimes I store the leftovers in a Ziplock bag for a few days. It still stays crunchy.
Variation: Sometimes I like to sprinkle a 1/2 Tbsp of grated parmesan over the kale to make them a little cheesy. You can also experiment with different spices, like turmeric, which contains antioxidants.
Beware: Kale chips are very flakey. Once I made the mistake of letting four boys eat kale chips at my house during a play date and the bits and pieces were all over the floor, scattered like fish food, and once one kid stepped in it, I had kale chip footprints all over the house. It was a disaster. They also get stuck in your teeth, so be sure to have a broom and dental floss handy. It's still worth it to see your kids eat kale and smile!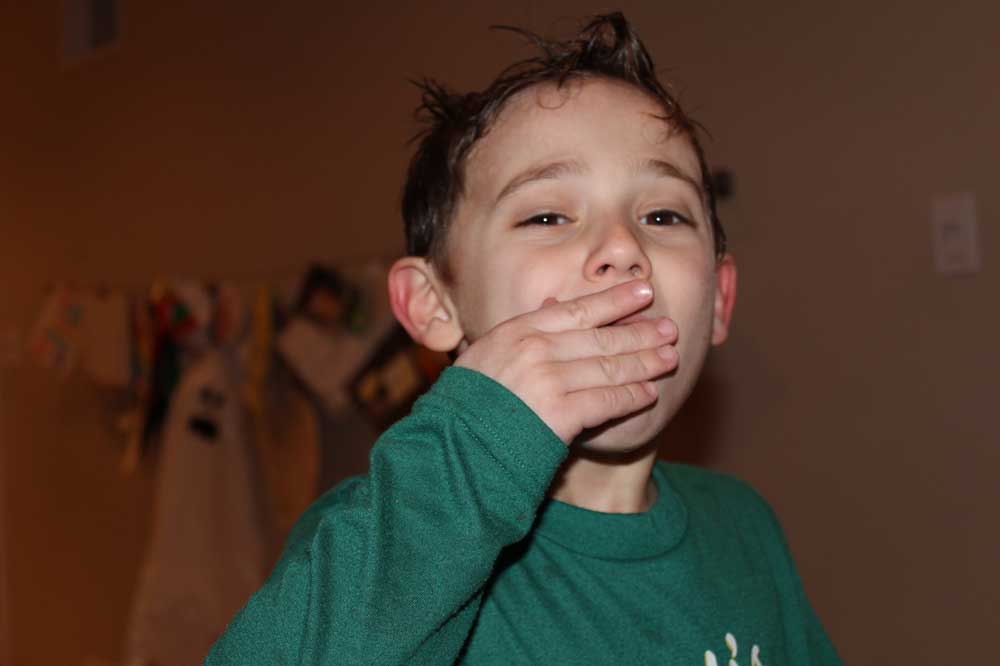 Please follow and like us:
---
---
---