I love to cook but most nights it's more of a race than a pastime. As a result, Sunday dinners often get circled on the meal planning calendar. A bottle of wine gets set aside. Longer recipes are contemplated, new techniques considered.  Sometimes there's a special trip to St. Lawrence Market or fancier shops.
About every six weeks, our Sunday dinner was the very traditional prime rib and Yorkshire pudding.
I loved Yorkshire pudding as a boy but it was only for very special occasions. My mum wasn't much of a cook and while roast beef was a common enough occurrence, those crispy warm pillows of pastry so rarely made an appearance.
And so it is with my boy. He LOVES Yorkshire pudding; it cracks his top three faves, above burgers and even pizza. And he's lucky in that he has a dad whose willing to cook it at every opportunity. Not just alongside those Sunday roasts but poured into a loaf tin over sizzling sausages to make a delicious Toad in the Hole. (This is an easy and seriously delicious meal that takes about 40 minutes all-in. Served with some gravy, greens and some sharply dressed arugula it's a terrific mid-week meal).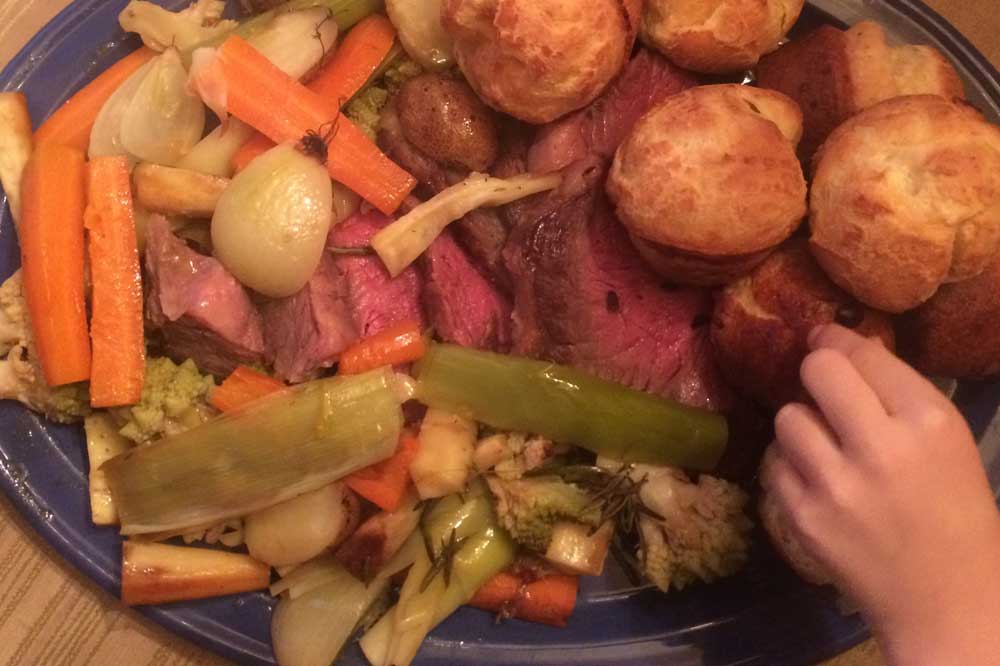 Sadly, Yorkshire pudding was a staple I presumed we were going to have to give up when my daughter became a vegetarian. Luckily, her status has been downgraded (upgraded?) to pescetarian.
Even luckier was discovering a wonderful Jamie Oliver recipe for Yorkshire Pudding with a smoked fish pate.
I recently made this for our Sunday dinner and it disappeared faster than the Leafs' hopes of a playoff spot.
It may not be Toad in the Hole or my boyhood staple of roast beast, but it made the four of us very happy and will likely become a new Sunday night staple.
Yorkshire Pudding (From Felicity Cloake's Perfect)
250 grams all purpose flour
pinch salt
4 eggs
150 ml milk
150 ml water
2 Tablespoons neutral oil
1. Preheat oven to 450°F. Drizzle the neutral oil in each section of a muffin tin and tuck it in the oven.
2. Combine flour and salt, make a well (hole) in the middle and crack in the eggs.
3. Combine milk and water. While beating the eggs, slowly pour the milk and water mixture over the eggs, making sure to mix in all the flour. It should look like slightly thin pancake batter
4. Let batter rest for 20 minutes. Carefully remove the hot muffin tin from the oven and ladle a few tablespoons of batter into each compartment of the muffin tin (carefully as the oil may sizzle and pop).
5. Cook for 20 minutes or so–don't open the oven door!—and remove when the tops are bronze
Toad in the Hole (From Felicity Cloake's Perfect)
4 to 6 Sausages
Yorkshire pudding batter from above
1. Put the sausages in a loaf or cake tin and roast at 450 for 15 minutes
2. Remove the tin from the oven and pour the Yorkshire pudding batter over the sausages (if the tin looks dry, add a touch of canola or grape seed oil). Cook for 25 minutes.
3. Serve with gravy.
This creamy, smoky, spread goes brilliantly with hot crispy Yorkshire puddings.
125 g cream cheese
2–3 heaped teaspoons jarred horseradish
1 lemon
1 small bunch fresh chives, finely chopped
sea salt
ground pepper
125g smoked trout (or other smoked white fish), skin removed
1. Put the cream cheese into a mixing bowl with the horseradish, the zest of 1 lemon and the juice from half a lemon, and mix together.
2. Add most of the chopped chives and flake in the trout (removing any skin and bones). Use a spatula or wooden spoon to fold the mixture together. Taste and adjust seasoning (more salt? More lemon?)
3. Transfer to a nice serving dish (or individual ramekins) sprinkle with remaining chives, cover with clingfilm and put into the fridge to get nice and cold.
4. Serve alongside hot Yorkshire puddings with some greens and veg.
Please follow and like us:
---
---
---