This is a great and easy recipe for an Easter weekend brunch. (You can also pack any leftovers in your lunch and take it to work!) Using a muffin pan, you basically make a little nest of bacon, turkey bacon or prosciutto, layer with some spinach (for vitamins!) and gently crack an egg into the centre of each nest. You can sprinkle with cheese or just salt and pepper. Make as many or as few as you'd like.
Here's how I made mine:
Spray a muffin pan with cooking spray
Cut a slice of turkey bacon in half and arrange in an "X" in each muffin cup
Using approximately 6 washed, dried and trimmed spinach leaves (I buy pre-washed baby spinach), layer on top of the bacon
Gently crack an egg into the centre of each nest
Sprinkle salt and pepper on top
Add mozzarella or parmesan to top (optional)
Bake in a 350 degree oven for about 16 minutes or until the whites no longer look clear and runny.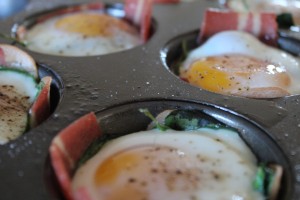 Please follow and like us:
---
---
---