Passover is just around the corner and if you're tired of eating matzo for breakfast, lunch, dinner and every snack in between, here's another option: Paleo banana bread! This recipe is one of my favourites from a book called Paleo Cooking from Elana's Pantry. It's made with almond flour instead of white flour, and healthy ingredients like coconut oil and bananas. I've made it for my kids (as muffins) and for my boyfriend (in a loaf pan) so many times that I've had a chance to "kick it up a notch," as Emeril would say. Here's my version of this delicious almond-flour banana bread that is perfectly appropriate to make during Passover as well as year-round.

Throw the following ingredients into your blender or Vitamix:
3 ripe bananas
1 cup of almond flour (if you don't have almond flour, you can grind up raw almonds in a high-speed blender until it's a fine consistency, like flour)
1 tsp cinnamon
1 tsp vanilla extract
4 eggs
1 Tbsp ground flax seed
2 Tbsp coconut sugar
1/4 tsp baking soda
2 Tbsp coconut oil, melted in the microwave for about 35 seconds (that timing seems to do the trick)
1 Tbsp coconut flour
Blend on a higher and higher speed until all the ingredients are combined, or for about a minute. (I like to toss in 1/2 cup of 70% dark chocolate chips, and for my boyfriend, I will add in an extra 1/2 cups of Skor pieces because these are his favourite. Both of these are optional.) Pour into a loaf pan, which needs to be prepared in advance using a piece of parchment paper to line the bottom and some spray (I use coconut oil spray) to coat the bottom and sides of the pan. Then bake in a preheated 350 degree oven for about 50 minutes, or until the toothpick comes out clean.
Check out these tips from Elana's Pantry about cooking for Passover. All her Paleo recipes are considered kosher for Passover.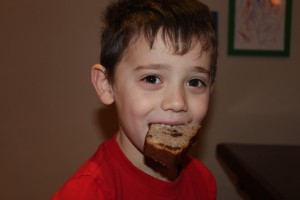 Please follow and like us:
---
---
---