This author's extraordinary story is the subject of a documentary film opening at the Hot Docs Festival on Monday. On Her Own represents what is happening all across the United States as houses are foreclosed, families are forced to move purely for financial reasons and small farms face ruthless competition from factory farms and land developers. Here the Sonoma Valley, California rancher shares about the cost of preserving family heritage and the new definition of family she has today.
When you've been raised in a family like mine, one that has not moved for over 150 years, since before California was even a state, one's sense of place and belonging is paramount. You are part of a clan, recognized more by your surname than your first. You are part of a vast network of people, all of whom share your bloodline-three, four, five times removed-all of whom live within the same reasonable distance that was one traversed by horse and buggy.
All share the same faith, where divorce and blended families are exceptionally rare. All work the land, where proliferation of offspring is a simple strategy for survival. In a family like mine, family and land become reflections of each other. The land upon which you walk has been treaded upon by generations before you; their blood, sweat, and tears have saturated the soil, trickled downstream, and given root to the majestic trees that stand as a testament to who you are, a monument to whom you belong. You feel like it's impossible to get away-not that you would ever want or need to. It feels predestined, permanent, and safe, but oh, how life can thwart us!
I always thought that I would be married, like the others; that I would have a gaggle of children, like the others; that I would care for my parents into their ripe old age, like the others, that I would stay on the land, like the others. Today, I find myself at 40 years old, never been married, never had a child, parents now five-years deceased, and off the land that I like to believe still carries the whispers of my ancestors….just now, I can no longer hear them.
After the emotional loss of my grandmother in 2005 (to whom I was very close), the prospect of building my own legacy on the land that had been passed down my mother's line for five generations, making my own footprint for generations to come (by way of my sister and her children), gave me a great sense of hope while filling the void left by her absence. I gave myself to the family I had, in lieu of the one I had always imagined for myself, as well as to the land that would connect me to that family-past, present, and future. But in less than five years, that hope was shattered and the void widened as the untimely passing of both my parents during the Great Recession left my sister and I in a state of peril, unable to hold onto the network, unable to hold onto the land. We found ourselves with insufficient numbers, both in man-power and dollars. My one and only sibling could no longer afford to continue raising her three children in the place where we had always been and chose to move her family to Mississippi, to be close to the family she still had by way of marriage and her children still had by way of blood.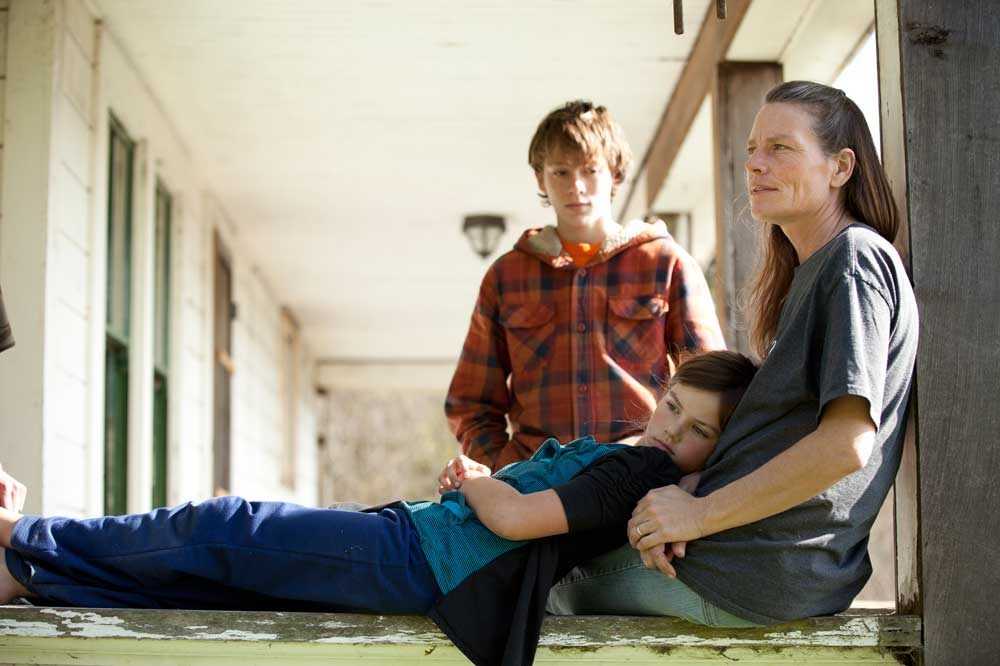 Nancy's sister Cindy Holland and two of her children, Samantha and Alexander.

I quickly realized that somewhere along the line, that network that my parents had reared us among, taught us to have faith in, that clan that I had felt solace in as a child, was no longer there. Too much time had gone by and too much had changed with those times. Most had died, many had moved away, and those that were left were either unable or unwilling to be of help. I was alone. Utterly alone and unconnected to anyone. I had to start over, start essentially from scratch… or so it seemed.
When my grandmother died, I purchased my childhood home from my parents to help them afford to keep the 90-year-old ranch from my mother's side. I lost that home of 33 years to foreclosure after my parents died and we were unable to pay the bills. Keeping the ranch was far more important. But we soon were forced to sell it, too, when we found ourselves three months behind on its mortgage. My sister moved to Mississippi, and I moved into the last remaining dwelling that still held memories of family.
Not ten minutes away from our ranch was the the home built by my grandfather, the place where my father grew up. I moved in with my trusty four-legged cohort, my nine-year-old Boxer, Bruno, who had been through it all with me. I loaded the one-acre parcel with the only family I felt I had left; a small herd of sheep and goats, the llama, and my dad's horse, all from the old ranch. I added a milk cow, a few pigs, and a new puppy for good measure, and got to work making a home for myself. Little did I know I was building a home for my family!
Nancy feeding the animals.

In a small town of 7,500 people, I shamelessly and openly proceeded in the rural traditions of my family who had been in this town and on this land for nearly a century. I milked my cow in the morning, started riding my horse downtown to the brew pub, and let my dog run loose and unconfined, despite the initial horror of those who came upon his girth and ominous presence. He has always been really confident but knows not to go too far from us. He goes running off everywhere, looking for new things to smell or chase but always comes back after we whistle for him. I had to look up some tips on how to dry a dog properly because every time we came back from a walk, he was soaked after jumping into the streams! He also helps with the ranch a bit too, scaring off any wildlife that shouldn't be there and keeping us entertained when we have to go out and check the ranch in the early hours of the morning. Anyway, in an increasingly "designer" town, full of wine, weed, and Silicon Valley money, I held true to my traditions as my way of healing, still mourning the family I had lost….unwittingly attracting my family of today.
Mothers started making my house a destination point when pushing their babies in strollers. On their way home from school, little girls started asking if they could ride my horse, while the boys asked if I needed help when they saw me working, just so they could maybe use the power tools they saw in my girlish hands. Neighbors started asking if they could feed what would otherwise go into their "green-waste" bins to the goats, or their compost to the pigs. Soon every dog-walker just learned to expect Bruno to say Hi, as did I. I started trading milk for eggs, and lending the goats out to those who had unruly landscapes to tame.
My family clearly was meant to be more than the one I was born into, more than what I could have born myself. My family, clearly, was meant to be my community! I don't want for company, for conversation, for love, or for trust. Like in any family, there are those to whom I am closer to than others, but all play a role and hold a place in my heart, as well as in my home. Sundays are reserved for "family" supper under the apple trees and around the fire-pit. Chores are divvied up when I have to leave town, money is borrowed, scoldings are had, apologies are made and forgiveness is granted. Homework is looked over, lessons to live by are repeated, recitals are attended…. And the land, the land STILL is what binds us. It is what brings us together. It's what unites us and reminds us to give thanks for what we have, for who we are. Family and land remain reflections of each other.
Author photo: Slam Dance
This is #1000families post number 91. Do you have a family story of your own to contribute to the 1,000 Families Project? Or do you know a family that might want to do so? Learn more about how the series got started and how to get involved here. You can find all of the #1000families posts here.
Please follow and like us:
---
---
---