This recipe for baked beans is from 3 Chefs: The Kitchen Men by Michael Bonacini, Massimo Capra and Jason Parsons. Whenever we have a family potluck BBQ we always ask my sister to make it. With a few adjustments the original recipe, it's our all-time favourite side dish. Since the recipe yields a big batch, my sis uses leftovers in her egg white omelettes or as a side dish to eggs in the morning. She even uses it as a filler in burritos. If there's any leftovers, that is! Here's how my sis makes it. (She also took the photos!)
1 tsp canola oil (you can omit the oil since bacon is already fatty)
8 oz Canadian back bacon cut to roughly the same size as the beans
1 large onion, chopped small as well
1 lb navy beans, soaked overnight
6 cups hot water
1/2 c ketchup
1/4 c molasses (my sister used fancy molasses, which is milder than blackstrap)
1/4 c maple syrup
1 Tbsp tomato paste
3 cloves garlic, minced
1 Tbsp dry mustard (my sister didn't use any)
Salt and pepper
1. Preheat the oven to 350°.
2. Heat the oil (if using) in a sauce pan over medium heat. Sauté the bacon until it's golden brown, about 15 minutes. Add the onions and sauté for three to four minutes.
3. Drain the beans and place them in a covered earthenware or casserole dish along with the bacon and onion mixture.
4. In a bowl, combine the water, ketchup, molasses, maple syrup, tomato paste, garlic, mustard and salt and pepper to taste. Add to the beans and mix well.
5. Cover and bake in the oven at 350° for three hours. Uncover and cook for another hour or until the beans are tender and the sauce has thickened.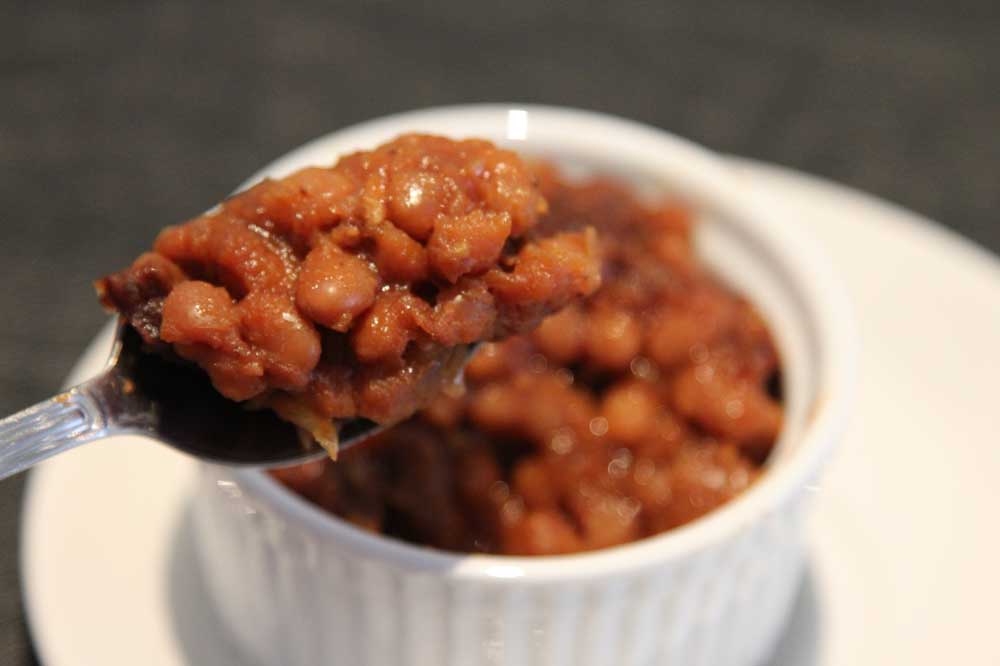 Please follow and like us:
---
---
---