It's hard to imagine a family dinner without my mom's apple cake for dessert. She made it for me and my siblings when we were kids, and now the smell of apples and cinnamon wafting through her house makes my kids swoon. My boys will often fight my brothers off to secure the biggest pieces for themselves. Bickering over the apple cake is as much of a tradition in my family as eating it! But it definitely is a tradition. My mom makes it for birthdays, holidays and just because. This year, we will be making it for her on Mother's Day. My five-year-old, whose birthday falls on Mother's Day this year, has automatic dibs on the biggest piece!
Mom's Best Apple Cake
3 large eggs at room temperature
1 cup of sugar
2 tsp pure vanilla extract
1 cup vegetable oil (my mom uses canola)
5 Tbsp water or orange juice
2 1/4 cup all purpose flour
3 tsp baking powder
pinch of salt
8-10 small apples, peeled, cored and sliced thinly (we like Macintosh)
1/2 cup sugar mixed with 1 Tbsp cinnamon
2 Tbsp sugar blended with 1 tsp cinnamon (for an optional topping)
For the apple filling: Peel and slice the apples and place in a large mixing bowl. Toss to coat with the 1/2 cup of the cinnamon/sugar mix. Set aside while preparing the batter.
For the batter: Beat eggs, sugar and vanilla well. Slowly beat in the oil.
Next, stir the dry ingredients together in a small bowl.
To the egg mixture, alternately add the dry ingredients and the water, stirring between additions to incorporate well. (My mom is more methodical about it; I just mix the wet and dry ingredients together in one bowl and stir!)
Place parchment paper in a 9- x 13-inch baking pan, covering the bottom and sides. Spoon 1/3 to 1/2 of the batter evenly across the bottom of the pan, spreading with a rubber spatula. Add the apple slices, spreading evenly to cover the batter. Cover the apples with the remaining batter, spreading with the spatula.
If you'd like, sprinkle the top of the batter with the remaining sugar/cinnamon blend.
Bake at 350°F for approximately 40 minutes, or until the crust is lightly browned and fully baked. You will end up with an ooey-gooey, apple-cinnamony centre baked between sweet layers of cake. I promise that this will become an instant classic in your family, too.
Happy Mother's Day!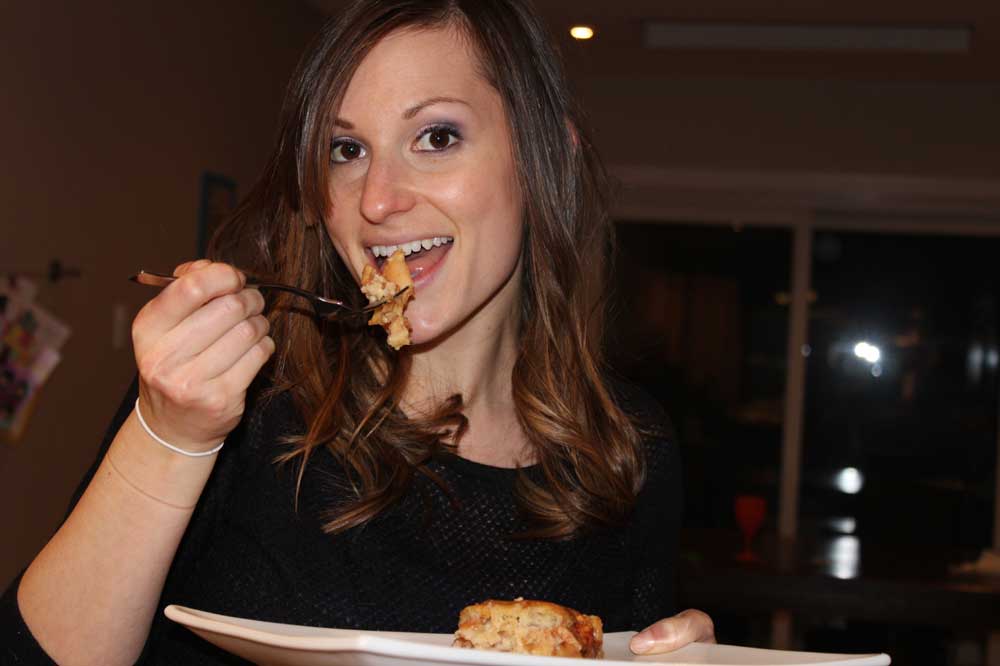 Please follow and like us:
---
---
---