An at-first frightening diagnosis soon becomes the heartbeat of a family as love, logic and an amazing special need's community save the day.
When I think about what makes up a family, my answer would be considerably different a few years ago. When James and I were planning on starting a family of our own, we didn't think about any possible challenges. We didn't think about complications or fearing what the future would hold for our family.
When we were 15 weeks pregnant, we received the news that our baby would be born with Down syndrome. I remember crying and thinking the worst. I remember hugging my husband and letting emotion take over logic. At the time, I felt like my world was crashing down and that we were to blame, something went wrong. We did something wrong. I did something wrong.
In my 12 years of teaching, I had never taught a child diagnosed with Down syndrome. My opinions were clouded by statistics and ignorance.
As the pregnancy progressed, we became our baby's parents. We fell more and more in love with each ultrasound and with each kick. We were meant to travel this journey as a family, this was no mistake. I am a firm believer that our children are given to us for a reason. I have heard many times that a child with Down syndrome is a gift from God, an angel, a beautiful miracle. I believe that both of my daughters are gifts and miracles and I am so thankful that they have chosen me to be their mommy.
Our family grew when we received Adele's diagnosis. I never expected our world to change so drastically and all for the better. It's filled with loving, supportive and encouraging people. We reached out to the special needs' community and they reached out to us. Our family consists of therapists, doctors and those who have come into our lives because they are travelling a similar journey. Family is not defined by who lives under your roof, or those who share the same last name. Family is about coming together as a community and respecting and caring for each other as we go through life together.
What I soon came to realize was that we did nothing wrong. Our world has become a place filled with love, laughs and beautiful moments. We get to share these moments with people from all over the world; people who we consider our family.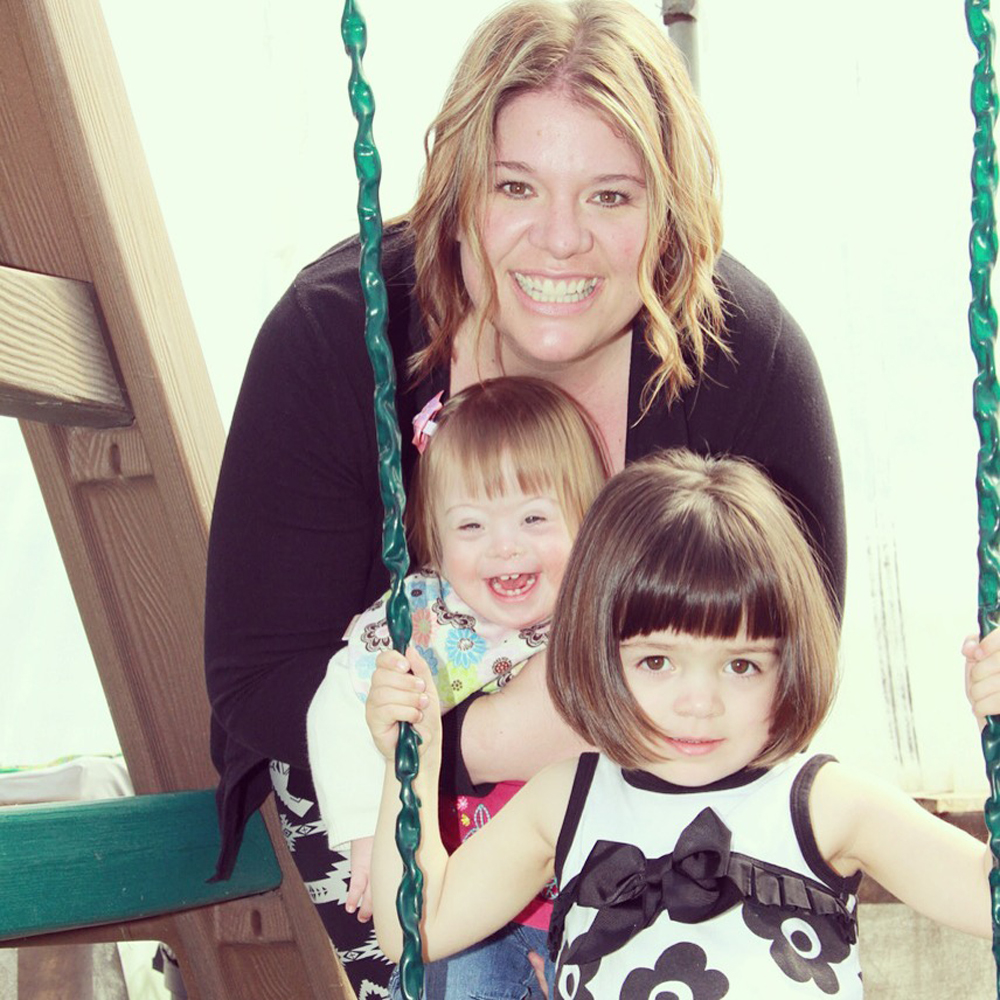 As I sit here today, I look back and reminisce on the past few years and I see that life doesn't always go as planned; we have a timeline, a schedule and we try our hardest to follow the path, the one that we have always wanted and dreamed of. As we climb the mountain, cross the rivers, sometimes we stumble and fall, but we pick ourselves back up, dust ourselves off, and continue on this beautiful life journey.
I am eternally grateful for my family.

This is #1000families post number 103. Do you have a family story of your own to contribute to the 1,000 Families Project? Or do you know a family that might want to do so? Learn more about how the series got started and how to get involved here. You can find all of the #1000families posts here.
Please follow and like us:
---
---
---