There aren't a lot of things more iconic to summer life than an outing to an amusement park. Up there with sand castles and picnics, there's something about the silliness of roller coasters and bumper cars that just screams summer fun.
Here in Toronto we're pretty lucky to have a great little amusement park, Centreville, in a gorgeous setting on Centre Island just a short ferry ride away. It had been a while since we'd been so we headed there about a week ago to discover it all over again.
Our adventure started with the 15-minute ferry ride from the harbourfront at the foot of Bay Street. In Toronto we can be a little cut off from our lake (I'm looking at you, Gardiner Expressway), and unless you have a sailboat or a waterfront condo, it's easy to feel quite disconnected from the powerful body of water that our city was built upon. I guess that's why even the short sail to Centreville feels like a treat.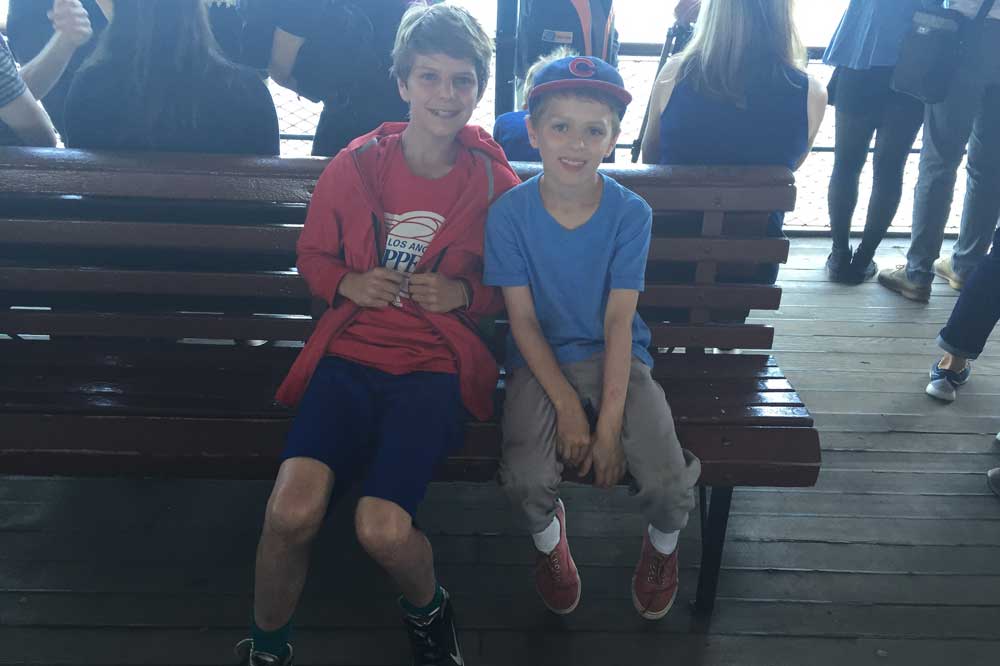 There are two things that really set Centreville apart from other amusements parks in my mind. The first is the pretty surroundings. Plenty of similar parks are paved paradises with hardly a lick of shade, and I don't know of another that feels as tucked away among pretty weeping willows and shorelines as Centreville.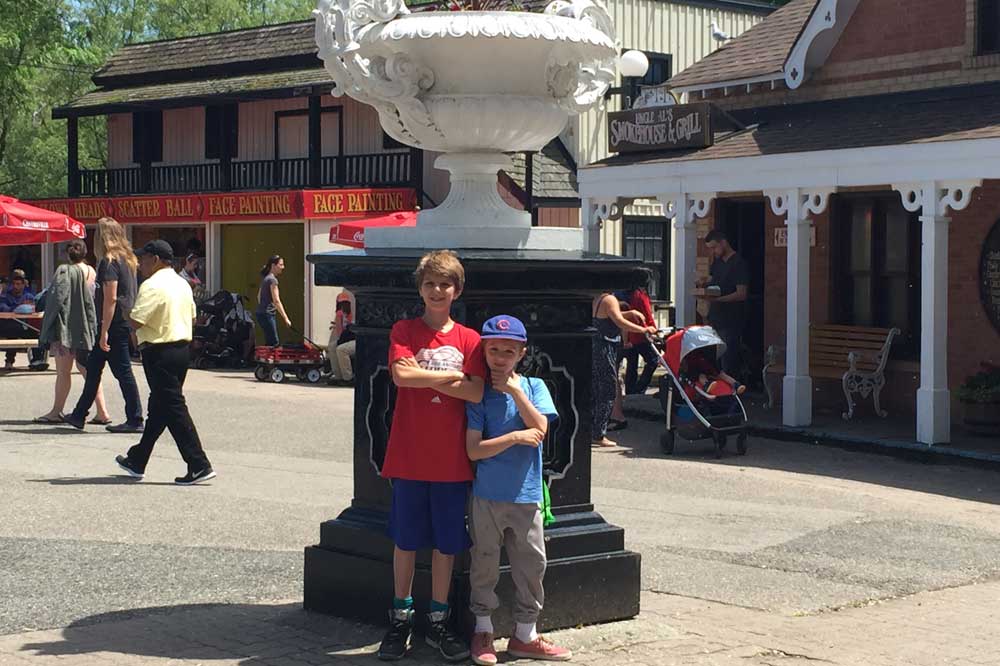 The second thing is how suitable it is for little kids, while still offering enough thrills to make it engaging for big kids, too. No, there aren't death-defying roller coasters, but that's not what we come here for. My almost 12-year-old loved the nostalgia of seeing the rides he went on when he was littler and still had a great time on the more exciting rides like the Scrambler (probably the most intense there) and the Toronto Island Mine Coaster.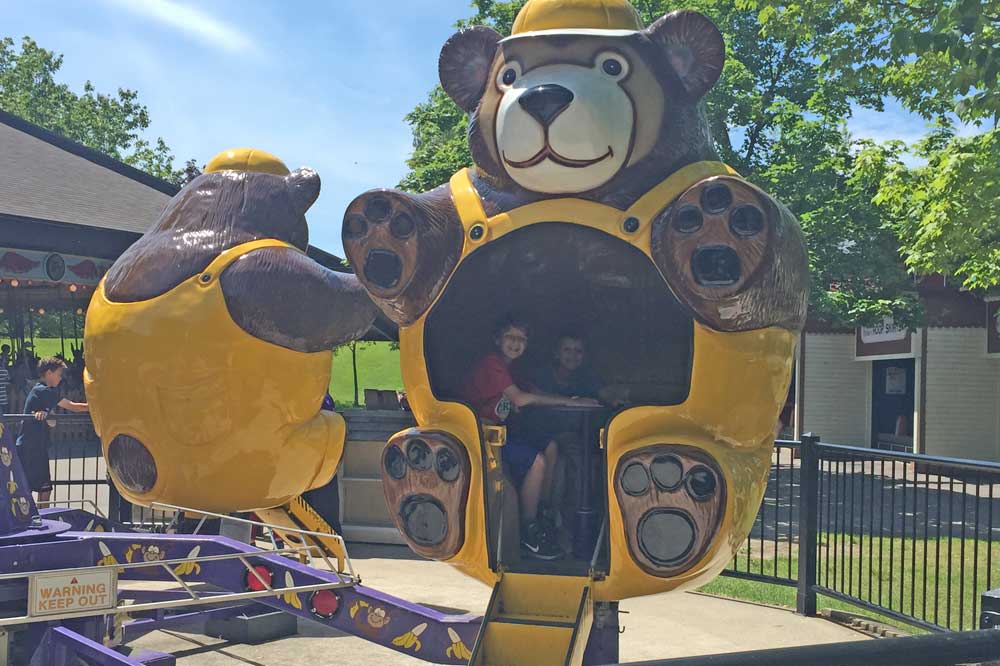 The first ride we hit was the Beasley Bear Ride. I watched from a safe distance because a similar ride called "The Berry-Go-Round" (much more sinister than the name would imply, I assure you) has made me sick to my stomach on more than one occasion. As it turned out, these little honey bears didn't spin nearly as fast as the oversized strawberries that have done me in at fun fairs past.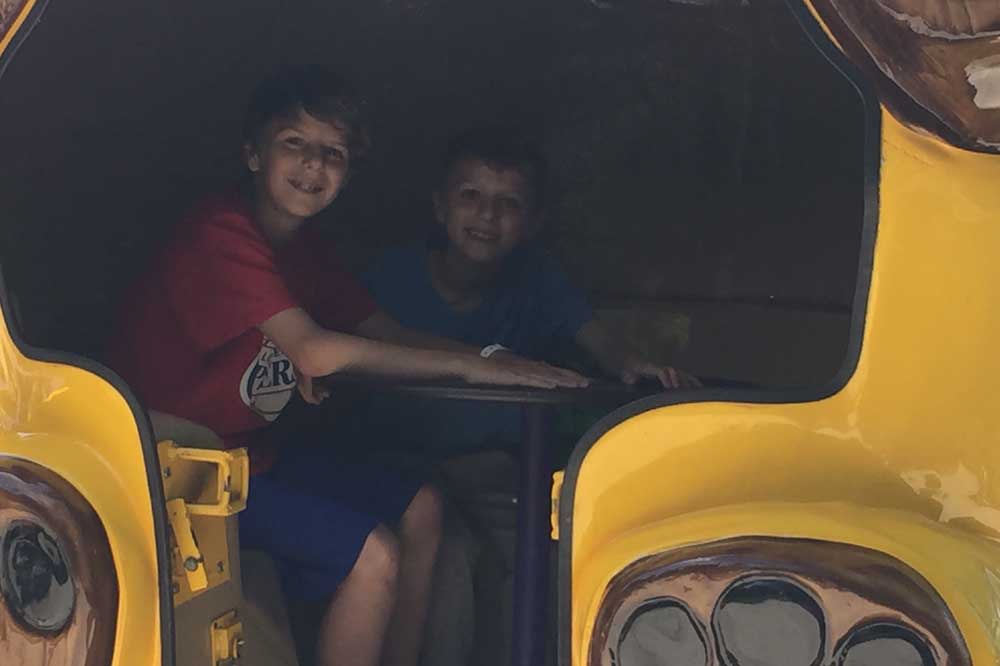 See, look at how happy and not-at-all nauseated these guys are?
Next we checked out the Rocking Ferry Ride and then the new Toronto Island Mine Coaster. There were no big lineups anywhere. Alister, almost 8, still got a kick out of riding one of the little Fire Engines.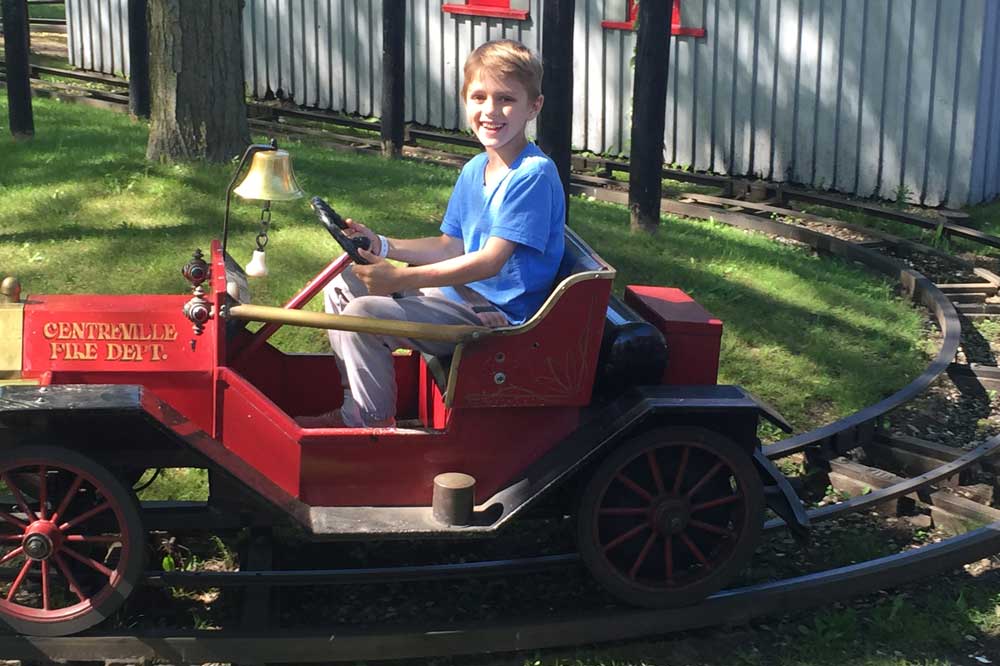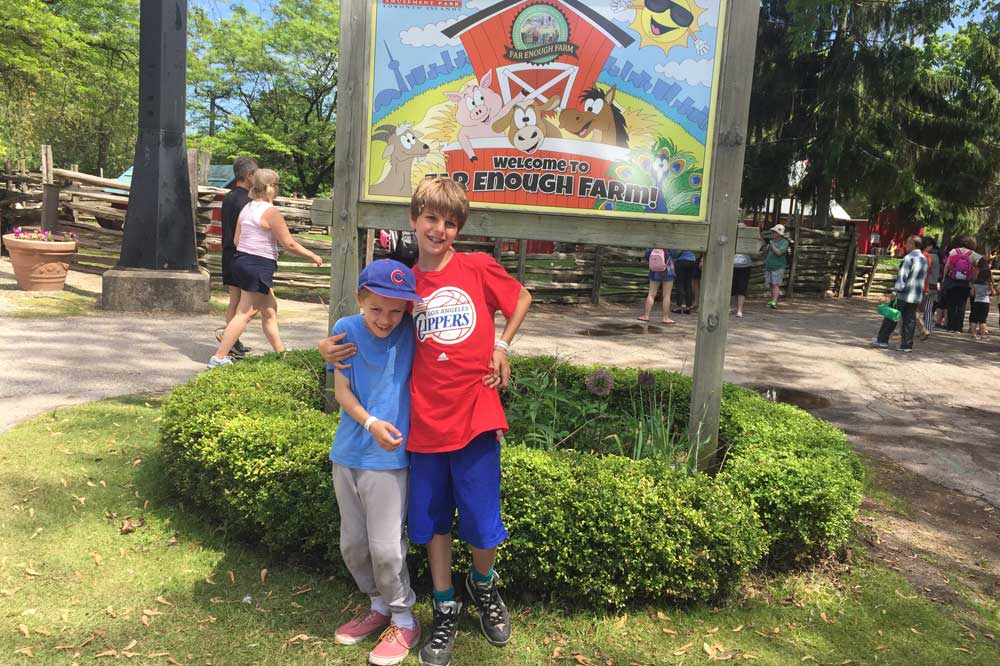 We stopped by Far Enough Farm, too, the island farm and petting zoo that is also run by Centreville. Our favourites were the terribly friendly goats, but you'll also find bunnies, chickens, emus, hens, a billy ram and peacocks.
Admission is free, as it is to the park in general. You can buy tickets for the rides you love most, or for the best value, pick up ride passes online for unlimited access. What's great is that you don't have to shell out anything for yourself if you think your kids will go on most of the rides solo, which is a great option, especially if you have a babe or toddler in arms. But speaking of babies, I was reminded on this trip just how great Centreville is for even the tiniest children. There are benches on the carousel perfectly suitable to sit on with a newborn, and the motorized train ride that circles around the park is also a great whole-family activity easy to enjoy with your newest addition.
The ideal way to do Centreville is to hit one of the early ferries and make a day of it, enjoying a picnic outing as well. We saw plenty of families with bike trailers and wagons loaded with kids and lunch—even birthday cakes! If you don't have the time or inclination to pull together a picnic, not to worry. There are restaurants on the island like the Carousel Café or a new Toronto Island BBQ & Beer Garden.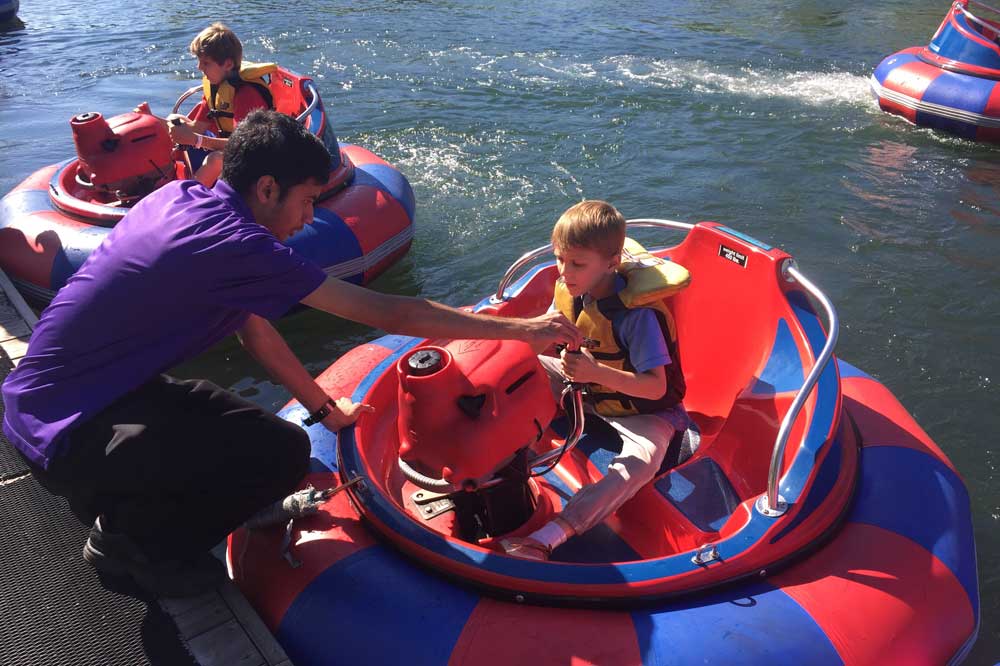 The penultimate adventure on our day at Centreville was when all of three of us battled it out in the Bumper Boats. It was a tonne of fun, and to my relief, none of us tipped over.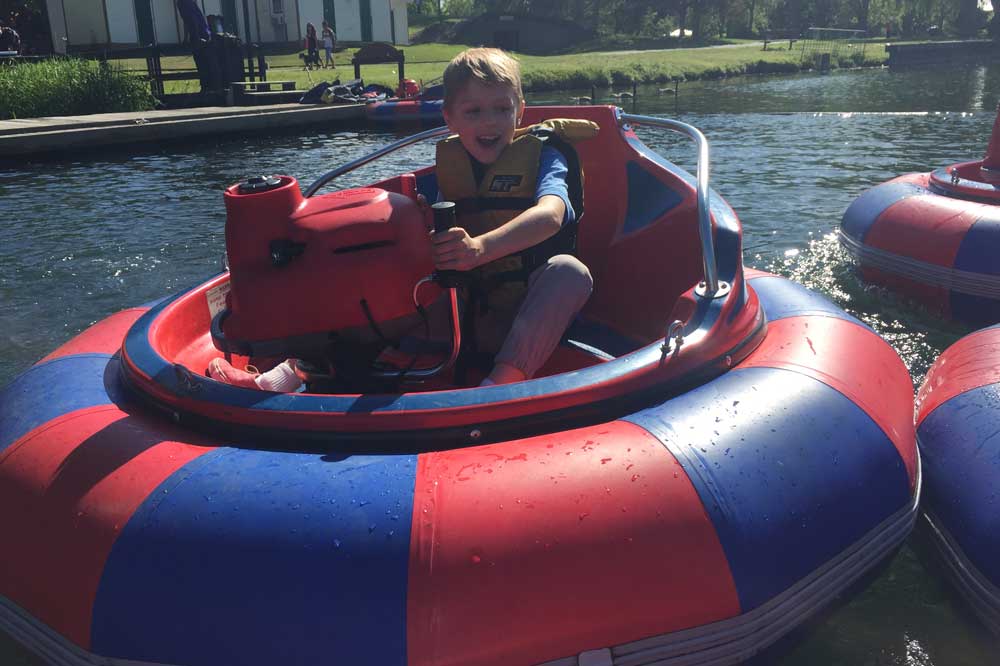 We'd saved the Log Flume ride for very last, expecting to get soaked, but wound up only getting a few drops of water on us. All the better for the quick ride back to the city. When we headed for the 5:45 ferry, ice cream cones in hand, we saw a bunch of others doing the same and thought we might have to wait. Happily, it was no problem fitting all of us on and we made it back home for dinner.
If you're thinking of visiting Centreville this summer, consider heading there for KidsFest, which takes place from July 3–5. Centreville is open seven days per week until 8 p.m. for all of July and August. Check the website for hours in May, June and September.
And if you think you might make it more than once this year, it's good to know that a season pass pays for itself in two visits. A dad I know used to take the kids there on weekdays after school, where they were joined by their mom as soon as she got off of work downtown. They made great use of their seasons passes.
May your summer be full of roller coasters, sand castles and picnics, and if some of those happen by the shores of Lake Ontario, all the better.
This post was generously sponsored by Centreville, but the opinions and images are my own. For more information, visit www.centreisland.ca.
Please follow and like us:
---
---
---