If my kids were in charge of meal planning, we'd likely only eat foods that begin with the letter "P"-pancakes, pizza, pasta, peanut butter, potatoes (ok, maybe not potatoes but certainly French fries).
While I do love all of those foods, we tend to return to pasta again and again as it's so adaptable both in form and flavour. With so many shapes to choose from, so many ways to sauce it, so many ways to appeal to our kids favourite flavours, it's an easy go-to for a rushed mid-week dinner.
The other great thing about pasta is it's an all-weather food. In winter, you can make heavier, heartier pastas; in summer, you can make lighter sauces that take advantage of seasonal ingredients at their best like fresh tomatoes and basil. My kids love to take a thermos of pasta to school in their lunch, so it's always easy to cook a little extra to have on hand the next day.
As a family that tries very hard to sit down to a meal together at least six nights a week, pasta is often the perfect solution for our rather hectic schedule of guides, dance, soccer, hockey and tutoring. (A recent study by Angus Reid for Barilla found that 96 per cent of Canadian parents feel sharing meals is important to connecting with their children but less than half have family meals every day.) You can count us in that 96 per cent of parents and that's another reason we tend to eat pasta-it means we can sit together at the table and have a quick chat before we head out to our evening events.
With the advent of gluten-free and whole-wheat pastas parents now have some much-needed additional options.
Here are three pastas that we've recently been enjoying-two of which are vegetarian-the third has options to make it vegetarian friendly (albeit the sauce is cooked under a lovely layer of prosciutto).
Pasta with Cherry Tomatoes (from David Rocco's Made in Italy)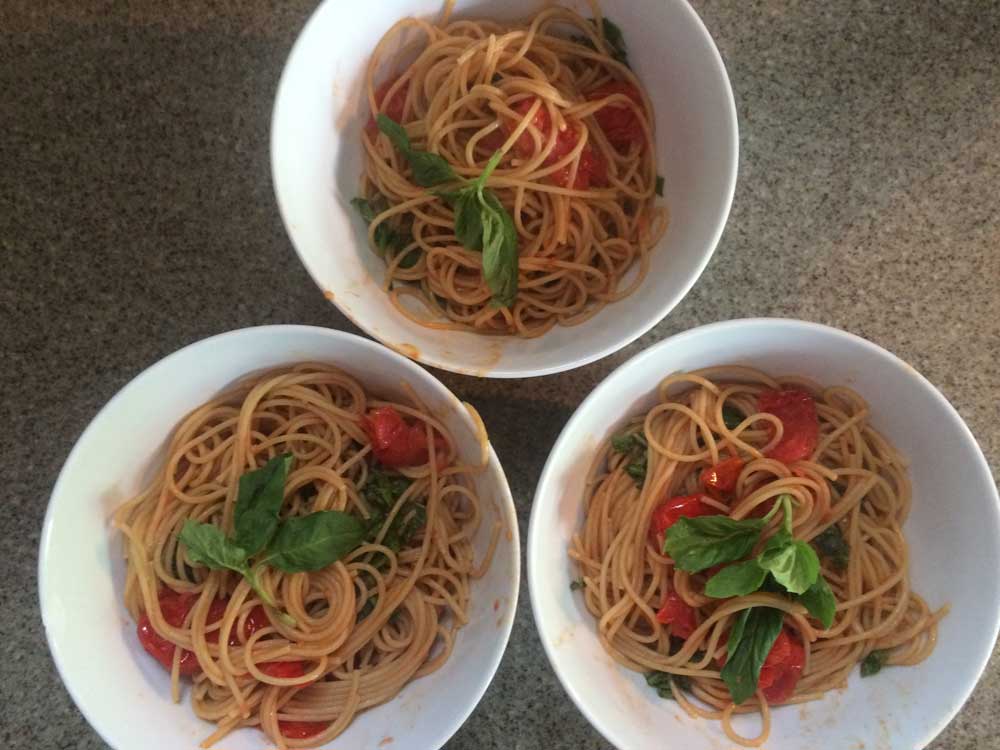 This is a shockingly easy pasta that produces a great looking and great tasting bowl of goodness. In David Rocca's cookbook he claims this doesn't need grated parm on top, I had my doubts but he was right.
1lb (500 grams) spaghetti
5 tablespoons (75mL) extra virgin olive oil
3 cloves garlic, smashed
1 lb (500 grams) cherry tomatoes*
Salt
8 fresh basil leaves, torn
1. Bring a large pot of salted water to a rolling boil.
2. While waiting for the water to boil, bring the olive oil to a low heat and gently cook the smashed cloves of garlic. You don't want the garlic to brown and turn bitter; you want it to slowly cook, flavouring the oil.
3. Turn up the heat under the olive oil to medium, add your cherry tomatoes and sprinkle with salt. The tomatoes should sizzle as they begin to wilt and break down in the warm oil. Stir the pan occasionally to encourage them to soften and cook-you want the tomatoes to be squishy; some will have completely broken down into sauce.
4. Once the spaghetti is al dente, drain it using pasta strainers but reserve about a half cup of the salted pasta water. Add the cooked pasta and pasta water to the pan of cherry tomatoes and mix together. Sprinkle with the fresh basil, taste for seasonings (more salt?) and serve.
*I used a pint of cherry tomatoes from my local grocer, which was 12 ounces, just short of the called for 16 ounces, but the pasta sauce turned out perfectly.
Pasta with Prosciutto and Leeks (adapted from Jamie Oliver)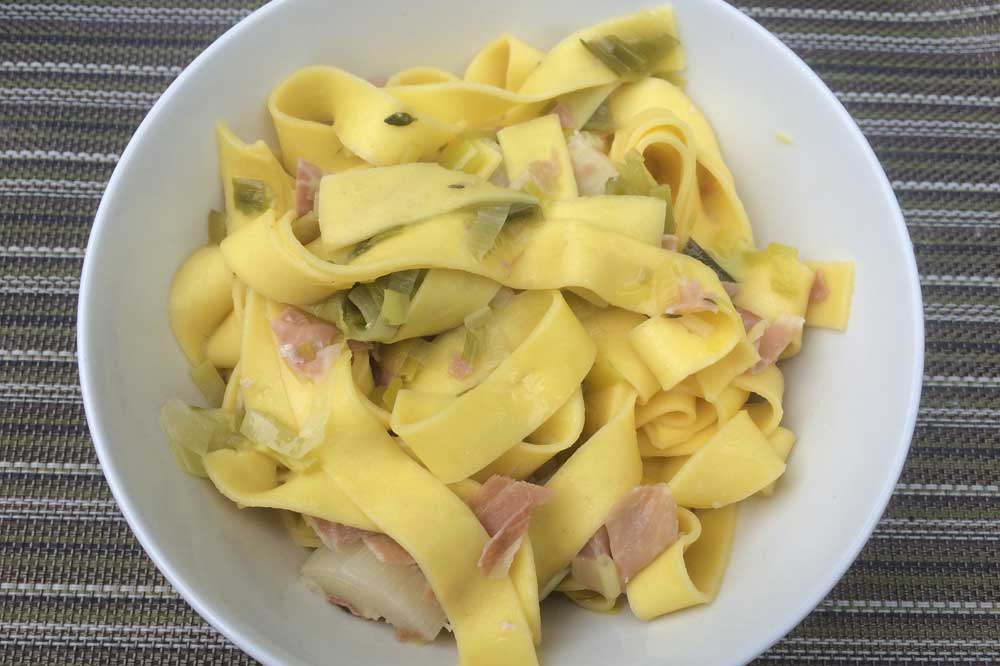 This might be the pasta we make most often. Both of my kids love it and ask for it all the time. My daughter doesn't seem to mind the presence of the prosciutto in the sauce prep, but we do hold it back in the final sauce so that she doesn't need to eat around it. The fresh thyme is the key ingredient here; it really brings a pronounced flavour to the sauce.
Three big leeks, outer leaves trimmed back, washed
2 tablespoons olive oil
2 tablespoons of butter, divided
3 cloves garlic, peeled and finely sliced
1 teaspoon of fresh thyme leaves
A small wineglass white wine
Sea salt and freshly ground black pepper
2 cups (500 mL) vegetable or chicken stock
12 thin slices of prosciutto (about 80 grams)
16 ounces thick pasta such as fettuccine or pappardelle
2 handfuls freshly grated Parmesan, plus extra for serving
1. Cut the leeks in half lengthwise, scrub under cold water to remove any dirt and grit. Then cut into 1/2-inch slices.
2. Put a wide saucepan over medium low heat, add a splash of oil and one tablespoon of butter. When the butter has melted, add the sliced garlic, thyme leaves and leeks (the thyme will pop and "spit" so be careful if the oil is hot). Stir so that the leeks don't catch or brown-you want them to cook down into silky whites.
3. Once the leeks begin to turn translucent, pour in the white wine and the stock, give it all a good stir.
4. Cover the leeks with the slices of prosciutto-you want a single layer of prosciutto to almost seal the top of the pan-place a lid on the pan, reduce the heat and cook gently for 25 to 30 minutes.
5. Put a large pot of salted water on to boil, cook the pasta until al dente.
6. When the pasta is ready, drain and reserve some of the pasta water.
7. Remove the prosciutto from the saucepan and cut into bite-sized squares before mixing it back into the leeks (to make this vegetarian friendly, we do not add the prosciutto back into the leek mixture; we add it to individual portions).
8. Season the leek mixture to taste with salt and pepper, add the grated Parmesan and a tablespoon of butter, then add the pasta to the leeks. If the leek mixture is a bit dry or sticky add a little of the pasta cooking water to make a silkier, smooth sauce.
Pasta with Eggplant and Mozarella Sauce (from David Rocco's Made in Italy)
This is a heavier vegetarian pasta with a very unctuous, cheesy sauce. The original calls for a handmade type of Sicilian pasta called Scalatielli-it obviously needs a pasta shape that can handle the heavy sauce. We substituted pappardelle and a more rustic pasta called riccia lunga, both of which worked great. (Fior de latte is a kind of mozzarella.)
1 large eggplant
½ cup (125 mL) olive oil
1 onion, chopped
750ml tomato sauce (we use a single jar of passata)
1 ball of fior de latte, cubed
2 tbsp grated pecorino (or romano or parmigiano)
4 to 8 leaves of fresh basil, torn
16 ounces of thick, long pasta such as papardelle
1. Put a large sauté pan over medium high heat and add the olive oil
2. Cut the eggplant into ½ inch (1 centimeter) cubes, once the oil is hot, add the eggplant, frying until golden brown. (If the oil is too hot, the eggplant will char; if it's too cold the eggplant will absorb all the oil. Test fry a piece in the oil; it should bubble and sizzle, cooking gently if the oil is the right temp.) Once the eggplant is golden brown, remove to a plate lined with paper towels.
3. Remove all but 1 tablespoon of oil from the pan and then add the onion, stirring to coat and sautéing until soft.
4. Add the tomatoes, a pinch of salt, reduce the heat and let the sauce gently simmer.
5. Put a large pot of salted water on to boil, cook the pasta until al dente, then drain.
6. Add the eggplant to the tomato sauce, add the pasta and mix well to combine.
7. Remove from heat, add the grated pecorino, the diced fior de latte and the torn basil and stir once more, serve immediately.
Please follow and like us:
---
---
---