With two children living with Crohn's disease, this family has learned to enjoy the little wins and happy moments when they can.
Our family was complete when Ashtyn was born. We had a quintessential family: one boy and one girl. Parents hope their children will have nothing but the future ahead of them, with no obstacles in their way.
This seemed to be true until my daughter started third grade: she suddenly started losing weight, became pale and complained of stomach pains. At first we were told it was lymphoma, but a doctor at the children's hospital in Vancouver diagnosed her with Crohn's disease. We were thrilled she didn't have cancer, but now it was a situation of a lesser of two evils. Crohn's is a chronic condition, which will affect all aspects of Ashtyn's life.
Because Crohn's is not well understood and can be seen as a "bathroom problem," many people told us to have her "take a pill and be positive," all while we were trying to make sense of the diagnosis and how to help her. To add insult to injury, later my older son would be diagnosed with Crohn's and also require intensive treatments. Fortunately he is in remission and is being treated as an adult.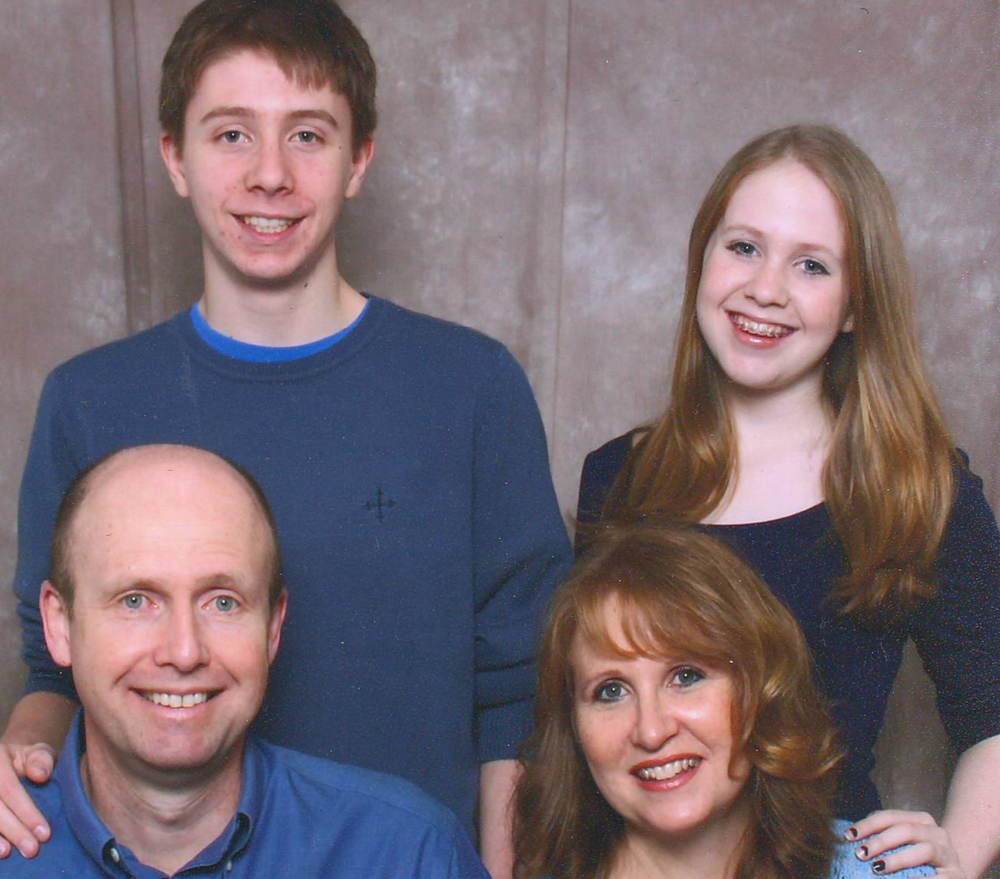 To be blunt, life changed drastically the moment Ashtyn was diagnosed. We have not been a normal family since. Her disease controls all aspects of her life, we have no routine and very little spontaneity; it can be a real struggle to make normal, fun family activities happen.
My husband's and my roles changed not only as parents but professionally. I became a full-time nurse to my children, while my husband took on the role of researcher. We moved 90 minutes away from our home to Nanaimo, BC, to be closer to the hospital. This of course meant that my husband had to find a new job and I had to cut back on work to care for my children.
Now that Crohn's is a part of our lives, our day-to-day truly revolves around how our children are doing at that moment. Since her diagnosis, Ashtyn has had to make numerous changes to her life. At times she has had to be homeschooled by me and later through a homeschool program. She has had to quit her extracurricular activities because this disease has made the simplest things too hard to do on a bad day, but barely doable on a good one.
In spite of the numerous treatment regimes, surgeries, infections, pain and hardships, I am in awe of my 16-year-old daughter's spirit and tenacity in the face of this disease. When many people would choose to sit and wallow in the circumstances, Ashtyn is spurred on by her desire to help find a cure. She has fundraised for Crohn's and Colitis Canada, from bake sales, garage sales, going door-to-door with pamphlets and raising pledges for and attending the organization's Gutsy Walk each year.
Although, I am incredibly proud of the young woman that my daughter has become, I am saddened that she has had to grow up so fast. I am inspired by her passion and determination for educating people about the disease and finding a cure, but sometimes I wish she could be like any ordinary teen interested in the latest fad or makeup. Instead, she thinks about what she can do when she graduates and how she can make more people aware of the disease.
I think the future is one of the biggest challenges for me as a parent. I worry about this diagnosis and the possibility that my children will get so sick that they won't be able to enjoy life. That they will have to sit on the sidelines and watch life go by or, worse, that they will lose their lives to this disease. I often wonder what career choices they be able to make so that they can have some sick days—sick months even—and still be able to support a family.
But for families facing similar circumstances with a child who has chronic illness, I cannot stress enough that in spite of the challenges it isn't all bad. Because of Crohn's we have learned to make the little things matter and enjoy the moments when everything is going well. We laugh at the silliest things, for instance hospital food, or "Charlie" her IV pole. Because this disease is Ashtyn's reality and life, it's important to make it happy when we can.
This summer, Ashtyn will get to experience a part of childhood that she's previously missed. She's been sponsored to attend Camp Got2Go outside of Calgary. The week-long camp is one of two camps (the other is in Nova Scotia) created by Crohn's and Colitis Canada as a way to give kids with these diseases across Canada a once-in-a-lifetime opportunity to attend overnight camp.
We are completely over the moon about Ashtyn going to Camp Got2Go. It means my daughter can be normal for a few days and understand that there are other children that are the same as her. She really hasn't had too many good memories, and I want her to remember things other than a hospital bed or another round of medication. For me, I take comfort in sending her knowing there will be medical staff there to deal with all her medications and be aware of symptoms—we couldn't do this with a regular camp.
The disease in a way has made our bonds grow stronger. I don't think any parent thinks that they will find themselves in a situation like this—I certainly didn't—and it has truly tested us. But I believe we are better for it.
This is #1000families post number 109. Do you have a family story of your own to contribute to the 1,000 Families Project? Or do you know a family that might want to do so? Learn more about how the series got started and how to get involved here. You can find all of the #1000families posts here.
Please follow and like us:
---
---
---