Not long ago, Nikita and her partner were carefree twenty-somethings out on the town almost every night. Here's how all that changed—for the better—with an unexpected pregnancy and a whole lot of love from family.
The story of our little family began 1,600 miles away from our hometown of Toronto, Canada, in The Mayan Riviera, where Anthony and I met at a party in January of 2010. It was the most unlikely of places for two people to meet… what was even more unlikely was that after only a few minutes of talking, we realized that we had hundreds of mutual friends (yes, hundreds—we used to be some seriously social butterflies back in the day), and we only lived a few blocks away from each other. Convenient? Absolutely. Destiny? I like to think so. By March of that year we were dating, and by September we had moved in together.
We were the quintessential young city slickers. I worked in fashion, we ate at the trendiest restaurants, we were perpetually out for drinks with friends, we travelled all over the map, and we were blissfully happy with our general lack of genuine responsibilities.
Fast forward to July of 2013, two months shy of my 26th birthday, when I took a test that turned our world right on its head. It was a pregnancy test, of course, and when I saw two pink lines staring at me from that little white stick, I realized that life as I knew it was over. I was totally and completely terrified.
"This isn't part of the plan."
"The timing is all wrong."
"How can we afford a child?"
"How can we raise a child?"
"WILL WE HAVE TO MOVE TO THE SUBURBS?"
As I nearly had a nervous breakdown about the curve ball we had just been thrown, my partner, Anthony, was a beacon of strength, reason and excitement. He somehow had answers to all my frantic questions, solutions to all my hypothetical problems, and the wherewithal to give me what he knew I truly needed: a plan. Within the span of a few short months, we sold our condo, bought a small house (within city limits, thank God!), had a few baby showers, went on one last vacation, and after what turned out to be a wonderful pregnancy, we emerged from Mt. Sinai hospital in March of 2014, as a family of three (well four if you include our very human-like dog, Eddie).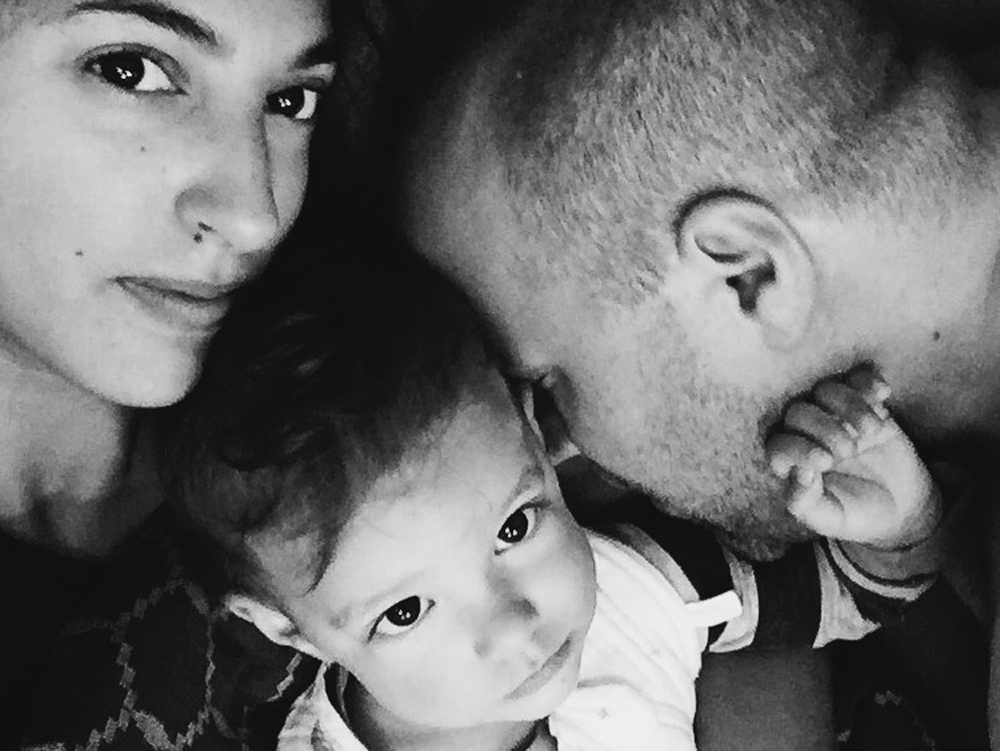 The first few months of our new dynamic were a million things all at once: beautiful, chaotic, magical, disgusting, fulfilling, exhausting, empowering, trying… But those months made it clear to me what people meant when they said, "It takes a village." My village was awe inspiring. My parents were saints, my grandmother was a godsend, and my in-laws were the picture of perfection. Everybody worked together in perfect harmony to help love, nourish, comfort and soothe our newest addition. Their help (which I graciously accepted whenever it was offered, and I still do today for that matter!) allowed me the time I needed to figure out who I was after I had been adorned with a new moniker: Mama.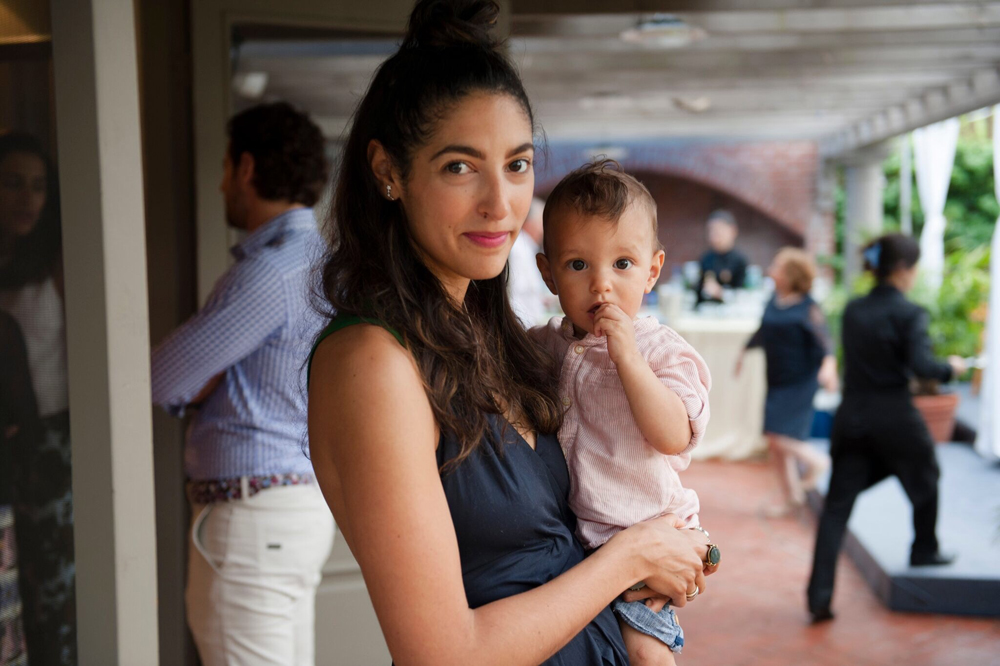 Gone was the girl I once was, but in her place, someone else was able to come to light—the *unintentionally* new and improved me. I made a commitment to practise self-love by eating well, doing whatever it took to get a decent amount of sleep, and making it to a yoga as often as possible. I finally felt inspired to put my specialist degree in English Literature from The University of Toronto to good use and started writing a blog that generates relatable content for women who like their mom-blogs served with a side of comedy and curse words; women who believe they are women first and foremost, even before they are mothers; women who want to honour their true selves in order to give the best of themselves to their children.
To me, the notion of a family, is simply a group of people who love and support each other through everything. Both Anthony and I have the most wonderful families to look to for inspiration as we try to navigate our way through parenthood together. What makes us incredibly lucky is that those people, who we've been loved and supported by for our whole lives, are now coming together to do the same for our son. Witnessing that is too magical for even a writer to put into words.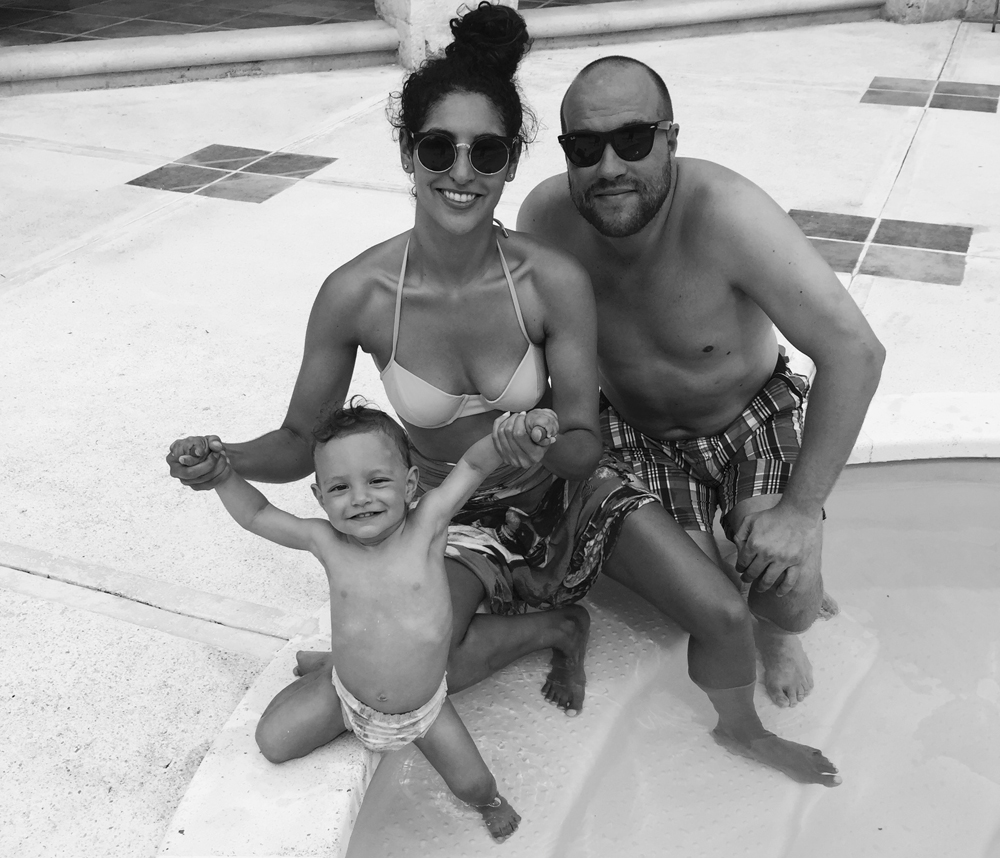 I remember so clearly the day we found out that we were going to have a baby; my mind was clouded with tears and fears, and Anthony was unable to hide his joy. He looked at me like a kid on Christmas and said, "Don't worry babe; I promise, this is going to be awesome!" Well, it looks like he was pretty damn right about that one.
This is #1000families post number 108. Do you have a family story of your own to contribute to the 1,000 Families Project? Or do you know a family that might want to do so? Learn more about how the series got started and how to get involved here. You can find all of the #1000families posts here.
Please follow and like us:
---
---
---