I love crumbles—juicy fruit cooked to perfection underneath a crispy, cinnamon-oat topping. I've been making them for a long time and eating them for breakfast, snack and dessert. I have experimented with every variety: canned pears and peaches (in winter), fresh-picked apples (fall), berries (fresh in summer, frozen in winter), but have mostly stuck to the same kind of crumble topping. Until recently.
I came across a recipe for a crumble with a different sort of topping and was curious to see if it would work. Yesterday, I tweaked the recipe and whipped up a crumble for dessert. Well, it almost made it to dessert. My son grabbed a spoon, stood at the counter, and ate right out of the dish before dinner was served. Here's the recipe:
Preheat your oven to 350° degrees.
Fruit:
In a baking dish, combine any type of fruit you have in a can, the freezer or your fridge. Berries, apples and peaches work best. Just make sure they are peeled and cored/washed and dried/thawed and drained before you use them. Avoid bananas, melon and citrus fruits—they won't work very well! I tend not to measure the fruit by the cup; I just add as much as I need to fill the size dish I'm using. If it looks liquidy, toss with 1 Tbsp of flour. (I used coconut flour but any will do.) Easy breezy!
Topping:
• 3/4 cup quick-cook oats
• 1/2 cup walnuts (or any nuts you would like to use)
• 1/2 cup chia seeds, uncooked
• 10 dates, seeds removed
• 1 T olive oil
Add topping ingredients to your blender and blend until crumbly. Then, sprinkle the topping evenly over the fruit until the entire dish is covered. Cover with tin foil and bake for 30-40 minutes or until the fruit is bubbling. (Timing will depend on the kind of fruit you've used. Apples will take longer than berries, for instance.) Then uncover and bake until topping looks crispy, for about 10 minutes more. Serve with plain Greek yogurt for a wholesome breakfast or vanilla ice cream for dessert.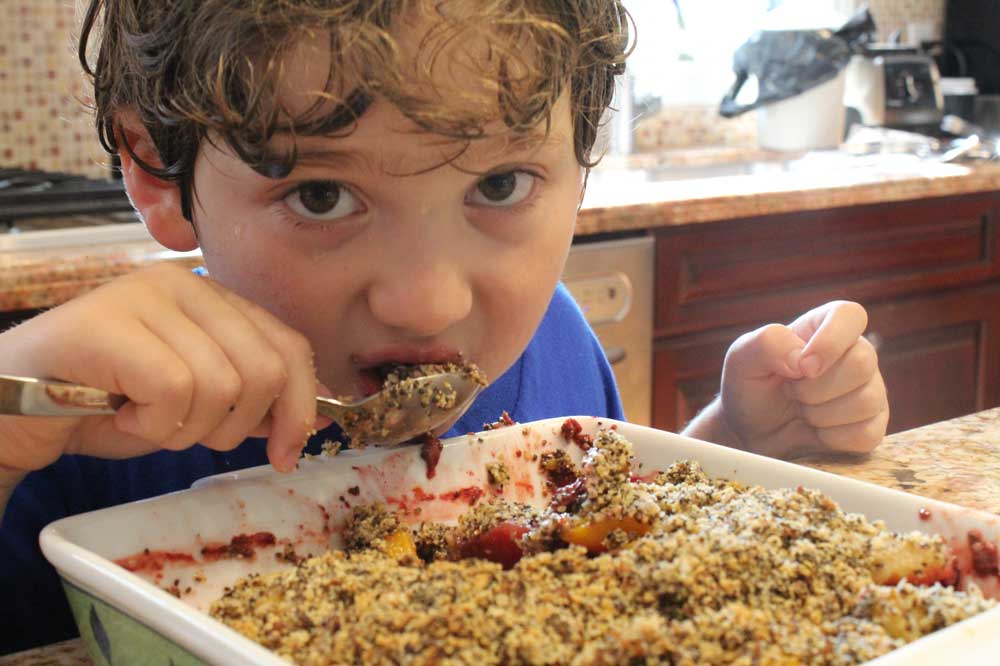 Please follow and like us:
---
---
---