One mom shares about having a transgender child.
It was a cold night in February of last year when I learned what seemed then to be a devastating truth: our middle son was, in fact, our daughter.
"I am a girl trapped in a boy's body," her email read. "More than anything, I want to be a girl."
Looking back, I can't imagine the strength it must have taken to write those words to your parents, hit send, and await their unpredictable response. I can't fathom doing it as an adult, let alone a preteen.
But Alexis was no ordinary 11-year-old, and this was a truth she desperately needed to speak, no matter the consequence. The light had inexplicably dimmed in her eyes years ago. Depression and anxiety were her constant companions. Tears, outbursts and panic attacks happened regularly.
We struggled to find answers, to unlock whatever was troubling her. We tried taking her to mental health professionals and medical doctors, reading books and scouring the internet. Nothing helped.
We did consider getting her CBD oil as this might have helped her calm down and cope better with her anxiety and panic attacks.
We had heard a lot about the benefits of CBD oil. Those in the know pointed out a few benefits of the product like altered serotonin levels and no psychoactive effects that can lead to the feeling of "high". We were also suggested to look into a few brands similar to Blessed CBD.
However, despite learning all the positives of the product, we refrained from opting for the product. Since she was still young and we weren't too sure what was going on, we thought it was best not. Anyway, after we made this decision it wasn't long until we knew what was going on.
It wasn't until she revealed the secret she'd been hiding that we were able to put all the pieces together. This was the answer we'd been looking for.
I would love to say that I was brimming with positivity at the news. I wasn't. I felt the world crumble beneath my feet the minute I read her words.
The term "transgender" conjured up images of an unhappy life filled with discrimination and ridicule. The statistics I read only fanned those mental flames; compared to the general population, the trans community has disproportionally high rates of homelessness, addiction, assault, homicide and suicide.
I was terrified for my child, heartbroken for our family, and more uncertain of what the future would hold than ever.
But we knew supporting our child was the only good option. I couldn't imagine trying to push her back into the closet and living in denial of who she really is. Alexis is a girl and has always been a girl, even before she voiced it to us. Our job is to love her unconditionally.
So that's what our family did, day after day. As parents, we wrapped Alexis up in love and support. We educated ourselves and sought the help we needed.
Her two brothers embraced having a sister, and made sure to start using the correct name and pronouns when tattling on her (how thoughtful.)
Our extended families were quick to see her for exactly who she is: our daughter, granddaughter, sister and niece. She is our Alexis, and we love her very much.
Family acceptance, along with access to a team of medical professionals at the Children's Hospital of Eastern Ontario's Gender Identity Clinic, drastically increases Alexis' likelihood of living a very happy life.
Eighteen months after that earth-shattering email, Alexis' hair is long and her smile is wide. She is confident and lovely. Now that she's no longer in the closet, it is filled with a beautiful wardrobe and some seriously adorable shoes.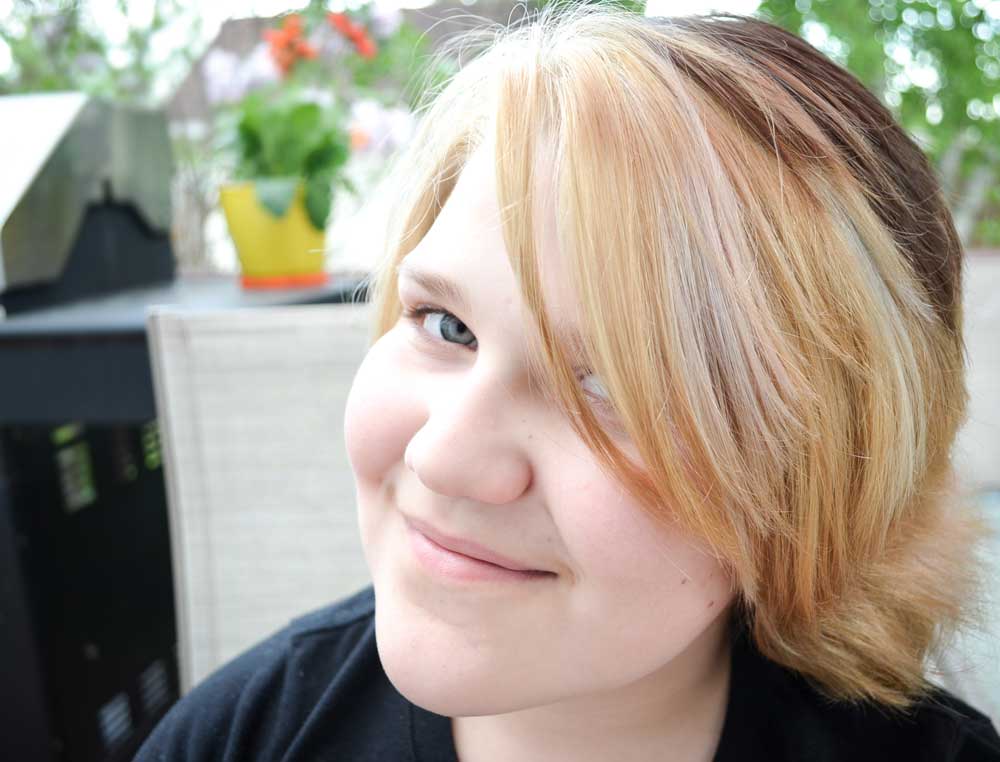 Hormone blockers suppress Alexis' puberty so that she can avoid unwanted male characteristics. Cross-sex hormones will begin in time so that she can develop into a lovely young lady who loves and connects with what she sees in the mirror.
It's a long and challenging road, but so worthwhile. The light has returned to her eyes, which is all the validation I need to know we're on the right track.
The nice thing about the world crumbling beneath your feet is that you can rebuild it into an even better one. It may not look entirely the same, but it can be just as beautiful-even more so.
This is our new normal. And we like it here.
This is #1000families post number 123. Do you have a family story of your own to contribute to the 1,000 Families Project? Or do you know a family that might want to do so? Learn more about how the series got started and how to get involved here. You can find all of the #1000families posts here.
Please follow and like us:
---
---
---