The remarkable story of how one mom overcame an unhappy arranged marriage and blazed her own trail to happiness in both business and a blended family.
My family began many years ago while I was attending the University of California in San Diego, with the intention to become a lawyer.
I come from a very traditional background as a first generation Middle Eastern Catholic. My parents set me up with the son of a family friend who was from the same area of Iraq that my mother and her family had lived. We were not allowed to date, so within two weeks of meeting one another, we were engaged.
At the time, I thought I was doing the right thing. I thought he was my ticket out of the very strict home I was living in. I thought he would show me the "American" life that I had dreamed of—going to the movies, going to the beach, seeing the world. Five months later, in the summer of my freshman year of college, I was married.
But the "honeymoon" period didn't even last through the actual honeymoon. I quickly realized I had made a huge mistake to accept this man as my husband, but my parents wouldn't condone a divorce due to fear of how it would affect our family's social standing within the tightly-knit community of Chaldeans that we lived in.  My parents urged me to find a way to make this marriage work so that my three younger sisters would not have a difficult time marrying within our community once they each came of age.
Within the first few miserable months of a highly volatile relationship where I felt trapped, I became pregnant with my first baby. My unhappiness in my marriage only grew.  Within a couple of months of graduating with a Bachelor Degree, three years into our marriage, I knew I couldn't pursue my law degree, but instead had to quickly find a job and create a life for my little girl who I felt a responsibility to raise in the healthiest environment possible. With only jewellery to sell for my deposit on an apartment, and a low paying first post-graduation job, my daughter, Alexis, and I moved out to create a life of our own. For many years, our family consisted of just her and myself; we were on our own with very little support emotionally at that time. Yet we were finally living that American dream, although differently than I had imagined.
My family now consists of a husband of my choosing, whom I fell in love with and married based on a desire to expand upon my family. My eldest daughter and my current husband have a strong bond, which I am proud to watch over. I had the task of choosing not only a husband for myself, but also a father to my daughter. Daniel has proven to be the perfect man to take on both of those roles in our lives, and I am blessed to have found him at just the right time in my life.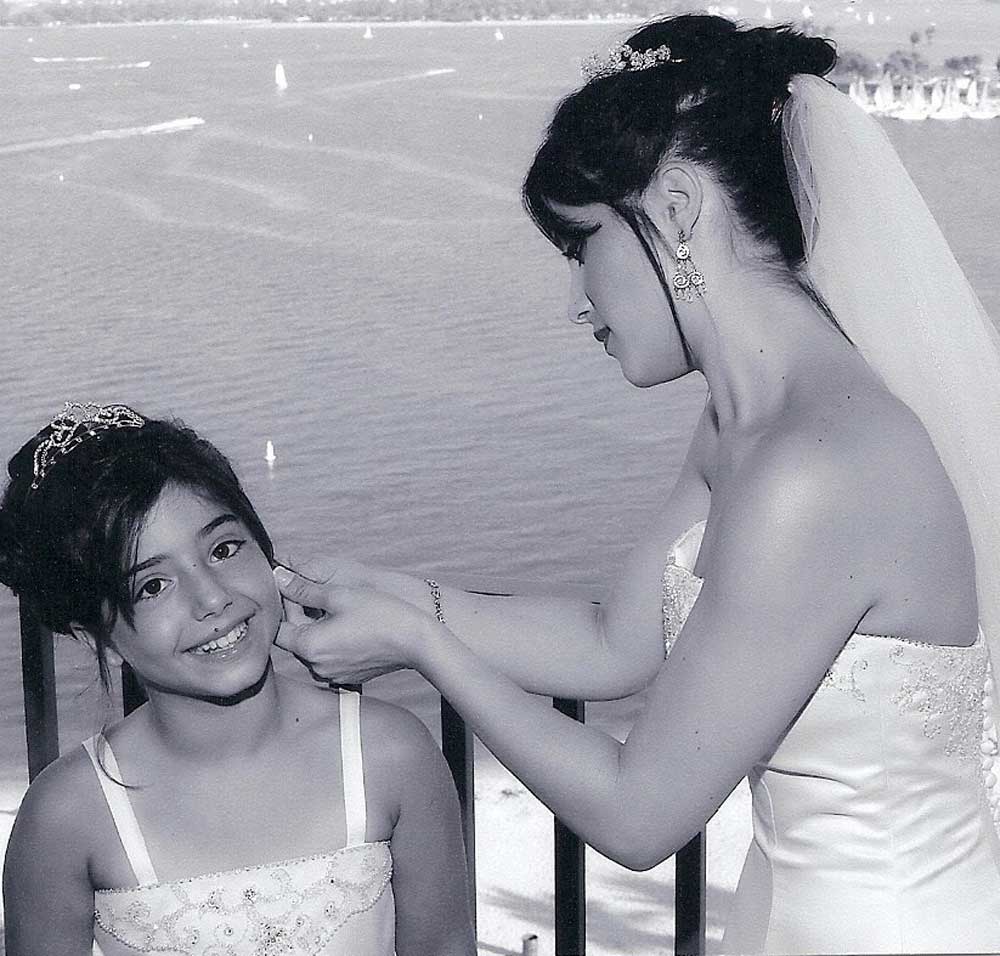 Daniel and I now have two additional children together. All three of my children give me the motivation each day to wake up and to work hard in my boutique public relations firm to provide them the best lives possible. Alexis has just graduated with two degrees in the top of her class at Loyola University Chicago this past year. She will be moving to Italy this year to have her first job abroad, which has been her dream. I also have an adorable 10-year-old girl named Daniella, who is entering sixth grade, and a funny son named Gabriel who is entering fourth grade. This is my chosen family. It's not what I had envisioned growing up, at least in regard to the process of getting here, including a divorce, being single for many years and having a blended family. But it's a perfect little family to me.
I believe that family—related or not—are people who have your back and are there for you through thick and thin, in your darkest hours as well as in your brightest and happiest times; when you are sick, as well as when you are healthy; when you are struggling financially, as well as when you are doing well. To me, family is not about blood relation, but about the people who prove over time that they will not leave you during your times in need. I am beyond lucky to have established my own tight-knit group of not just my husband and three children, but "family" that includes my blood-related three sisters and my mother, but also a group of unique friends who have become family because they have proven their loyalty and substance over time.
This is #1000families post number 115. Do you have a family story of your own to contribute to the 1,000 Families Project? Or do you know a family that might want to do so? Learn more about how the series got started and how to get involved here. You can find all of the #1000families posts here.
Please follow and like us:
---
---
---