How having a few good friends and the ability to laugh at the small stuff helped this family face a Crohn's diagnosis
When my daughter started having frequent stomach aches and seemed a little too low-energy for an eight-year-old, we knew something wasn't right. We took her to see our family doctor, whose initial diagnosis was anemia. We tried the usual route, iron supplements and a diet change, but nothing seemed to help. Rebecca was still so lethargic and it was getting worse every day. In late-summer 2006, we were referred to a paediatrician, and from there, one thing led to another—an additional screening for inflammation in a routine blood test sent us to a gastroenterologist, who confirmed that Rebecca had developed Crohn's disease.
Because of the time it took to diagnose, Crohn's had stunted Rebecca's growth, which was only intensified by the steroids that were prescribed for her condition. Even though Rebecca grew up smaller than her classmates, this didn't have a big impact on her life; our family is short, and it never seemed to bother her. In fact, Crohn's disease didn't have much of an impact on Rebecca's life until she was about 13 years old.
I won't deny that there were times she wasn't well, but for the most part, Rebecca continued to have a typical childhood, with only a few special modifications here and there. We learned to understand which foods would trigger a flare up, and what high-stress situations might make her sick. Like any other kid, she needed regular sleep to stay healthy, but we continued to take family vacations and Rebecca was still able to attend sleepovers and birthday parties, only missing one or two occasionally.
Things changed around the start of high school. When she was 13 years old, Rebecca was hospitalized for the first time for her illness. A swap in treatment plans kept her healthy for a moment, but in January 2012, Rebecca was in and out of the hospital so many times that we decided to make the switch to home schooling altogether.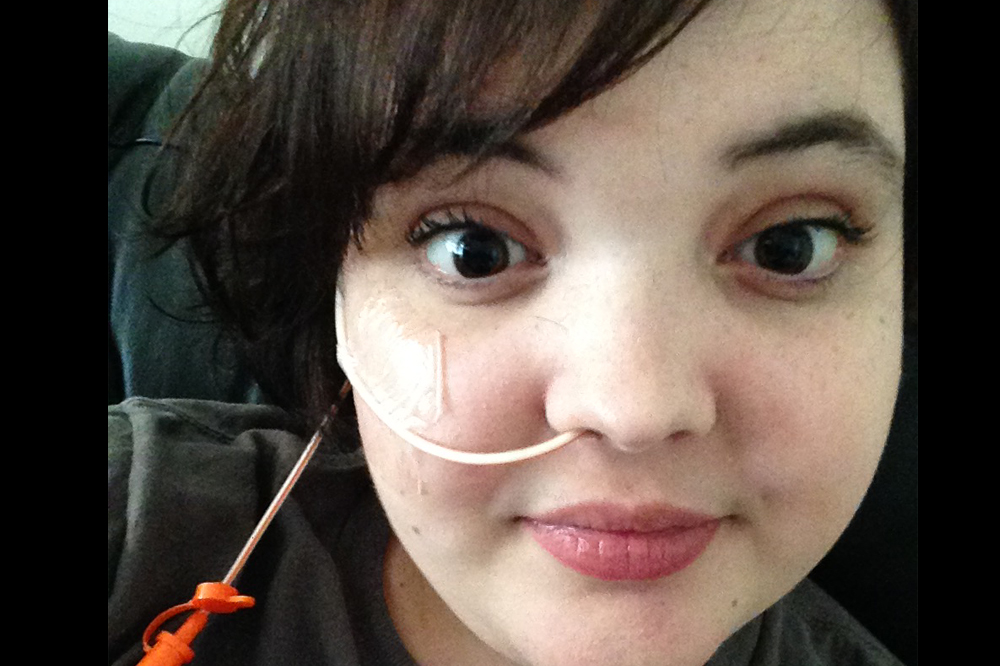 Of course, leading the life of a typical teenager without actually attending high school was just one of the many challenges Rebecca has faced. Starting at a very young age, she hasn't been able to participate in all the activities she's interested in—like summer camp. And while other teens can stay out all afternoon at the mall and make a trip to the movies in the evening, Rebecca has never had that luxury. She's learned that it's usually one or the other, and circumstances beyond her control might mean that neither are possible that day. Rebecca has had to adjust to travelling less frequently and opting out of trips that might mean an overnight stay. As a family, we've had to adjust the way we travel and do activities as a family, but I wouldn't say Rebecca's illness is responsible for the change. We've evolved as a result of everyone growing older, despite the challenges we've faced along the way.
In spite of all this, Rebecca's illness has shown us a few amazing things—the unwavering support of her friends, for example, no matter how often she's unable to participate in group activities, or how many trips or events she had to cancel at the last minute. At the end of the school year, she was in good enough health to attend prom with all of her friends—an experience that seemed out of reach not so many months before.
In a huge way, we've been really lucky. Rebecca's father has also been living with Crohn's disease, and though it took some getting used to, her older brother Ryan learned to adapt to living with a family suffering from chronic illness. It's been hard on him, especially the cancelled vacations and unexpected late nights, but he, as we all have, has learned to ride the wave.
Until this week, Rebecca was on enteral nutrition—a feeding tube—and is finally getting to enjoy the summer with her friends. And now, for the first time, Rebecca will be able to experience a part of childhood she's never had the opportunity to before. Attending Camp Got2Go, an overnight camp run by Crohn's and Colitis Canada in Nova Scotia (which Rebecca will attend) and Alberta, will give her a once in a lifetime chance to meet other teens facing the same struggles she does and to truly make her feel like she's not alone. Summer camp will give Rebecca a worry-free week, and with medical care and supervision on site, it will be easier on our family to let her go. I'm so thankful that even if for a short time this summer, Rebecca will feel like she isn't missing out on something she's never been able to do.
A few days after Rebecca started on her feeding tube, my father joked during a family dinner, "I guess I can't say 'Up your nose with a rubber hose anymore.'" Eight months later, the story still cracks us up. If this experience has taught me one thing, it's to always stay positive. If you're a parent facing the same struggles our family did, find a few close friends to confide in, remember to ask for help when you need it, and do your best to take things as they come. Our family has learned that while we won't ever be able to change Rebecca's diagnosis, we can learn to laugh at the small stuff and make the best of any situation.

This is #1000families post number 119. Do you have a family story of your own to contribute to the 1,000 Families Project? Or do you know a family that might want to do so? Learn more about how the series got started and how to get involved here. You can find all of the #1000families posts here.
Please follow and like us:
---
---
---