Sadly, most of us will experience a long wait period to get our child in to see a specialist at some point, whether for a serious matter or just something minor such as an eye exam. That's the reality of an over-taxed public healthcare system that-while (mostly) democratic-struggles just to meet urgent needs and has little leftover for the preventative measures that would keep Canadians out of ill health in the first place. Lots of good people are working to change that, but both accessing resources and changing the way we do things makes for quite an uphill climb.
Still, I'm a fervent believer in public medical care, clinging-perhaps blindly at times-to the notion that part of what makes our country great is that you won't go bankrupt here if you have a high-risk pregnancy or an appendectomy.
So when complementary healthcare provider Medcan offered me a chance to have one of my children go through its Child and Youth Health and Development Assessments if I'd write about it, I had a lot of questions. Namely, if I was going to do this, I wanted the freedom to approach my post about the experience from the point of view that this in-depth medical assessment is costly for most families. We agreed that I wouldn't be glossing over the cost (it's about $1600), and that instead I'd focus on the aspects of this kind of proactive, preventative approach to medicine that I'd love to see our regular system adopt. Medcan was happy with these terms, and so we proceeded to make arrangements for my eldest son, Cameron, 11 (he's since had his 12th birthday) to have the assessment.
Let me start by describing the program a little. It's a full service medical for kids-the first of its kind in Canada-that takes an in-depth look at the whole child. A team of medical professionals closely examines every facet of a child's physical well being-from the Vitamin D levels in the blood to heart function to hearing. But the assessment also carefully explores each child's social well-being and cognitive development. It helps identify any mental health red flags, be those anxiety, bullying, or depression, for example, or from a learning perspective, any learning disabilities or giftedness. It also reviews their nutrition health and fitness levels, a boon for a generation of children plagued with epidemic levels of obesity and Type 2 diabetes the likes of which we've never seen before. The point here is to address the health concerns of growing children from a preventative point of view.
I'll walk you through the assessment by sharing our experience and then get into the five relatively simple aspects of this kind of healthcare that I wish our public system would adopt.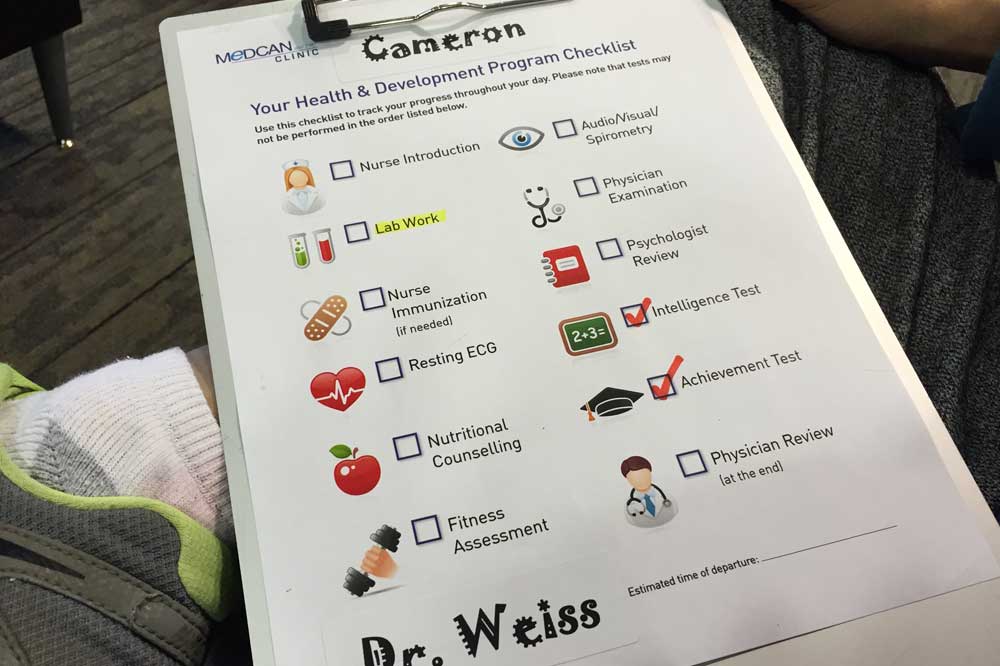 The assessment takes place over two days, the first of which is the cognitive part. We went in on a Saturday morning, taking with us the in-depth questionnaires we'd each filled out. On these we'd separately evaluated how Cam behaves, relates to others, manages stress, and more. He was a little displeased on the way about facing a testing situation on the weekend, but his evaluator helped put his mind at ease. The array of snacks on offer in the waiting room offered a bit of novelty and helped make up for being away from his basketball for part of a Saturday.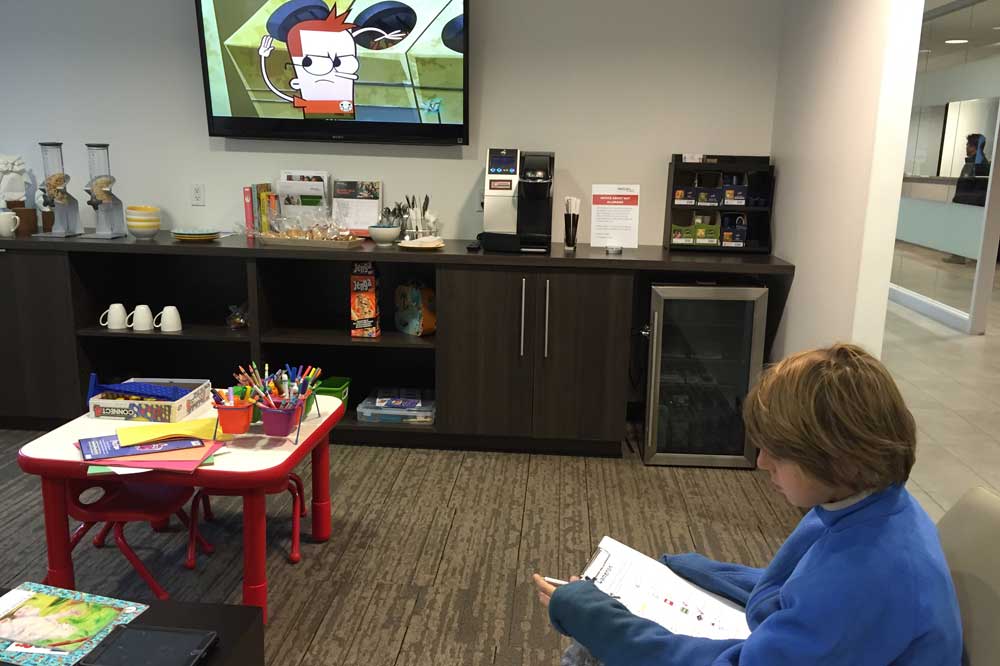 We came back for the longer appointment a couple of weeks later. This takes not quite a full work day, but a whole school day for sure once you factor in the transportation time. The family waiting room makes kids comfy between their appointments with various healthcare professionals, which would be especially useful if you were in there with a young child who tends to get a bit squirmy in those situations. Each kid is given a clipboard like the one above to help them understand how the day will unfold and keep track of their progress as they go. I liked how this created engagement with the process for Cam. It's also just plain old fun to put check marks in boxes.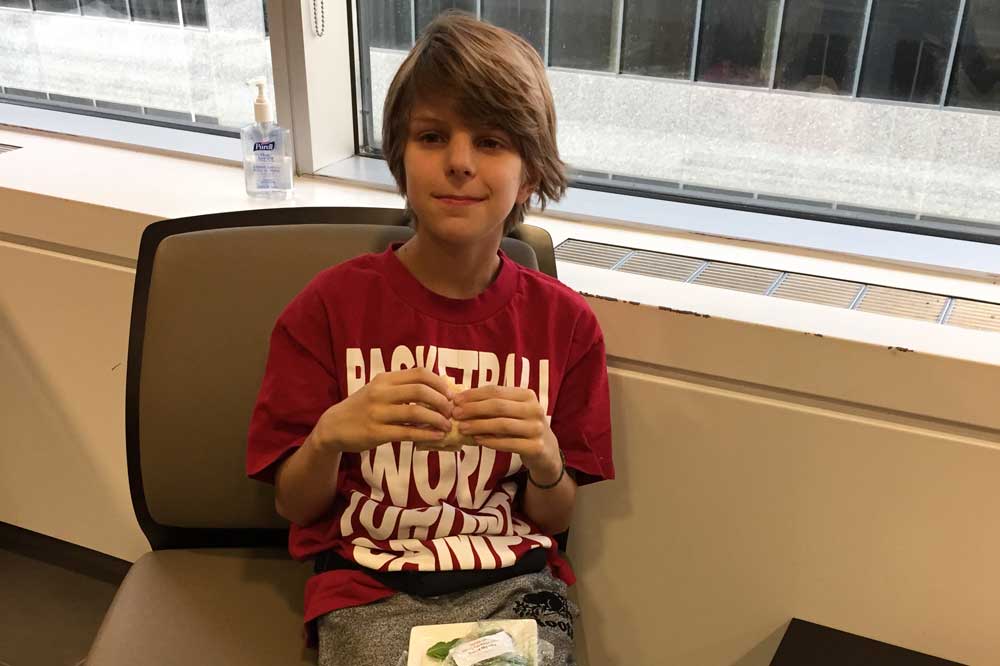 Did I mention the snacks and meals provided? Cam has a peanut allergy, so while there are no peanuts in the facility, they went to the extra step of providing plastic wrapped and labelled meal items for Cam that were guaranteed not to have come into contact with peanuts while they were being prepared.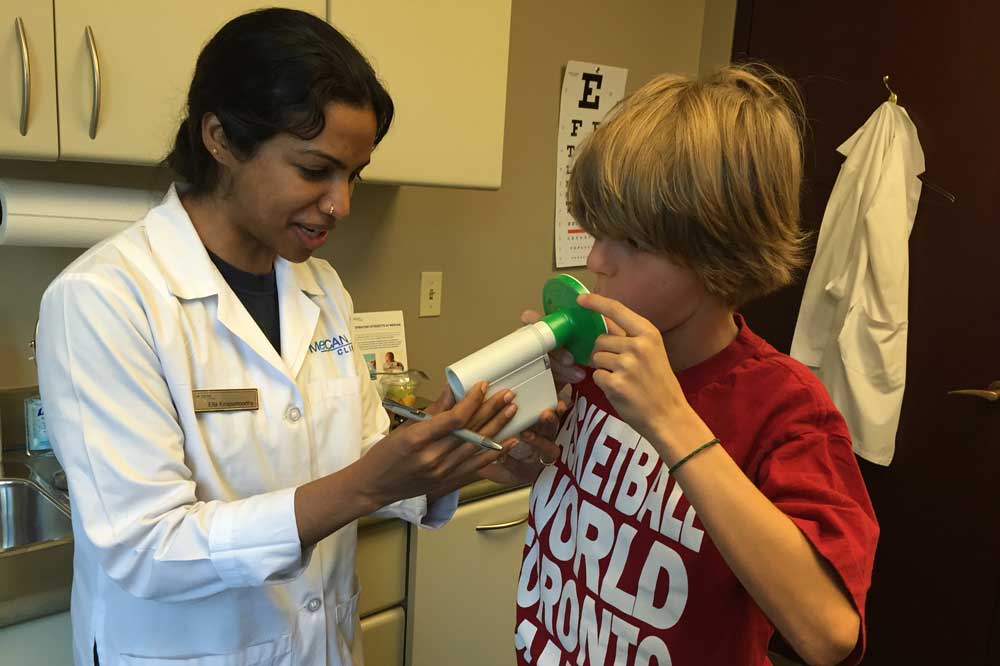 One of the steps along the way was a test of his lung capacity. Parents who have kids who suffer from asthma will certainly recognize this process, which involves exhaling as hard as possible into a device called a spirometer to evaluate his respiratory function.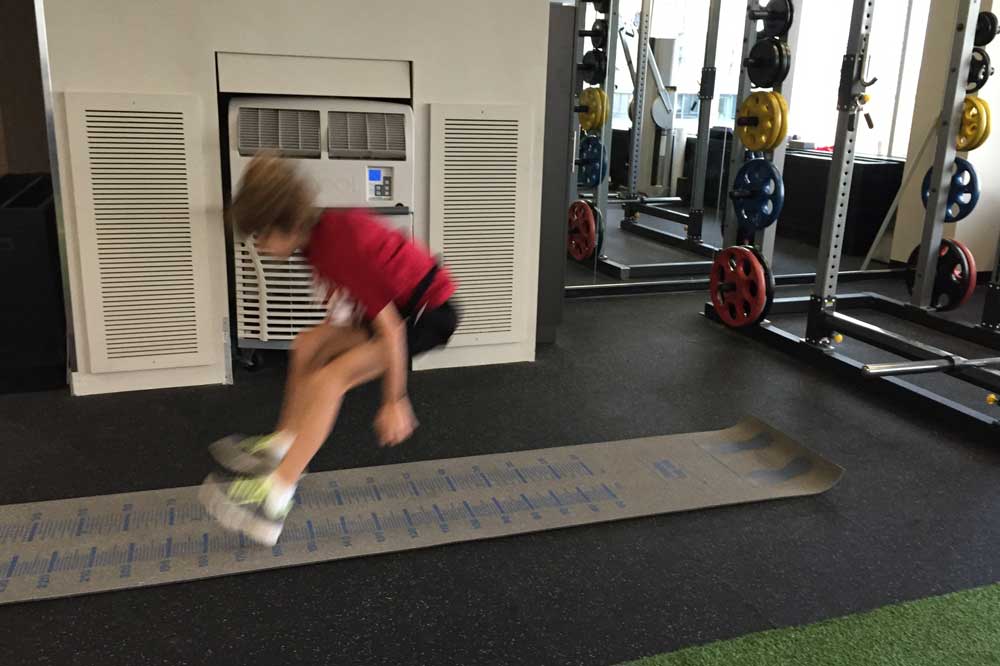 Next was when things got really fun for my sports-loving kid-the fitness assessment. An exercise physiologist took Cam through a series of activities to test his agility, strength, flexibility and more. Here, for instance, he performed several standing long jumps. She worked with him on his technique, noting greater stability on one leg than the other, and Cam loved seeing how he could improve upon his previous jumps. He was so happy doing all of this, and I was tempted to buy him a Fitbit. Something that he could use for himself in the future to keep him going, I did look online at Mobile Mob and I think he would like one in the future. But I decided to talk to him about it later after all these assessments.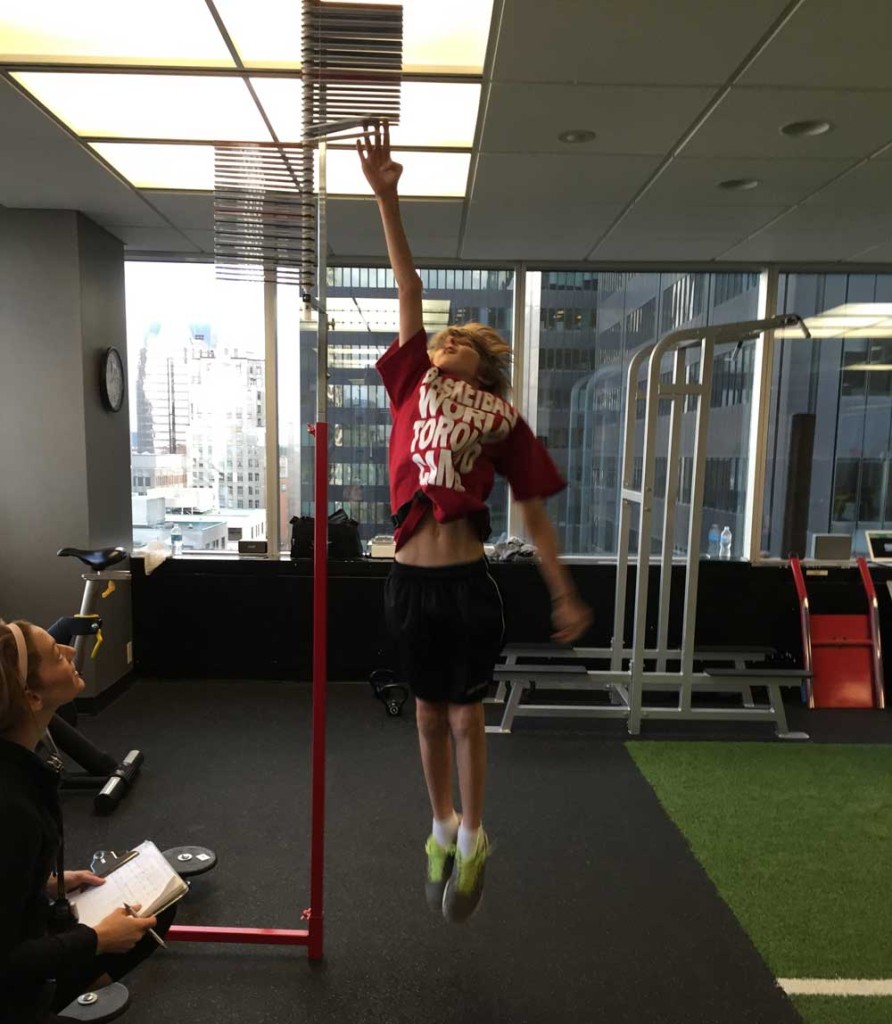 And did he ever feel like a real-deal basketball player when he got to test his vertical jump with this cool thing. Each time he jumped he could knock more of the little fans out of the way and that was very satisfying. It also gave the physiologist a chance to evaluate how his legs work together and to suggest we stabilize that one ankle that can wobble a little (probably from being rolled a couple of times in sports).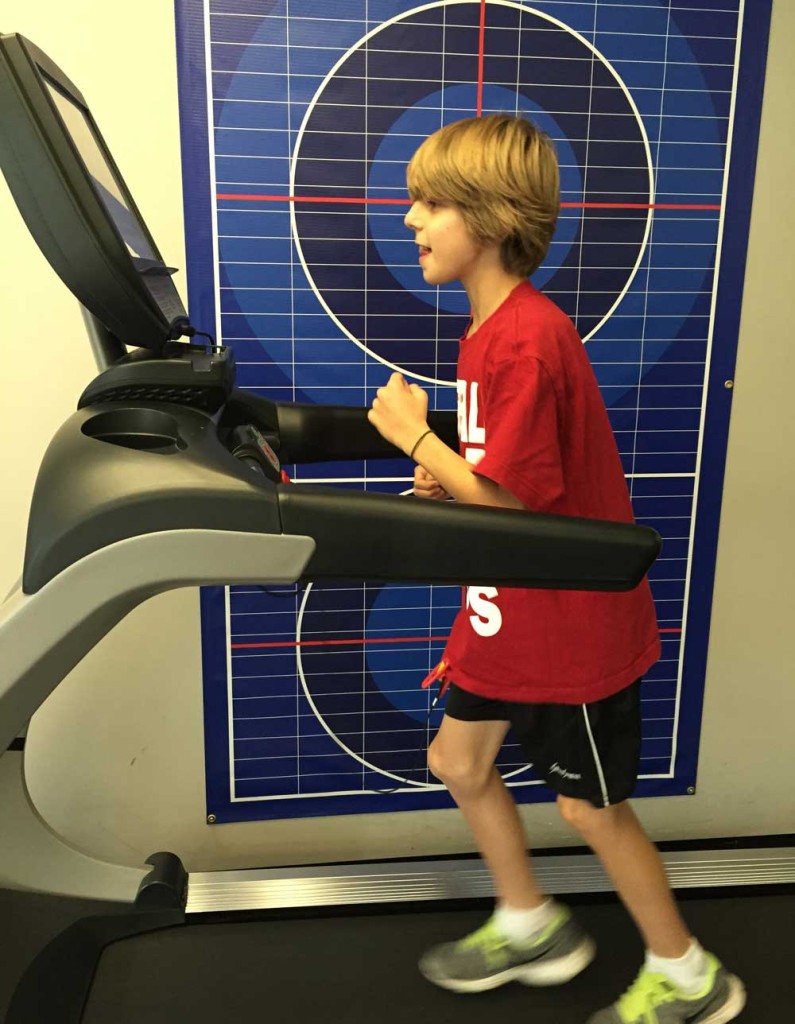 The treadmill test was initially an exercise in pure physical comedy. Who knew that if you've never stepped on a treadmill before, walking or jogging normally on one is a complete mystery at first. Remember that scene in the movie "Elf" when Buddy encountered his first escalator and ended up ascending in some kind of crazy and entirely conspicuous version of the splits? It was like that. We all had a good chuckle as he figured out how to keep his legs and shoulders aligned. But then he nailed it and was entirely captivated by monitoring his speed, duration and incline, determined to best what other young MedCan patients had done before.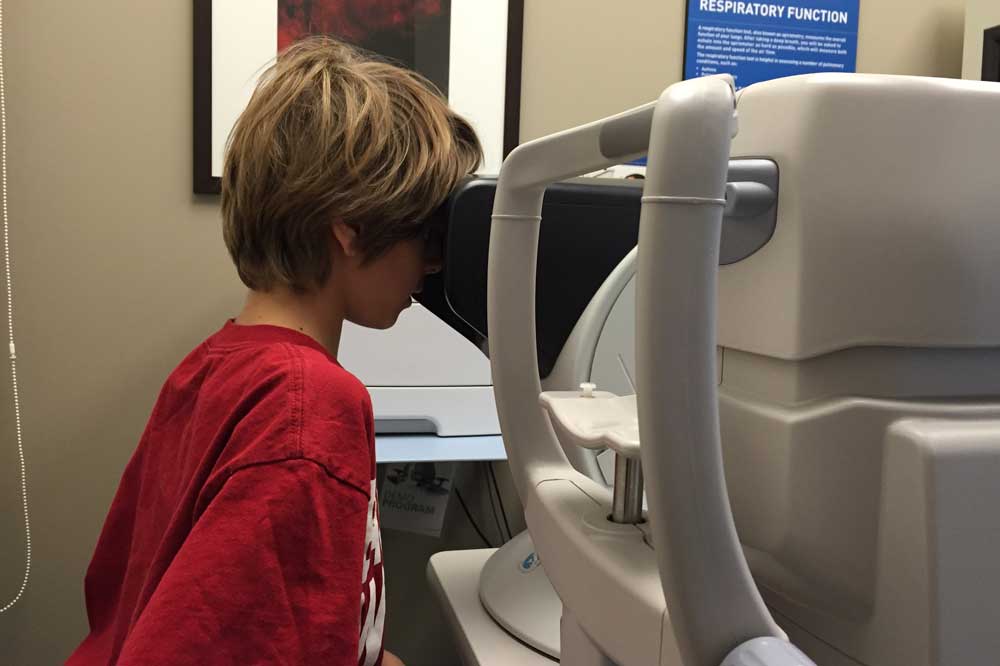 Next up it was time for eyesight and hearing evaluations with Medcan's super high-tech equipment. I haven't been good about getting them to an optometrist to have eye exams, so this was a great opportunity for Cam to have an eye exam more thorough than the typical screening that gets done at school. For the hearing test (see photo at the top), he got to put on headphones and go in a little sound-proof room and push a button on a joy-stick-like thing in response to sounds and prompts delivered through the headset. The gamification element here made this part quite novel and fun. Having a hearing test is the best to determine if there is hearing loss if you find that you are suffering from hearing loss you might want to check with your doctor who might give you a hearing amplifier if you have significant hearing loss.
I don't have a photo of this part for reasons that should become apparent (namely that you don't photograph your kids' therapy session), but he also had a chance to meet with psychologist Dr. Mark Rothman to discuss not only the results of his cognitive tests, but also his emotional well-being. Dr. Rothman was warm and relatable, offering helpful approaches for things like school stress.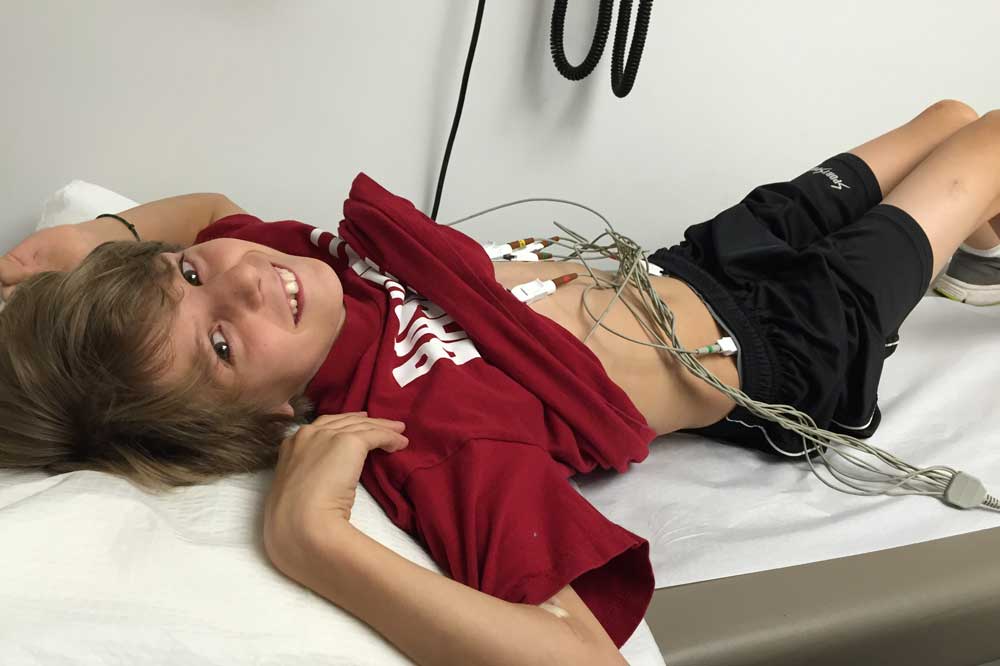 And, oh my, he also had a full-on resting electrocardiogram to check his heart health. It was pretty cool to get hooked up to all those wires in the context of a non-urgent check-up.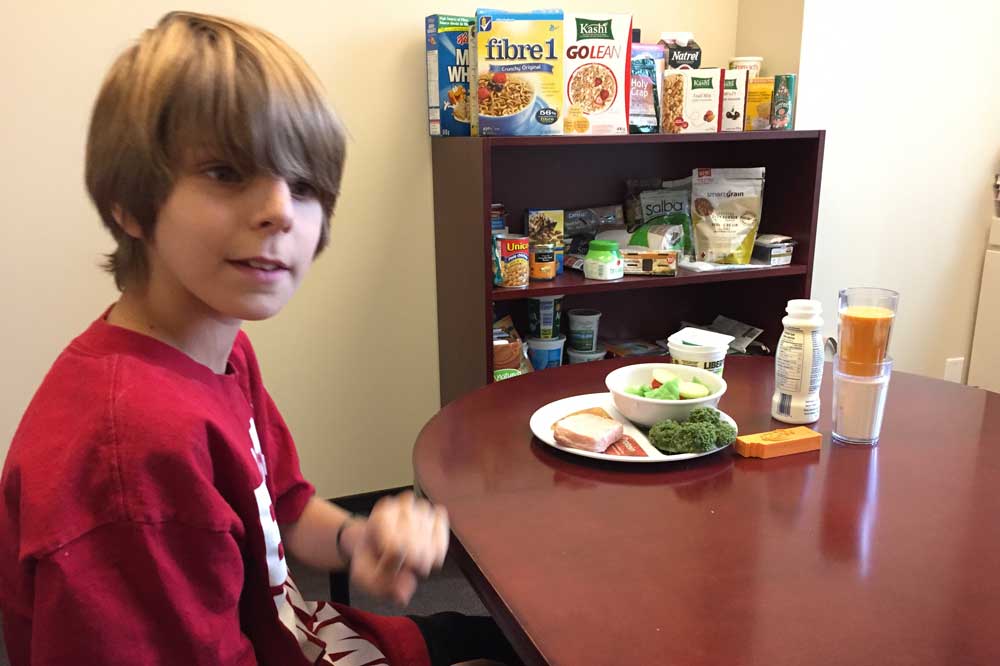 We also had an incredibly valuable chat with a dietician. With his slender build and active lifestyle, Cam's in a position most of us grown-ups would envy-being under doctor's orders to eat more! A nutritionist walked us through a chat about portion size to help Cam picture the volume he should be consuming, and made a bunch of helpful suggestions for adding more healthy fats to his diet, like spreading pumpkin seed butter on toast, eating more avocado (that one's easy-he loves guacamole so I've been making it constantly), adding in a morning snack at recess, and so on.
There was so much value in this experience it's hard to get it into one blog post. But it's prompted me to do a lot of thinking about how our healthcare system works and come up with these five relatively simple things from this private medical experience that I wish our public system would incorporate.
1. A standard blood test at kids' regular check-ups.
No, we don't relish the idea of talking our kids through another needle-stick, given they've got to endure a fair number of those just to stay up-to-date on their crucial childhood vaccines. But the information physicians and families can glean from an ordinary blood panel can be so helpful. Unfortunately, this inexpensive test isn't performed unless a doctor is trying to diagnose or rule out a condition. And when it is, we only hear back from a lab if something is out of balance enough to qualify as a condition. Let's say your doctor suspects your child might be anemic. You're only going to get a call if the blood test confirms that he's officially anemic, not if his iron levels are mediocre. What happened at MedCan is that a blood sample was taken at the beginning of day, analyzed on the spot and used to inform the advice given by the various healthcare professionals he saw throughout the day. For example, we learned that his iron is borderline and that he didn't have enough Vitamin D to get through the winter months. That's information we can action with changes to his diet and by adding liquid Vitamin D to his smoothies.
2. Behavioural assessment surveys filled out no later than the preteen years.
Prior to Cam's first appointment at Medcan, he and I each filled out detailed questionnaires that assess a child's experience of, and ways of coping with, things like internalizing or externalizing problems, school stress, inattention and hyperactivity and more. The results are assessed against those of other children the same age, and used to red flag any areas where attention is needed. To complete these questionnaires you fill in the little bubble to rate yourself (or your child) on a scale of one to five, and the results are read by a machine, then interpretted by your primary care physician. I don't see why these kinds of questionnaires couldn't be provided to all doctors' offices and the results tabulated in a central place. The conversation this creates early on about anxiety, depression, bullying and more could do so much to keep our children emotionally well and eliminate the need for more difficult and expensive mental health intervention later on.
3. Easy access to nutritional counselling.
Ask any doctor and they'll tell you that nutrition is only touched on very briefly in medical school. If your doctor happens to be well-informed on nutrition, it's because he or she has taken a personal or professional interest in expanding on that very basic med-school primer. But if you need to see a nutritionist, you have to either hire one privately or wait for a referral to a limited number of publicly funded dietitians or nutritionists. This is a shame because a little nutrition counselling goes such a long way. Just think of what this could do to prevent diabetes and the many other life-shortening conditions associated with obesity if families were referred to a dietitian as soon as a child's body mass index started creeping toward the outer limit of the healthy range. Or how invaluable it would be in cases where a child has complicated food restrictions due to allergies, Celiac disease or Crohn's.
4. Good quality eye and ear examinations.
It can be tough to get your kid to the optometrist for an eye exam and I'm not sure that hearing tests are on very many people's radar apart from that early screening babies get at the hospital. What's more, cost can be a barrier to for things like trips to the eye doctor for a baseline examination. I'm sure there are some community health organizations that offer these services, but they're not available everywhere and it's not always clear how to access them. If your child could get a good eye and ear exam before starting school, you'd know if he needed glasses before he found himself squinting at a blackboard, for example.
5. All-under-one-roof healthcare
There's definitely a move in the direction of bringing health care providers from multiple disciplines into the same practice. Some family physicians are teaming up with other health care providers to try to create this themselves, as are some local health authorities. But I haven't seen anything in the public system as comprehensively multi-disciplinary as the MedCan clinic. Sure, it might seems like super blue-sky thinking to suggest that our public system could create something equivalent to this fancy pants private clinic. But the potential for early intervention with problems that are much more expensive to treat down the road just seems enormous. Think of how difficult and costly it is to treat a teen in severe mental health distress (that's if they're lucky enough to get a bed in a psych ward or a spot in heavily wait-listed private residential treatment program). Or of the cost of treating Type 2 Diabetes that could be avoided with early correction of eating habits.
I came away with the Medcan experience with my eyes wide open about what really is happening in healthcare in Canada. Many people have lost confidence in our system to screen for and diagnose life-threatening conditions early enough. To catch learning disabilities or visual impairment soon enough to ensure our kids have a good experience at school. And to help us course correct on nutrition and fitness to prevent illness and set our kids up for an active and healthy lifestyle.
I know we can do better and we must. Agree? I'd love to hear your thoughts in the comments.
Please follow and like us:
---
---
---