In this "tri-parent" set-up, the nanny is the glue that's helped keep things together through thick and thin.
There was just something special about Rhoda. From the moment I opened the front door to greet her, I had a good feeling. Seven years later, she's like a third parent in a non-traditional, post-divorce family. In 2008, Rhoda responded to my advertisement on Kijiji for a full-time nanny. I was fairly skeptical that a high-quality caregiver would be found on such a free, common website. With the childcare crunch in Alberta and me heading back to work after six months of maternity leave, I was certain I would end up using an agency to sponsor a nanny. But Rhoda bounced through the door like Mary Poppins and quickly asked to hold my daughter. She made my six-month old daughter, Mieka, giggle within minutes of holding her. Rhoda's deep love of children energized the room and she lit up as she talked about families she nannied for over the last 10 years in Hong Kong and Calgary.
And now, for over seven years, she's filled our homes with love, fun and stability. Rhoda's played a vital role of raising my two children. She is kind, warm, hardworking and takes parenting as serious as if my two kids were her own.
Rhoda has been a full-time caregiver through highs and lows and unexpected bumpy roads: the birth of Alexander in 2010, three house moves, new jobs, two family pet goodbyes, separation, the ending of a marriage and the creation of a new, two-home, non-traditional tri-parented family.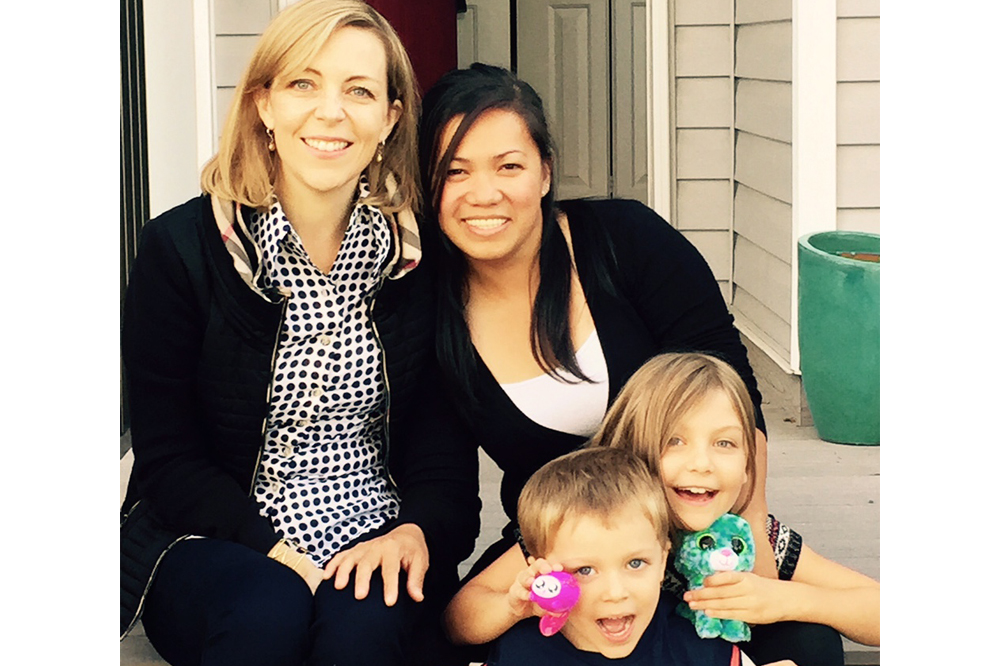 For over a year while we were separated, my kids' father and I moved in and out of the family home weekly while Rhoda and the kids stayed in the house. This is coined "nesting" in divorce lingo: the kids remain in the "nest" while the parents move in and out to create stability during a time of great change. Rhoda was the constant caregiver remaining in the home with the kids.
This winter, I bought my own house, three blocks from the original family home. And so did their dad. We now live four blocks away from each other with a big green park between us.
Rhoda still sticks with the kids as a unit, moving back and forth with them between their two homes on switch days.
"We all fit together. I truly feel part of the family. The bond I have with these kids is powerful—they are like my own," said Rhoda recently. "I'm so grateful that we are all making this work—for each other and most importantly, for the kids we love."
This is #1000families post number 153. Do you have a family story of your own to contribute to the 1,000 Families Project? Or do you know a family that might want to do so? Learn more about how the series got started and how to get involved here. You can find all of the #1000families posts here.
Please follow and like us:
---
---
---