"Dance when no one is watching" and other ways this family makes the most of the precious time they have together.
Looking in from the outside, our family seems boring. My husband Jamie and I have been married for nine years; Maddy is seven and Henry is three. We live in a house on a street in a city. The kids are both in public school, and Jamie and I both work full time.
Actually, we work more than full time. We're both journalists, and our days are long. (Awesome, but long.) Weekdays, I get home an hour before bedtime if I'm lucky. Hitting deadlines can keep Jamie at the office til midnight sometimes; we both regularly curl up with our laptops after the kids are in bed. I book off important events like the Christmas concert and back to school as vacation days to be sure I can get there.
As you can see, our family time is at a premium. We make it count by keeping it weird. That's what you can't see from the outside. There are times we have dinner while speaking in another language that doesn't exist-we sound a lot like Minions. When the kids' bedtime gets stressful, I've been known to put underwear on my head and dance around. Our car has a magic button. When someone presses it, the driver hits the gas. The car goes WHOOSH and we all giggle.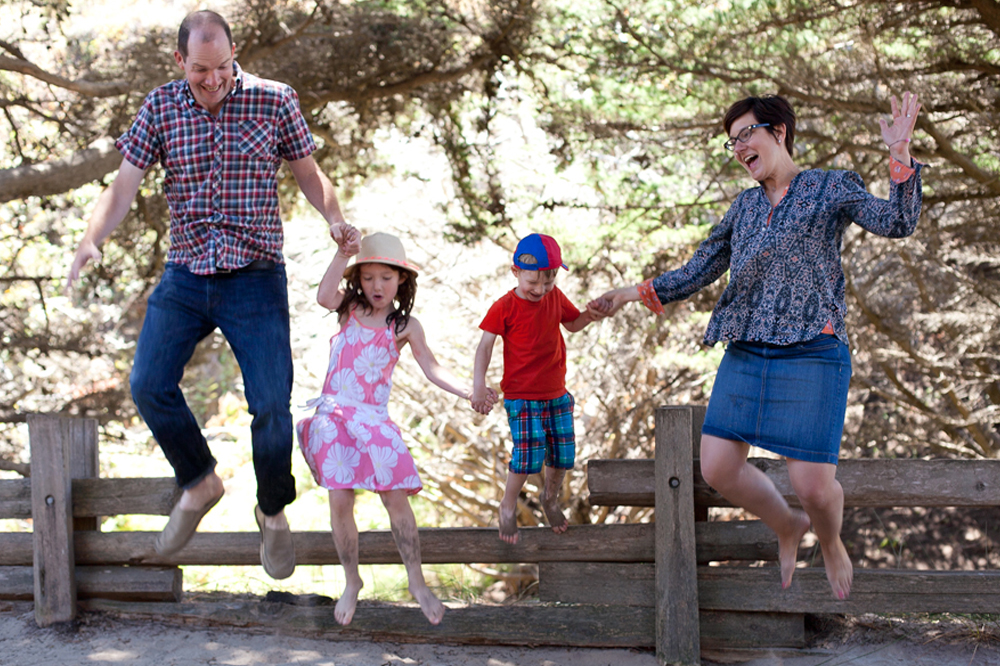 Maddy and I spent a week crafting her outfit for Crazy Hat Day at school. We went to the dollar store and bought a straw pink number, then glued a feather boa and silk roses all around the brim. Then we added glitter stickers and daisies. We take crazy pretty seriously around here.
We have dance parties. Lots of dance parties. In the kitchen. We crank up the radio and dance, and dance. Henry's favourite is "Get Down Tonight" by KC and the Sunshine Band ("That's so inappropriate," our eldest chides-but her head is usually bobbing.). Sometimes we freeze dance. Sometimes we jump and dance. Sometimes, we load the dishwasher and dance. I'm allowed to dance in public, too-provided I stop by the time the elevator doors open or we reach the school yard. As long as no one else sees. That's the rule my daughter recently made.
One Christmas, we went to Walmart for a family photo shoot, as lots of families do. We also bought matching jammies, as lots of families do. We wore the jammies for the photographer- the kids looked like candy canes in red and white stripes. Jamie and I dressed as elves. The pictures have glare and are slightly out of focus. Perfect. We said to each other immediately that we were just going to hire professional Minneapolis family photography next time. On top of this, the kids refused to change afterward; they wore the jammies right into bed that night.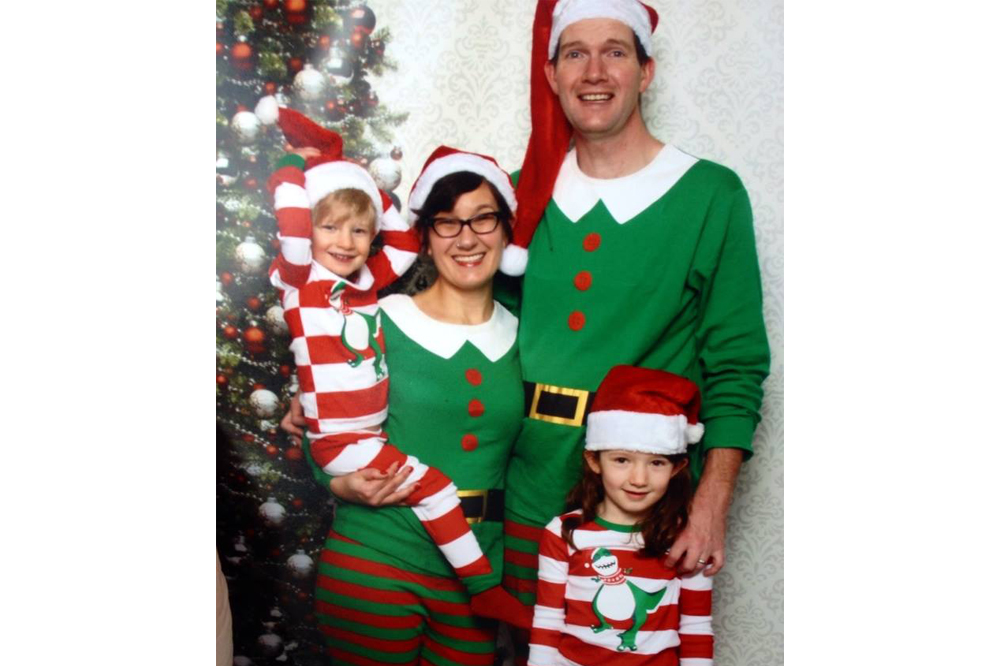 At our wedding, my husband gave a speech. He told the crowd that he doubled the time estimate on our walks because I stop to talk to every cat in our path, and that I wouldn't need him if I could reach the top shelf. He also told them how, once, when we were at the grocery store, he turned around and found me dancing on a flat of canned tomatoes.
I remembered that just the other day, when Maddy and I were pushing a loaded cart up and down the packed aisles on our weekly shop. The store was playing AM radio and a song from the seventies came on-I can't remember which one. Maddy was pulling something off a shelf. While her back was turned, I grooved. She turned around and looked horrified. Seven year olds are easy to embarrass.
Then she took two steps towards me, wrapped her arms around my waist, and said, "I love you."
Weird works.
This is #1000families post number 144. Do you have a family story of your own to contribute to the 1,000 Families Project? Or do you know a family that might want to do so? Learn more about how the series got started and how to get involved here. You can find all of the #1000families posts here.
Please follow and like us:
---
---
---