For an only child raised by a single parent, a big extended family in which to bring up her own kids was reason enough to choose small-town life over other adventures—at least for now.
I met my husband Adam within one week of starting high school. We've technically known each other for more than half our lives, but have been together for just 10 years, married for five. It wasn't until years after high school had ended and while I was studying at a university a couple of hours away, that we re-connected, but on a different level. And we haven't looked back since.
We're a pretty typical nuclear family—Adam and myself, plus our two children, four-year-old son Kelan and three-month-old daughter Kaia. And while my husband comes from a pretty "traditional" family, I came from a much different one. I grew up as an only child with a single mom. I never felt lacking in love or attention, but I did always long for a large family. Being an only child is quiet and, to be honest, it can be lonely. I always longed for the busy holidays when extended family would gather. To this day, I still love big family get-togethers.
Thankfully, I've inherited many amazing family members through marriage, including a large extended network of cousins, aunts and uncles. I love weekends at my in-laws with extended family, holiday gatherings at our place and backyard cookouts with family we haven't seen in far too long. I sometimes even find myself in awe at this amazing little family my husband and I have created together. When I recall those early days of our friendship, it's hard to believe that this man would one day become the love of my life and the father of my children, but I couldn't imagine any other partner to accompany me on this life journey.
Adam moved to the big city to be with me within months of us first starting to date. After spending the first few years of our relationship there, having fun and exploring all the city had to offer a young couple like us, we felt the tug of a slower paced lifestyle. On a whim one night, we bought plane tickets that would take us across the world, to Australia, a country I'd wanted to visit for years. Our plan was to backpack around until we found a place we'd like to live in and then search for jobs.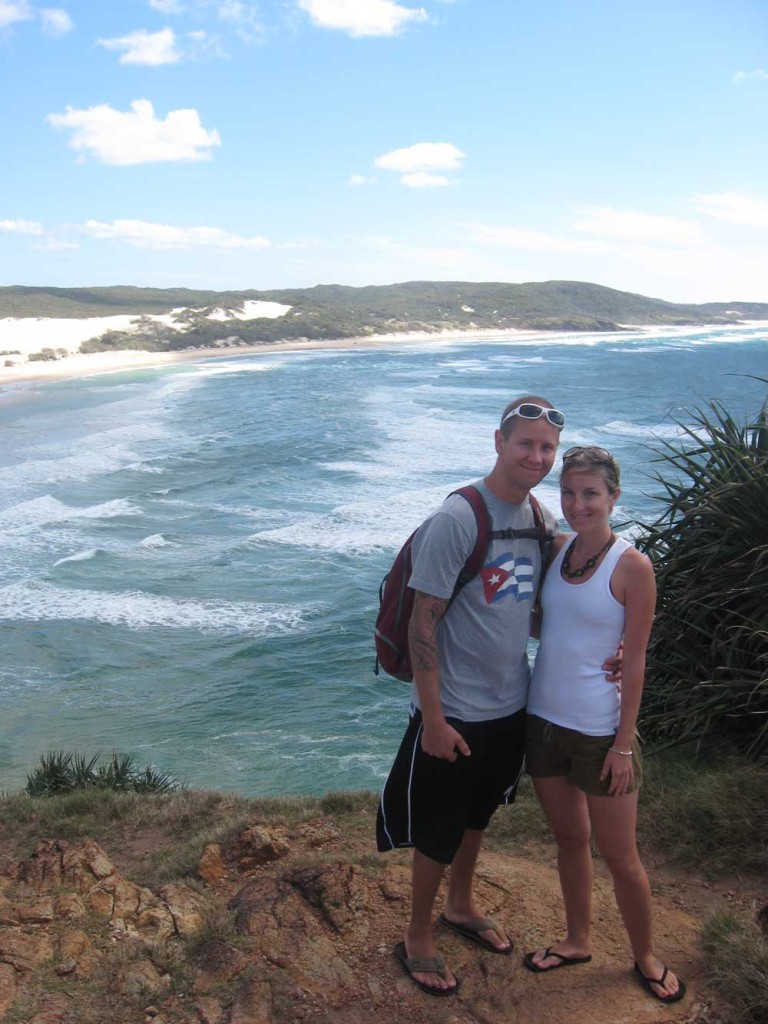 While that plan went very differently than expected—the recession had just hit there much later than here, and jobs for foreigners like us were scarce—we still had the time of our lives. Instead of settling down and working in one place, we took up random jobs and spent four months "wwoofing" (a working volunteer exchange program) at a yoga retreat center in the middle of the North Queensland rainforest—yes, Australia has a rainforest! We worked during the mornings and spent our afternoons hiking, exploring the forest, and swimming in the Coral Sea. We ate a healthy whole-foods diet and did yoga almost every day. We spent more months travelling around the country, taking up random jobs, and exploring a couple gorgeous South Pacific islands. We actually became engaged on a small island in Australia, looking out at the deep blue ocean one night with a million twinkling stars above us. Upon returning back to Canada, we moved a couple more times within Ontario, got married, and had plans to make the long trek out to the West Coast of Canada to settle down more permanently.
Our first-born child had other plans for us though. When we (excitedly and nervously) discovered I was pregnant, we decided to spend the first year in our hometown to be close to family and that support system. Well, so far that "one year" has turned into five years, we've added another little one to our brood, and for now, we're staying put.
Life has a funny way of working itself out. While we both still itch for a change of scenery, the need to always be on the move trying to find that "perfect place" to settle down has taken a big backseat to our desire to raise our children close to our family. We try to do as much exploring and little trips as we possibly can manage and afford with little ones in tow. We spend as much time as we can near water (we both love being close to the water). And we still manage to live our crunchy green lifestyle, with a major focus on our kids now. I recently starting blogging and writing more again (my life's passion) and it's a great outlet to express myself and share tips with others on living a green and healthy lifestyle, no matter where you're at in life. Life has changed though, big time, and as exhausting as parenting can be, I've never felt so rewarded and inspired. Priorities change once you start a family and it becomes more about who you're with than where you are. Maybe in 10 years you'll find us running a little business on an island in the Caribbean, but for now, we're here to stay.
This is #1000families post number 129. Do you have a family story of your own to contribute to the 1,000 Families Project? Or do you know a family that might want to do so? Learn more about how the series got started and how to get involved here. You can find all of the #1000families posts here.
Please follow and like us:
---
---
---