This mom's journey includes an early start in parenting, an incredibly supportive family, finding love on a different continent and, now, kids that are two through 20.
When I was 18 years old, I announced to my mother that I would never have kids. They're hard work, they drain all your money and time, and quite simply, they're disgusting. Brats, all of them, I said.
If truth be told, I was more scared of having a family than disgusted by children. You see, my dad died when I was 16 years old. I felt alone, abandoned and angry. I saw the effects my father's death had on my entire family, especially my mom. She was 43 years old, the same age I am now, widowed and all of a sudden a single parent raising three teens on her own. Fear of losing a loved one stayed inside of me for many years.
But just a few years later, while I was a student finishing my final year at Trent University, my journey as a mother began. I found myself a single parent, living miles away from my family, and trying to complete my BA while figuring out how to do this parenting thing. Life was hard, but not impossible.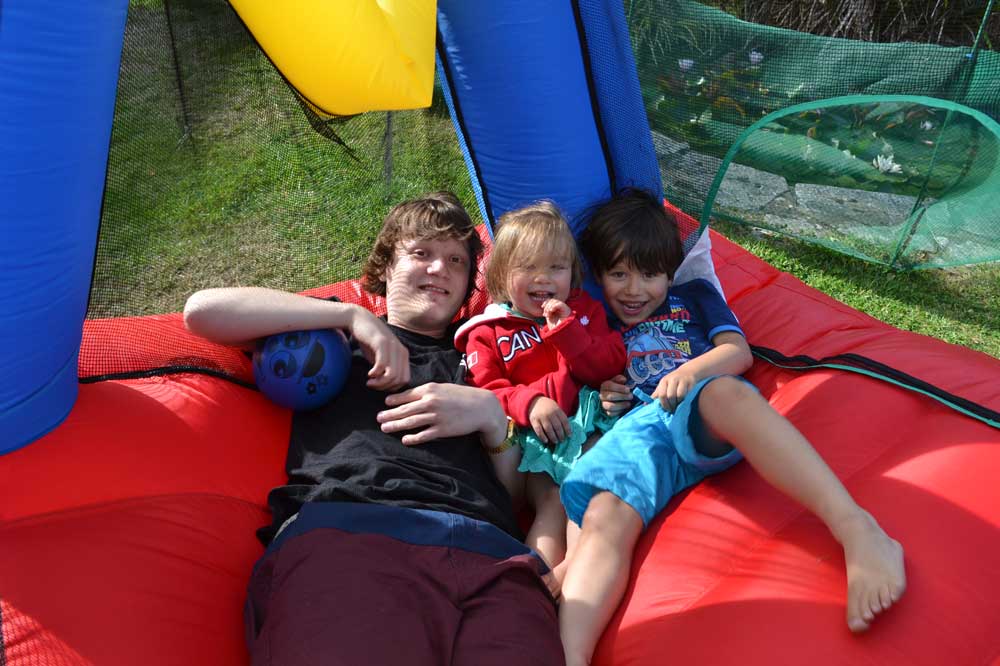 Luckily for me, I have always had the support and love of my immediate family and amazing friends. When my son's father moved out of our apartment, I found two other single young moms to live with me. The three of us, along with my "university family," supported one another in parenting, and thanks to the co-operation of my wonderful professors, I was sometimes able to bring my son, Raven, to school with me when I couldn't find a sitter.
When Raven was nine months old, my mother watched him for an entire month back in Toronto, while I finished up final papers and wrote my exams. At the end of April, I packed up my few belongings and headed back home to live with my mother. I was 22 years old.
Back in Toronto I ran into an old high school friend at our local Blockbuster with Raven in tow. When she saw me with a baby strapped to my body, her mouth dropped open. Without hesitation, she matter-of-factly said, "Paula? Paula Fuentes. I thought you were going to change the world!" Her words hit me really hard. Why do people assume I cannot accomplish anything with a child. I looked at her and said "Who says I won't?"
There is a stigma in being a young single parent-especially a young single mom. Over the years, I've heard numerous insults and compliments alike. In the beginning I always felt like I had to prove myself to others. I needed the world to know that I wasn't just a young single mom with no ambition or goals. Over the next few years I worked as a nanny, a house cleaner, a waitress, and even did some landscaping (which I loved because I have always been a keen gardener).
To be honest, gardening has always been an escape for me. To this day, I love nothing more than sitting outside on my patio and admiring all the trees and flowers that I have planted. I just find coming up with landscaping ideas so exciting. Plus, thanks to an amazing landscape design service that I found online my patio has never looked better. I have a gorgeous pavement leading to a firepit, and even a small water feature so that whenever I have friends and family over we always spend the night gossiping and enjoying tasty snacks in my backyard. The kids love spending time with me outside too.
Anyway, apart from that I also went back to school to figure out what I wanted to do. I managed to get a degree in New Media from Ryerson University in hope of becoming a documentary filmmaker so I finally could change the world. But the hours were too long, and raising my son was more important than following that dream. I returned to nannying for another few years, and then applied to Teacher's College once my son started full time school.
During this time I had the undying support of my family-my mother, who provided my son and I with unconditional love and a roof over our heads, and my two brothers, Rodrigo and Diego, who filled in as male role models, always taking Raven to sports and social events. My amazing sister-in-law always knew instinctively when I needed a break, and my many wonderful friends would do kid-oriented activities with me and Raven, even though the majority of them didn't have children.
Needless to say, I was really busy, and not interested in finding love again. I was focussed on raising a son, but to be truly honest, I was too afraid to trust someone again.
When Raven turned three, we travelled to England together to visit some friends. We went to Legoland for a day, travelled miles and miles on the train, and even saw Thomas the Tank Engine while we were up in Yorkshire. I spent most of my time with my friends Lorraine and Ken, and one night we all went to a barbecue. That's where I met Simon. He was shy, sweet, funny, smart and handsome. I met a few young men that night, but he stood out-there was something about him. We talked for a few hours, sort of flirted and said our goodbyes. We saw one another one more time before I left for Canada. Simon and I corresponded once or twice over email, but eventually, our friendship fizzled out.
Over the years, Lorraine and I would catch up on the phone, through letters and emails, and she always mention Simon. I would just laughed it off, saying "Lorraine, I live in Canada, he lives in England, it would never work out. Plus, I would add, he's too nice." What the hell did that mean?
When Lorraine moved back to Canada in 2006, I thought I would never return to England, or see Simon again. Then one cold December night in 2008, Lorraine mentioned that Simon was on Facebook, and that maybe I should drop him a line, since he would ask how both Raven and I were from time to time. Having consumed too much wine that evening, I took her advice and wrote him a message. It said: "Hi Simon, Lorraine tells me you're on Facebook. I just wanted to say hello and check in. Have a great New Years, Paula." Simon wrote back telling me he was in Florida visiting his Dad over the holidays. Before we knew it, we had become pen pals, writing each daily, and "talking" about everything.
It was nice. I'd made a friend. Then one day, around March, I realized I was falling for this guy. I was scared and excited at the same time. Lucky for me, the feelings were mutual, and we started officially "dating" via the internet. We'd call one another and talk into the wee hours of the morning. When things starting getting serious, and we began talking about relocating, I said: "I have something important to tell you. Something that may be a deal breaker. I have no problems spending the rest of my life with you, but I'm letting you know right now, that I will never get married, and I am not going to have anymore kids." Simon was okay with my conditions, saying that his life was now complete with Raven and me.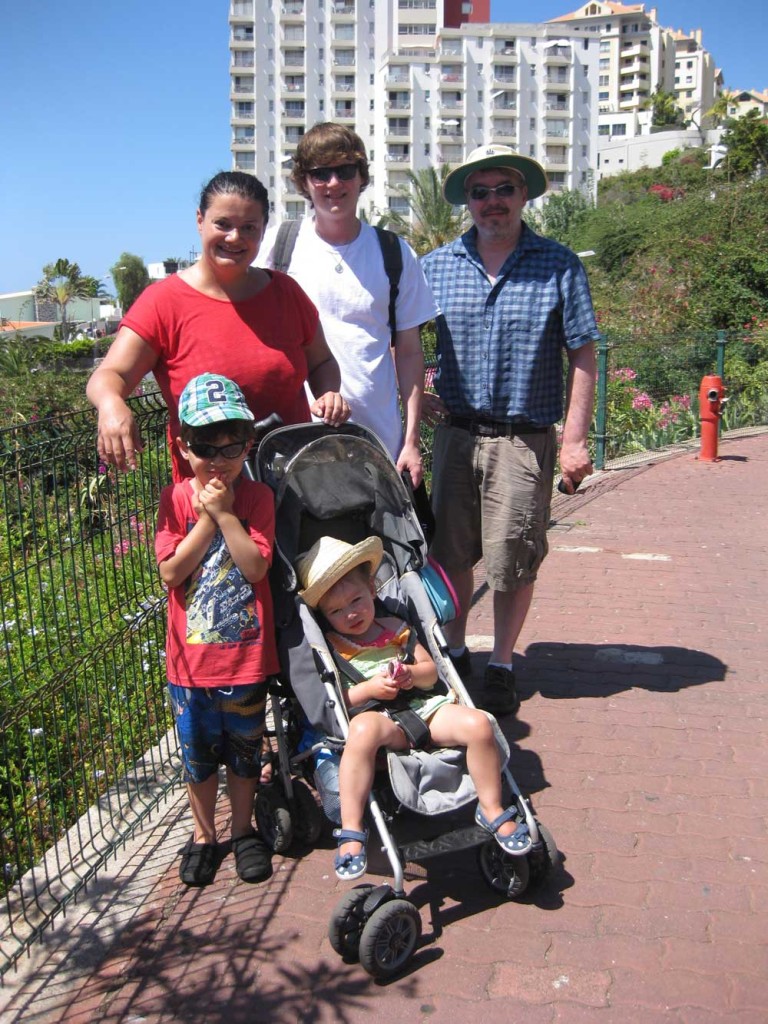 As I write this, my son Aiden, five, is riding his scooter in the house, while his sister Maya, 2.5 years old, is playing with play dough at the table. Raven, now 20, is sitting upstairs in his room, editing some photos he has just taken. This year, we will be celebrating our sixth wedding anniversary. I realize now that I didn't want to extend my family out of fear I'd become a single mother again. But when you finally find the person you are meant to be with, your fears fade away, and you follow your heart.
When I began my journey into motherhood, I was the youngest mother at my son's school, and a single parent. My life has gone full circle, and now I'm one of the oldest moms on the school ground, and married to a wonderful friend, husband and father. I may have not saved the world, but my children, husband and family have saved me.

This is #1000families post number 136. Do you have a family story of your own to contribute to the 1,000 Families Project? Or do you know a family that might want to do so? Learn more about how the series got started and how to get involved here. You can find all of the #1000families posts here.
Please follow and like us:
---
---
---