This Dad did everything in the usual order—dating, marriage, kids—until he found himself single and coming out in his 30s. Here the author of Out and About Dad shares what it was like to be a gay dad at that time.
I raised my two now adult children during a time when most people didn't consider us a family. We literally had to fight to be a family and to be accepted in our community.
Sure, I tried the traditional family route with all my might. I dated girls in college, found a girlfriend, got engaged, and then married her. We waited the "normal" amount of time and then had two children, two years apart. A boy and a girl. Just like I was supposed to do. Just who I was supposed to be. Just what a family was supposed to look like.
Life should have been perfect, at least according to the textbooks.
Then it all came crashing down.
Suddenly, through a long period of intense unhappiness, I was single and coming out…in my thirties with two young children.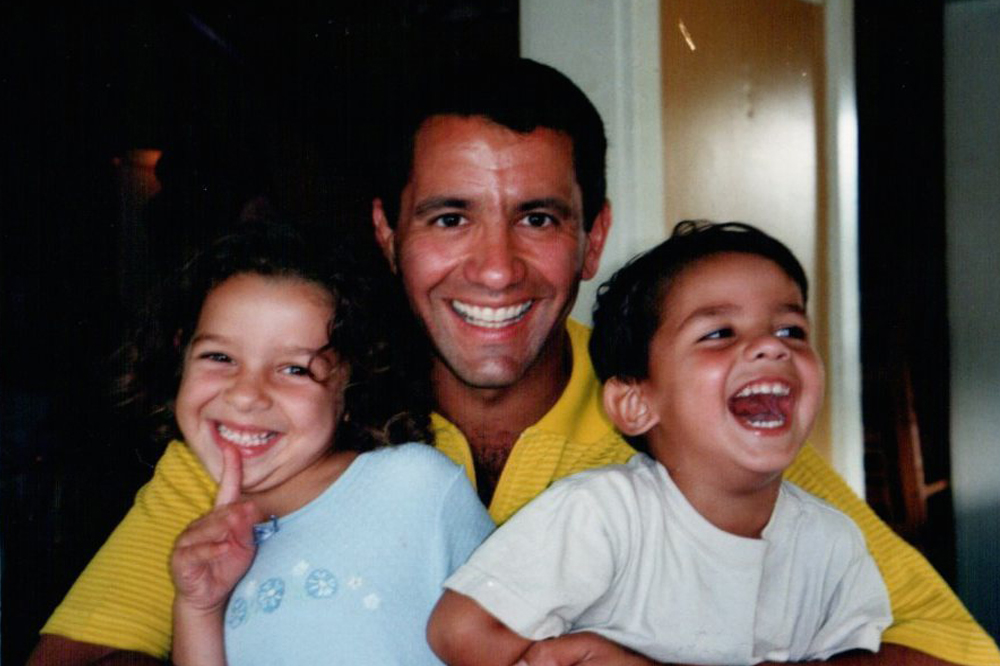 But no matter what, through it all I was Dad. The entire time. I made career decisions to be around for my kids, I made doctor and dentist appointments at horribly inconvenient times, and I did my share of chaperoning and school lunch duty and parent-teacher conferences at school.
While it was grueling, I loved every minute of it. I was Dad, capital "D."
Being Dad was just a part of my DNA. I always wanted to be a father and I think in some ways that desire forced me down a traditional path that just wasn't meant to be. I had blinders on and did whatever it took to have children. Looking back, I should have known better, but I wouldn't change it now for the world. Not with these two amazing children who are now starting their own journeys in life.
Along the way I did find the love of my life, but in some ways he had even more to deal with than I did. There were no labels to describe his role, no easy explanation for what he did for our family every single day. He wasn't a father or a stepfather or a husband. He was just Christopher. A man without an accepted role in a very untraditional family.
There were many who believed, and stated out loud, that we were not a family. "Those aren't your kids" and "You people shouldn't have kids," we heard many times over through the years. Often times right to our face, right in our own home.
Thinking back, how dare they!
Today, thankfully, times have changed. We live in a world where families come in all shapes, flavours and sizes. We have grown as a culture, and we have personally grown as a family.
While we don't need to label any one of us, we are a family no matter how we choose to describe it.
After much encouragement from a friend, I decided to chronicle my journey as a father through those years when society wasn't so forgiving, wasn't so accepting, and honestly wasn't so nice to fathers. Especially gay fathers. Especially those in a relationship with gay fathers.
Today the stay-at-home-dad (#SAHD) is accepted and respected, for the most part. Not back then, and even now I'm sure it's not always so rosy. Back in the day, I was visibly the only truly active father or gay father around, and Christopher was a complete anomaly. I'm sure no one knew what to do with us.
But we must learn from those times so that we can help others overcome the barriers that set them back now. I wish that I had been more confident in the moment—more confident for my children, for Christopher, and for myself. But we had no role models and no one to turn to. Not anymore!
I'm hoping that my book Out and About Dad will do just that—serve as a role model and help give others confidence. I'd like to think so, and hope you check it out.

(Editor's note: You can read an excerpt of Jim's book here.)
This is #1000families post number 141. Do you have a family story of your own to contribute to the 1,000 Families Project? Or do you know a family that might want to do so? Learn more about how the series got started and how to get involved here. You can find all of the #1000families posts here. 
Please follow and like us:
---
---
---