Kids aren't the only ones back at school. I have started a Masters program that required me to spend two weeks in Halifax in August.
As I was packing to leave for my flight—nervous about leaving my kids behind to live in a dorm and have homework again after all these year—my son made the most comforting gesture. He helped me make my favourite snack—almond butter and ginger jam on rice cakes—and, of all things, he put it in a Frozen-themed GLAD sandwich bag. I recently got the cute new Disney-themed zippered sandwich and snack bags to get them excited about school. I think my son was trying to get me excited about school, too!
Though I usually try to pack lunches in reusable tupperware containers or silicone or stainless steel lunch box, sandwich bags make perfect sense when you're trying to travel light. I need to leave room in my backpack for books, not lunch containers, after all!
Here is how we made my favourite snack:
Two rice cakes—my favourite is called Suzie's Kamut puffed cakes
1 Tbsp natural almond butter (I love Nuts to You Nut Butter Inc., which makes a variety of nut butters)
1 Tbsp ginger jam from a company called Ginger People
There are tons of variations you can try that will work well for school and summer travel plans, not to mention your own taste buds.
1. Why not try using sunflower or pumpkin seed butter for a nut-free, school-safe option?
2. Make a crunchy rice cake sandwich using thinly sliced banana, fresh blueberries, raisins or dried cranberries in between two rice cakes.
3. How about a good, old fashioned peanut butter and jam sandwich on rice cakes? Spread each rice cake with their favourite PB&J and put them together for easy travel. If your kids like their sandwiches open faced, they will have fun twisting the two rice cakes and pulling them apart like an Oreo cookie.
GLAD and Disney zipper snack and sandwich bags are available at all major retailers and grocery stores for $2.49-$3.49.
This is a sponsored post, however opinions and experiences are my own. I truly do vouch for GLAD sandwich bags—and for almond butter and ginger jam on kamut rice cakes!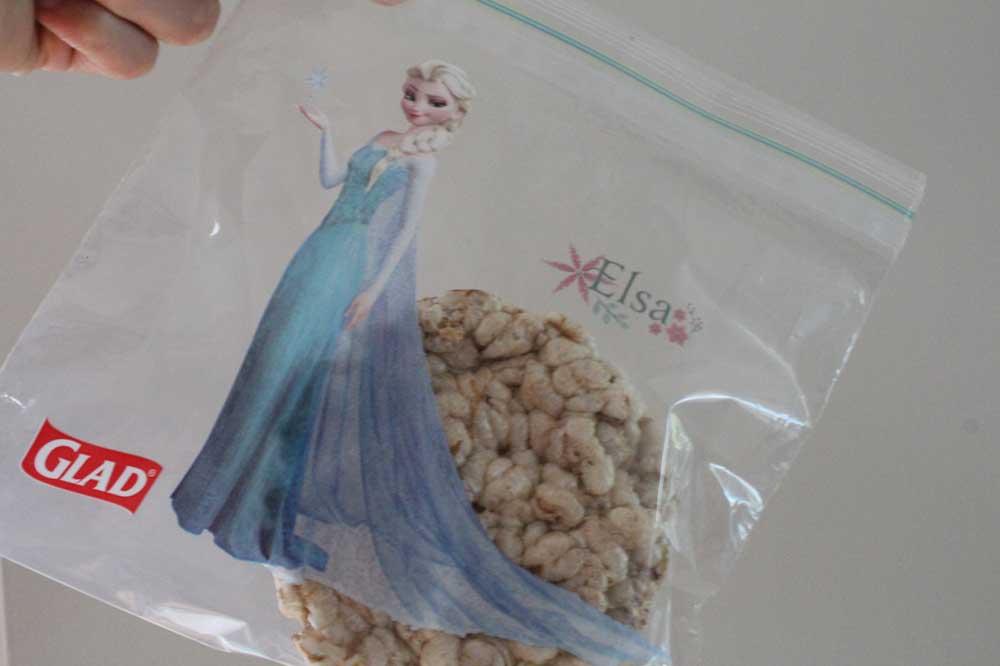 Please follow and like us:
---
---
---