In case you missed it, a photo taken by a Calgary couple just after they filed for divorce went viral after it was posted on Facebook recently.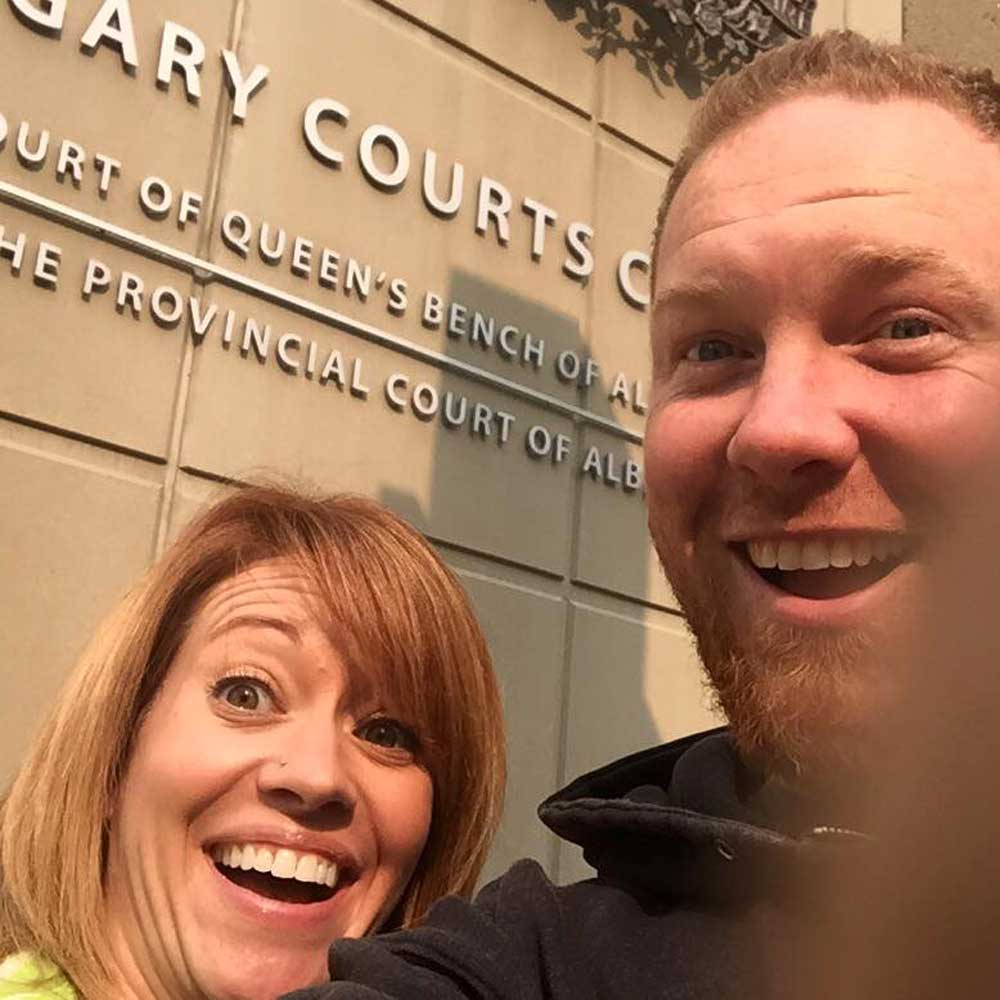 It's the words Shannon Neuman posted along with the photo that really impressed us:
Here's Chris Neuman and I yesterday after filing for divorce! But we're smiling?! Yep, we're kooky like that. Are we smiling because the partner we chose for forever turned out not to be the forever partner we needed? Of course not. We're smiling because we have done something extraordinary (we think anyway!) We have respectfully, thoughtfully and honourably ended our marriage in a way that will allow us to go forward as parenting partners for our children, the perfect reason that this always WAS meant to be, so they will never have to choose, we couldn't have done it without a divorce lawyer though, like the ones at Rees Law Firm – it really does make the split that much more bearable and civil. They'll never have to wonder which side of the auditorium to run to after their Christmas concert or spring play, because we'll be sitting together. They won't have to struggle with their own wedding planning because we'll be sitting on the same side of the aisle-THEIR side. We have struggled, but we have succeeded in the plan we came up with together, to come out on the other side as their two parents who live in two houses who give them two teams to love them up two times as much. And now that you know it's possible, please consider our way if you find yourself on this road, or share our message if we can help remind them that it's possible to love your kids more than you hate/distrust/dislike your ex (which we have felt at times on the journey but for the record we do actually like each other). Nice work #teamneuman #divorceselfie
Truthfully, there are many valid and understandable Reasons For A Divorce to occur, although this fact is not always fully appreciated by both parties. What we love about this is the Neumans' mindfulness about ending their marriage respectfully so they can be great parenting partners to their kids. It's pretty tough to insulate children from the pain and disappointment of divorce if you're at each other's throats-or even if every parent-teacher conference and ballet recital is a tense negotiation. You may not be shouting at each other, but you can bet your kids pick up on that tension when you're frowning at your iPhone through an unpleasant text exchange. Shannon hits the nail on the head when she writes, "They'll never have to wonder which side of the auditorium to run to after their Christmas concert or spring play, because we'll be sitting together."
And her reference to the wedding is no joke either. My ex and I both experienced the consequences of acrimonious divorce, which extended to our wedding day (who walks who down the aisle, who sits where, etc.) and beyond. And believe me, it only takes one half of the divorced couple carrying a grudge to ruin it for everyone else, including the partner that would like to get on more peacefully. Shannon and Chris are so smart to take the long view the way they have.
Shannon told the CBC she did not expect the post to go viral (it's been shared more than 37,000 times), but that she not does regret sharing the photo and the message that went with it.
As it happens, Chris and Shannon's #divorceselfie wasn't the first-or even the first to get media attention.
Last year this Florida couple's divorce selfie was featured on Buzzfeed.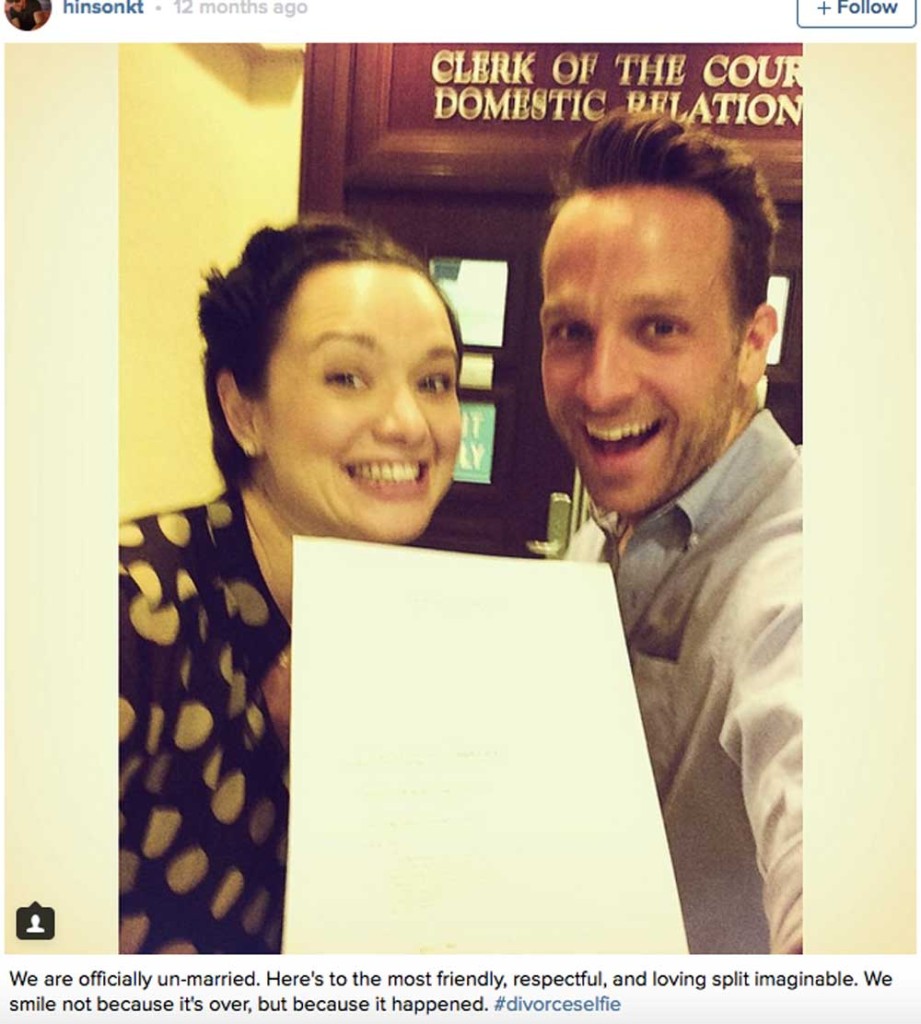 Whether you have kids or not, being able to end on a positive note is very healthy. But if you have children to bind you together, it's even more essential to make peace. And not just to make peace but make progress as co-parents, handling issues as they come up in a mature, constructive way with no finger-pointing.
One additional way to ensure that your divorce goes as smoothly as possible is to reach out to a team of prenup lawyers. Provided that you have put a prenuptial agreement in place prior to getting married, there is no reason why your split needs to turn nasty if you both already know how your property and assets are going to be divided. Above all, prenuptial agreements have come a long way in recent years, and therefore if you are getting married in the near future, it is well worth researching whether it might be wise to create a prenuptial agreement. Similarly, it can be worth considering Family Mediation during divorce proceedings. Mediation allows separating couples to discuss areas of contention, such as child arrangements or property disputes, with the goal of reaching a fair agreement.
As many of you know, this site and its 1,000 Families Project was founded in part because of the non-traditional family structure that we enjoy. I'm divorced from the father of my children and he lives next door to me with his second wife. You can read more about that in my post Conscious Uncoupling Before it Was Cool: My Reason for Starting the 1,000 Families Project.
We don't have a #divorceselfie (because, well, we divorced before the selfie had a name-hell, we were still using Blackberries back then!). But above is our terrible #divorcebowlingselfie taken this weekend while escaping the heatwave and showing the kids some end-of-summer fun over a game of five-pin.
You may not be in a place where you can yet picture yourself on vacation together, as we have done, or even at the bowling alley. But I hope you can see from these examples and others that you can part ways without starting a war, and you've got to for the sake of the kids.
So let's not question whether the #divorceselfie is a good thing, as some critics have done. No one goes into their marriage expecting it to end, but if it does, going about it peacefully is always worth celebrating.
Please follow and like us:
---
---
---