One dad's incredible story of determination to make a dream come true for his son. Here's how he made a "someday" plan a reality—just in the nick of time.
When I was a kid, my family moved around Canada every few months; because when your dad's in the Navy, you don't often get a choice where you call home. However, in early 1969 one particular move brought with it a new twist: Not only did Dad get posted in Europe, but we had to be there in two short weeks!
Before we knew it, our whole family was 33,000 feet in the air hurdling across the Atlantic Ocean, headed towards for what for us kids was an unknown and mysterious land—a land known only to us as "England." To be honest, this move thrilled my parents, since being ex-pats it meant they'd be closer to relatives—including dad's brother who lived a short jaunt away in Holland. Looking back now I can see how these three years spent travelling back and forth to Amsterdam, plus the frequent trips all over the countryside to visit our many relatives, was actually the beginning of the passionate love affair I now have with travelling the globe.
Upon our returned to Canada I couldn't wait to get back out and see even more of the world, which was unlikely since I was only eleven years old at the time. However, the dream stayed strong, and twelve years later I returned to Europe and spent three months backpacking around the continent. This trip confirmed what I'd long suspected—that travel had become a staple in my life. I knew right away that when I eventually had a family of my own, I'd show them as much of the world as humanly possible.
Not surprisingly I eventually married and became a father a few years later when my son, Tristan, was born. Even when he was a toddler, I couldn't wait for the time to come when we'd travel together and experience the many amazing sights, sounds and cultures I'd fallen in love with years before. I remember this thought always filled me with much joy and happiness! Unfortunately, my wife didn't share my enthusiasm for travel, or any other of my interests. A year later the marriage ended.
Shortly thereafter we received shocking news: Tristan was diagnosed with Duchenne Muscular Dystrophy, a degenerative disease that was wasting away his muscles, making him weaker as each day went by. The doctors said that within five short years Tristan would be unable to walk, let alone take care of himself. My dream of "Father and Son" travel had hit a major brick wall. Now—with the clock ticking—I knew if it was ever going to happen, it had to be sooner than later.
But there was a problem in that the end of the marriage created turmoil my life, both financially and emotionally. Nonetheless I was determined that Tristan and I would travel Europe someday. To be honest, I now realize I clung to this dream as a way to cope with all the craziness that was going on at the time. It looked like we'd need a miracle to make this dream come true, and so I set out to try and figure out just how to pull it off.
Not long after, good fortune shined upon me when I met and married Paula, an Aussie who shared my passion for world travel. She also understood the importance of the goal I'd set all those years before, and believed that together, we cold do it. We put together a plan to save the money, one that would ensure we could take an epic European holiday together within two years. It was a long, hard grind, but we stuck to the plan and in just eighteen months we hit our target! All that was left to do was pack our bags and jump on a plane, which is exactly what we did in July 2004, when Tristan was eight-and-a-half years old.
The trip was nothing short of epic, with us visiting sixteen cities in seven countries, and exploring many famous landmarks like the Coliseum in Rome, the canals of Venice, the Eiffel Tower in Paris and Big Ben in London, just to name a few. Throughout the trip Tristan would tire easily, so when we were sightseeing he'd often ride on our shoulders, which wasn't a big deal—except for one time.
When we arrived at the Notre Dame in Paris we learned the only way to the top (where the gargoyles are perched) was to climb the 387 steps of the ancient cathedral's staircase. I knew Tristan couldn't make it, and therefore the only way he'd get to the top would be to—you guessed it—ride up on my shoulders. And so up he went, and then we began the long slow ascension to the top. And while it was a hard climb, the gigantic smile on his face upon seeing the gargoyles made it all worthwhile.
When our adventure finally wrapped up after a month we were excited to get back home, and proud we'd completed such an epic journey. Reflecting on the journey, it turned out, would be bittersweet. Just two weeks after arriving home, Tristan fell, and was unable to get up again. This was the last day my son ever walked; he's used a wheelchair ever since.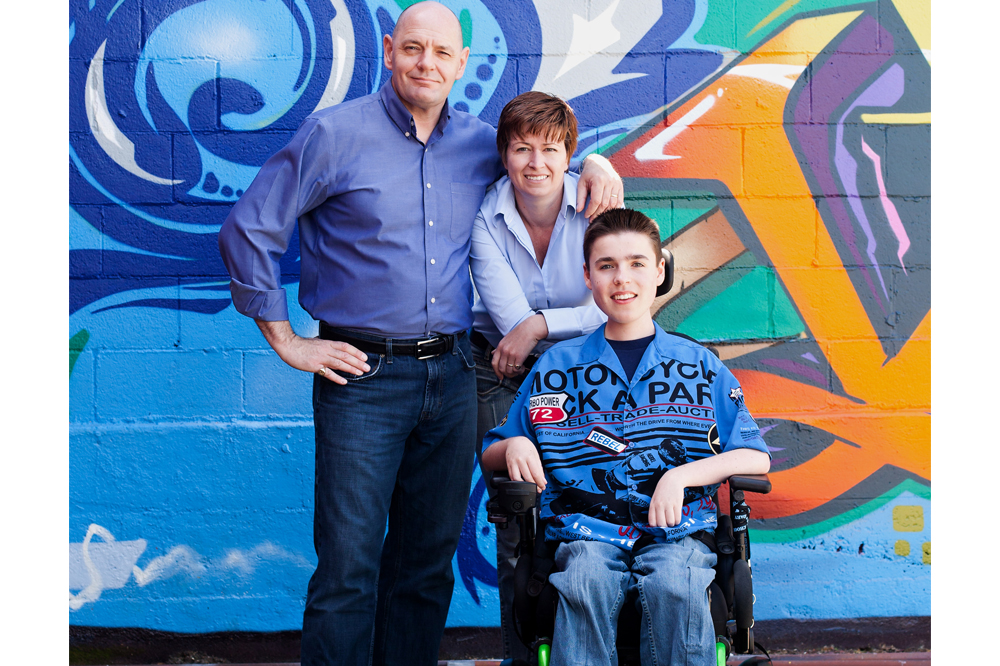 Two weeks. I still can't believe it—just two weeks after the biggest event of his life Tristan's legs stopped working for good. When this happened, something became crystal clear to me: Had we not made this trip a priority, or waited for "someday" to take it, chances are it never would have happened. If that were true, I'd have lost the only opportunity I'd ever get to experience world travel with my family. If that were the case, I don't know if I could forgive myself for such an error in judgement.
This experience taught me one of life's most valuable lessons: If there's something—anything—that any of us wants to have, do or learn in our lives, the time to get on with it is right now—today. Because none of us knows what tomorrow will bring. I'm grateful I met Paula when I did, since she believed in my dream of world travel with my son strongly enough to help bring it to fruition, and just in the nick of time. And even though he's unable to travel with us any longer, to quote Bogart in Casablanca, Tristan knows that "We'll always have Paris"—and for a family like ours, that's plenty good enough.
This is #1000families post number 166. Do you have a family story of your own to contribute to the 1,000 Families Project? Or do you know a family that might want to do so? Learn more about how the series got started and how to get involved here. You can find all of the #1000families posts here. To get our weekly newsletter with the best of our website and podcast, just enter your email address here!
Please follow and like us:
---
---
---