Let's not be boring and mope about how we miss the radiant complexions we had before kids came along and turned us into under-groomed zombies.
Sure, we'd look better if we slept more than five or six hours a night. No, we did not have dark circles under our eyes back when sleeping in meant rising just in time to catch the tail end of brunch-not tricking the baby into going back to sleep between 5:30 and 6.
Yes, our hands looked better before we started washing them eleven times an hour for diaper changes, snotty noses and those endless sinks of pots and pans.
I guess you could say I have a love-hate relationship with these changes. No, I don't look as young as I once did. Sure, it would be nice to have the same relationship to gravity as I had before pregnancy and breastfeeding. But the crows' feet and smile lines and body changes are all hard won-they've come about on long nights and in tender moments and on hurried mornings and in brow-furrowing worry and in gut-splitting laughter at the dinner table. All of which I've chosen by becoming a parent. With all this being said, skincare has been a large part of my life and sharing my tips and tricks with others could help someone out there at least. That's all that matters. If you are interested in skincare as much as I am, maybe looking to use the services that companies such as Socialfollow® have to offer when it comes to growing your social following could be the a worthwhile step to take, especially if you are looking to help others on their skincare journey.
That said, I'm a big proponent of self-care and truly believe I could be a little kinder to the skin I'm in. For me, part of this journey actually involves acknowledging my own insecurities. For example, I have always wanted to have straight and white teeth so recently I have been doing some research into cosmetic dentistry procedures such as Invisalign and whitening treatments. A friend of mine recently went to a Dentist in New York for a smile makeover and was so happy with the results she has inspired me to take looking after my own teeth a little more seriously.
Nonetheless, today, I want to focus on skin care. So, when the makers of Bio-Oil came to me about a new product line, I was interested. Bio-Oil is that wildly popular skincare oil that we know mostly for its clinically proven ability to treat scars and stretch marks. (Did we mention stretch marks?) What we discovered when we bought Bio-Oil for our pregnant bellies was that it was also great for removing makeup, soothing bug bites and treating both dry and itchy skin. It became a real medicine-cabinet multi-tasker.
The new line of products is called Lipidol-a collection of skincare oils. Cleansing oils are on-trend in the beauty world, but to those of us uninitiated, the concept of cleaning your face and body with oil may sound a little weird. But this isn't like slathering yourself in baby oil á la 1977 sunbathing. These products help protect against moisture loss, which is crucial to caring for our skin, especially once harsh winter winds and frigid temperatures add to the abuse piled on by the everyday care and feeding of our families. They work to relieve tight, dry, crepey skin by supplementing the skin's natural oily layer, which we blast away through washing, shaving and buckling kids into car seats in frigid weather without our gloves on. Sure, I said, I'd give the line a try and let readers know what I think.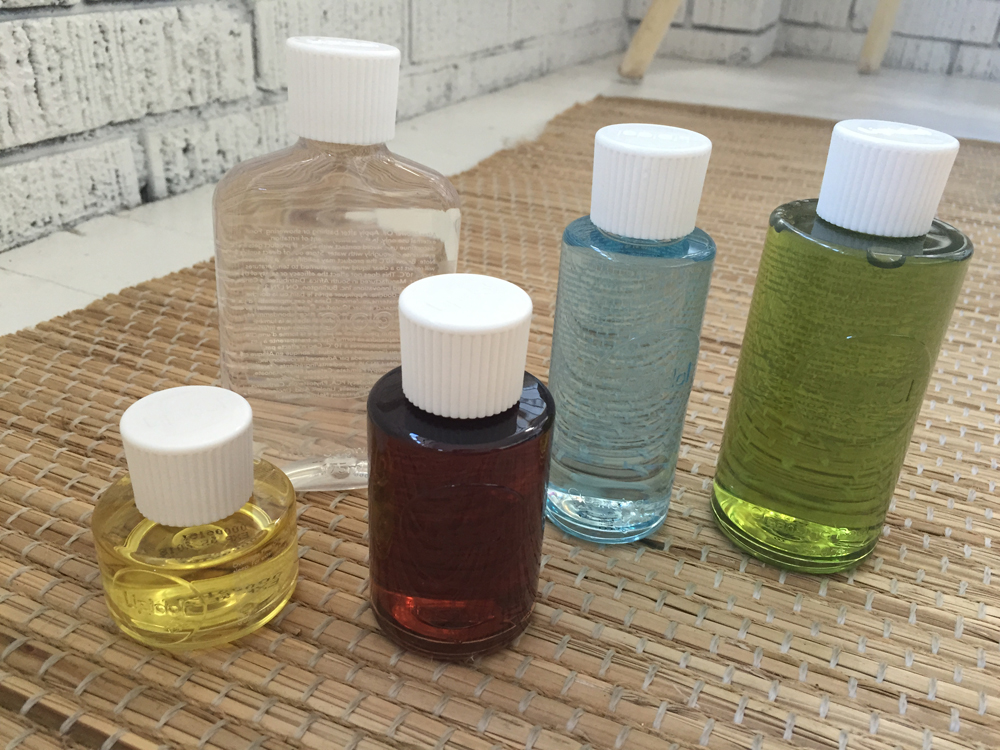 The products arrived in gorgeous, minimalist packaging: clear bottles of different-coloured oils including Cleansing Face Oil, Overnight Face Oil, Cleansing Body Oil, After Shower Oil, and After Shave Oil.
Having combination skin (translation: Zits and wrinkles, together at last!) I was curious about whether the Cleansing Face Oil (blue bottle) and Overnight Face Oil (little yellow bottle) would make me break out. But I was happy to discover that the opposite was the case. They've made my skin better hydrated, which is good for avoiding the breakouts that come from pores that can't breathe and therefore get clogged. Of course the products can't erase the fact that I'm up to all hours running a small business, so those dark circles are still there, but my skin looks quite a bit better and feels nice, too.
The Cleansing Face Oil goes directly onto the skin dry, sopping up dirt and makeup. You then add a little water, which allows the product to foam slightly.
The Cleansing Body Oil in the green bottle has become my showering essential. It goes onto wet skin and lathers, rinsing away easily but still leaving the skin feeling soft. After toweling off, the next step is to grab the clear bottle of After Shower Oil for all-over moisturizing, good for even sensitive fair skin like mine. I've been using it all the time and it has helped reverse some of the premature ageing my skin had to endure during the bathroom renovation process! Thankfully, the end product has been fantastic and the shower is simply to die for. As we all know, glass always looks better!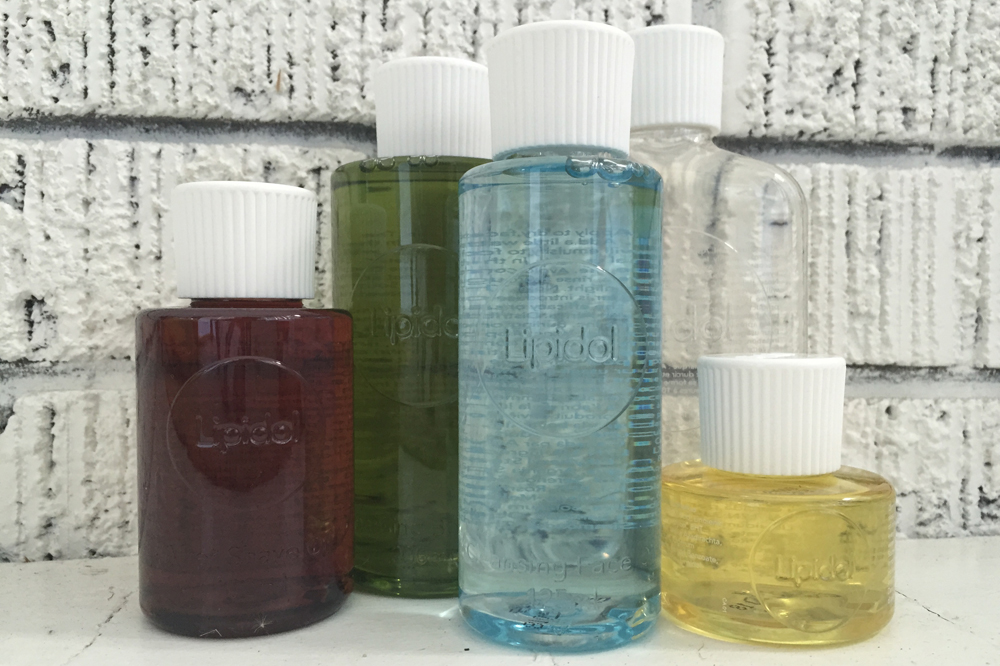 All these products are perfectly unisex, which will make for a streamlined medicine cabinet, but the After Shave Oil holds particular appeal for the dad in the house with it's somewhat masculine, woodsy scent. These days the men in our lives care about looking after their skin, too. And let's not kid ourselves, ladies: hastily shaving our legs without shaving cream hasn't done the skin on our shins any favours, so they could use a little after-shave TLC as well. I do hate shaving though. It's such a hassle! One of my friends told me that Ethos Spa offers probably the best laser hair removal experience in the whole state of NJ so I've been considering getting laser hair removal. It would make my life so much easier!
Winter's a good time to switch up your beauty routine to include products that can help you face a Canadian winter-and that big pile of dishes, too. The good news is that this line is really affordable-about $9 per bottle.
I'm going to keep using Lipidol in the months ahead when I'm indoors with dry, radiant heat and outdoors with the kids skiing, snow-shoeing and getting in snowball fights. As for the evidence of the passing of time that no product can erase, well, I'll take those in exchange for my two lovely boys any day. Besides, where youthfulness has faded, it's replaced by a self-assuredness that my 25-year-old self just didn't have. And that's its own kind of beauty.
Lipidol is available at walmart.ca.
To help keep the lights on around here, the New Family does very selective sponsored blog posts featuring products or causes we stand behind. This post was sponsored by Lipidol, but opinions and experiences are my own.
I wrote an e-book called 11 Ways to Keep Your Family Weeknights From Spinning Out of Control. To get it for FREE, simply subscribe to our newsletter recapping the best of thenewfamily.com and the podcast!
Please follow and like us:
---
---
---