A single dad shares an inspiring story of recovering from addiction and transforming the life he leads with his sons.
What is my family? Is it even called a family? I had to look this up because, honestly, I don't know anymore.
First definition: A group consisting of parents and children living together in a household. Nope, that's not it.
Second definition: All the descendants of a common ancestor. Kind of, I guess.
Let me share my story instead of the labels I've struggled to fit within.
I had a great childhood and grew up in a Christian home with a stay-at-home mother. I feel blessed to have the upbringing I did. But things changed when we moved from a small California desert town to Orange County, California.
I went from a poor blue-collar town to a very affluent city, just as I was starting high school. Naturally, I didn't fit in and was somewhat of a loner that first year I was there. I remember how lonely I felt. I was embarrassed just to show up to school. Every day felt like one of those dreams where you show up to school wearing a dress, and I was riddled with anxiety. I was ashamed that I didn't have any friends. Orange Country has a strong too-cool attitude deep within its roots which didn't serve me well. My family life had also changed because both my parents were now working. I didn't handle it well.
Eventually, I started to experiment with drugs and alcohol. Suddenly it was easier to make friends since we all had something in common—none of us liked how we felt, so we got wasted.
By my senior year I had a problem. Interestingly this was the same time I met a girl I loved and started a long-term relationship. After a few years, she became pregnant at 17. I was 20. I thought I would do the right thing, and so we married.
To support my family, I started a career in technology. The problem was we both drank a lot and used drugs together. I felt entitled—because I worked hard, I played hard, too.
Although things looked good from the outside, this way of life went on for two decades. The confusing part for me is that today I see our marriage as two sick people who attracted each other. At the time, though, I loved her more than I thought it was possible to love anyone. I would have done anything for her, yet it was a terrible marriage. I struggled under the belief that God hates divorce, and that I could fix it. I thought it would work out somehow.
I was often the one hiring counselors, reading books or talking with our pastor. But when I'd get hurt, I wouldn't know how to deal with the pain, so I would self-medicate. In turn, since my using would hurt her, she would do the same to me—this was a well-established pattern for the two of us.
The last day I used was the one when I experienced the worst pain of my life. It rushed through my body in a single breath. When I found out she had an affair, it ripped through my heart and every vein. I immediately grabbed my gun and put it to my head. I didn't want to feel like this. I didn't know how to handle feelings this extreme. How could someone I love so much hurt me like this? My choices were to pull the trigger or find another solution.
I decided to do something different. I was not going to use things outside myself to escape how I felt. I made a decision right then to never live like that again. From that moment, I would find another way to live, at whatever cost.
I first started working on myself and got involved in recovering from my addictions. I read books, took classes, and became the best version of me. I started a wellness routine of eating well and exercising. I lost 50 pounds of fat, cured my liver disease and started to love life.
But there was still a problem. I had cleaned up my life, but my wife wanted to go out and party. After six months of trying to salvage the marriage, I had to leave. I was done living that kind of life. My three sons deserved better. At least, they could have one parent who models for them how to live well.
As it stands right now, we share custody of our three sons. When they are here with me, I feel like I have a family. When they are not, I don't know what you label it. I am alone nearly half of the time. I went from my parent's house to being in an eighteen-year marriage. I've had to learn to be a single guy without a family some of the time, but also how to be the best single dad possible.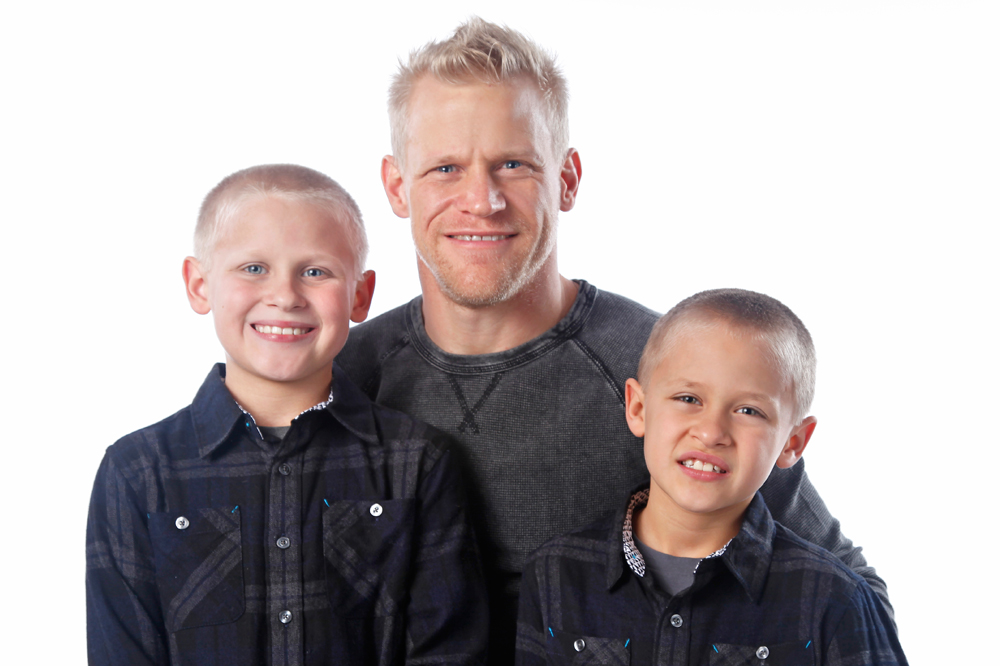 I have learned to live my life in such a way that challenges can be overcome. But first I had to get clarity on the life I wanted to create with my sons. I created work that centered around their schedule. I have not had to depend on babysitters. I spend nearly every minute with them while they are here with me. I want to raise boys who will each become a better man than I. I want to teach my sons the things I never had the opportunity to learn when I was young—the things I used to transform my life. So I teach them about the importance of wellness, of being mindful of your thoughts. And I try to encourage their spiritual development. In some ways, I have taken them on my journey, just tailoring the lessons in an age-appropriate manner.
Right after I filed for divorce, I got them involved in DivorceCare alongside me. We also became active in our church. They're learning that when bad things happen, there are support groups out there to help you through.
One of the things that I find beneficial is meditation. We do a weekly 20-minute meditation as a family. When one of the kids gets upset, I teach them to manage their emotions utilizing his breath. I have taught them the importance of quietening one's mind. I look for opportunities to show them how you can manifest things in your life by changing your thoughts. I teach them to be impeccable with their words because it influences your thinking. In general, I try to show them how to thrive by living with gratitude and positivity.
The times they are not with me are challenging, but I'm learning to direct my energy during these periods to creating the life I want for my family. Now as an author, speaker and coach, I use my solo time to create content that will help others. In fact, I wrote this article during a very lonely time where I missed my sons a great deal. My website, recoverysquared.com, helps other people recover from the things that hold them back in life—whether from addiction or other unhealthy patterns. I feel blessed that I can be a strong, positive role model for my sons, but also serve others through my business when they're not with me.
I am not sure what you label my family, but my sons and I are thriving. I want to share with the world that transformations like mine are possible. It's never too late to write a better story for you and your family.
This is #1000families post number 173. Do you have a family story of your own to contribute to the 1,000 Families Project? Or do you know a family that might want to do so? Learn more about how the series got started and how to get involved here. You can find all of the #1000families posts here.
We created an e-book called 11 Ways to Keep Your Family Weeknights From Spinning Out of Control. To get it for FREE, simply subscribe to our newsletter recapping the best of thenewfamily.com and the podcast!
Please follow and like us:
---
---
---