Unicef's Survival Gifts help the organization that's saved more children's lives than any other charity in the world
I'm writing this from the comfort of my living room. It's one of the perks of working for myself. I get to decide whether to sit at the desk in my sunny home office or whether to plunk myself on the sofa next to the Christmas tree. It's a Christmas tree, by the way, that I had the privilege of paying too much for because of the convenience of being able to get it right in my neighbourhood as opposed to a big box store further away. Its part of my culture I suppose, my friend got some really great Custom Charging Cords for Christmas.
So as I sit in my warm, safe house to write about a charity that's near and dear to my heart, I'm distinctly aware of the $50 I spent on a dead decorative tree for the sake of nostalgia, and the good that money could have done if spent differently.
You see, earlier this year I started supporting Unicef with a monthly donation. The charity has saved more children's lives than any other humanitarian organization in the world, and it's done so entirely through donations. From clean water to medication, shelter to education, Unicef is on the ground in the parts of the world where children are their most vulnerable due to extreme poverty, conflict, natural disaster, or disease.
By contrast, my children have spent most of this month dreaming of what they'll find under the tree this Christmas and counting down the days until school ends. That's to be expected, of course. They don't know any other life and so they get caught up in the excitement and anticipation of receiving gifts and gobbling candy canes and other holiday sweets. It's the little DIY gifts like machine embroidery designs of animals or handmade cards that they love too, as they can see how much thought has gone into gifts specifically for them. It's not always about how expensive something is, especially if this is not something the kids are used to. It's the thought that counts. I'm happy that they're able to have this kind of childhood, but I'm as concerned as any parent that my kids take for granted their terribly good fortune, and I want to make sure I'm raising them to be aware of the plights of others.
That's why it's so great that Unicef has created a couple of unique and powerful ways to make it easy to engage with the needs of less privileged kids around the world.
The first is with the organization's incredible Survival Gifts. You know how there's always a couple of people on your list that are challenging to buy holiday gifts for? Maybe Granddad has everything he could want for and doesn't really need another tie or five iron? I must admit I resorted to a custom photo blanket for him last year but he loved it. Or maybe as the family grows you want to cut back on the number of gifts you buy for the adults in our life so you decide to do something meaningful instead of exchanging gifts with your siblings? The Survival Gift catalogue allows you and the kids to pick something that benefits children around the world, while offering a gratifying gift experience for a loved one. Looking through these gifts is like taking the kids on a tour of the various challenges faced by children in other less affluent nations. If you're an employer, then you could also consider giving experiential gifts which have a knock on charitable effect. Something that gets your employees out and about and involved in a charitable cause. Perhaps running to raise money? Or a sponsored sky-dive?
There are Life-Saving gifts like Plumpy'Nut packs for severely malnourished children-enough to feed seven children for a day for just $12, water purification tablets for 10 families for a year for $29, vaccines for 58 children for $44, bed nets, baby blankets and more.
There are Brighter Future gifts aimed at making it possible for kids to go to school (like enough pencils for a whole school for $32) or ending a cycle of violence (like counseling for a child for $18). You can also reunite a child with their family for $24-it's painful to even consider the circumstances such as child trafficking and war that led to these children becoming separated for their loved ones. That's a pretty powerful thing to make happen with less than you'd spend buying a hardcover book for Uncle Tom.
And while we're quite focused on our nation's important job settling the Syrian refugees that are starting to arrive in Canada now, it's important to remember that we're counting on international aid organizations like Unicef to keep them safe until they get here. That's why a $50 gift of aid for Syrian children is so powerful. It helps keep 356 children fed, schooled and sheltered until they depart for their permanent homes elsewhere.
Here are some of my other favourites: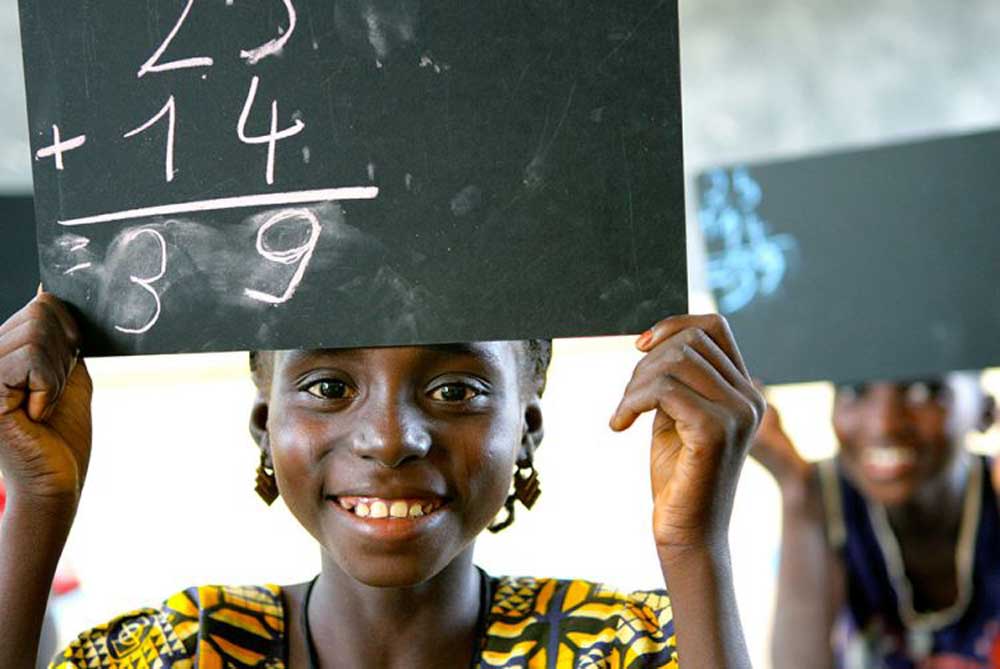 Favourite Teacher Gift – Slates for a Classroom, $12
Way better than yet another coffee mug for about the same money, this is a gift that will really touch a teacher's heart. I love the back-to-basics nature of this gift because the slates will be used over thousands of times, unlike notebooks that are costly and logistically difficult to replenish. There's enough in this pack for 40 children.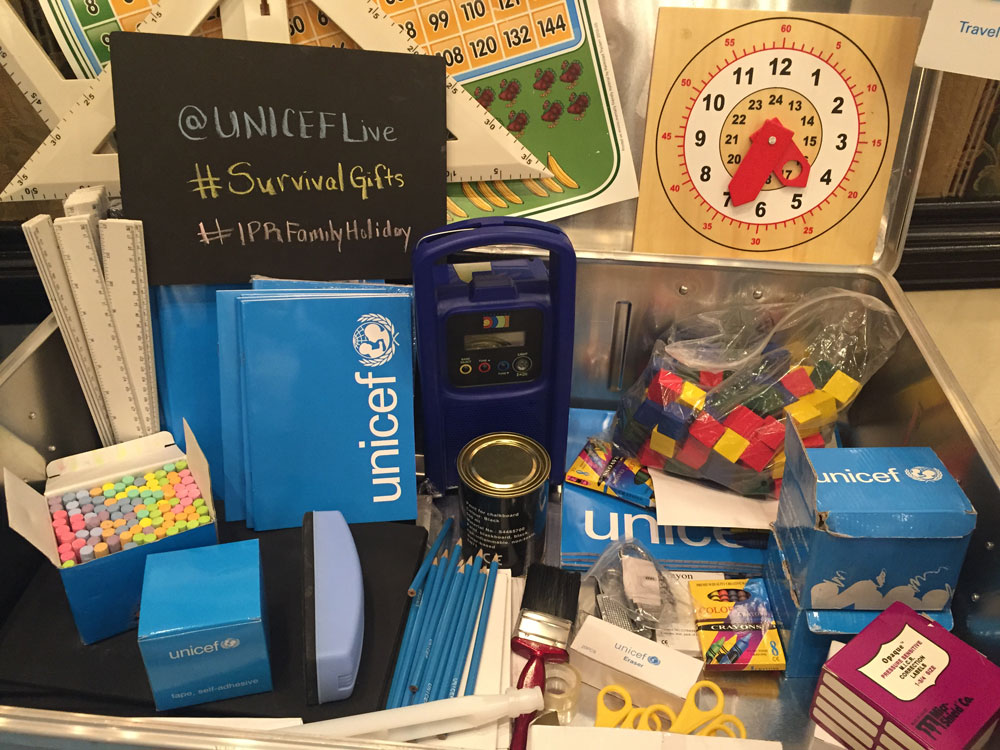 Favourite Group Gift – School in a Box, $251

This amazing gift transforms a tent or the shade of a tree into a school in parts of the world where disaster has stripped away a community's educational resources. The box includes a blackboard, exercise books, teaching posters, pencils and more. This would also make an incredible teacher gift if the class combines resources, and I also like the idea of work colleagues getting this for their supervisor (because who knows what to get the boss, right?) or deciding to do this instead of a Secret Santa exchange.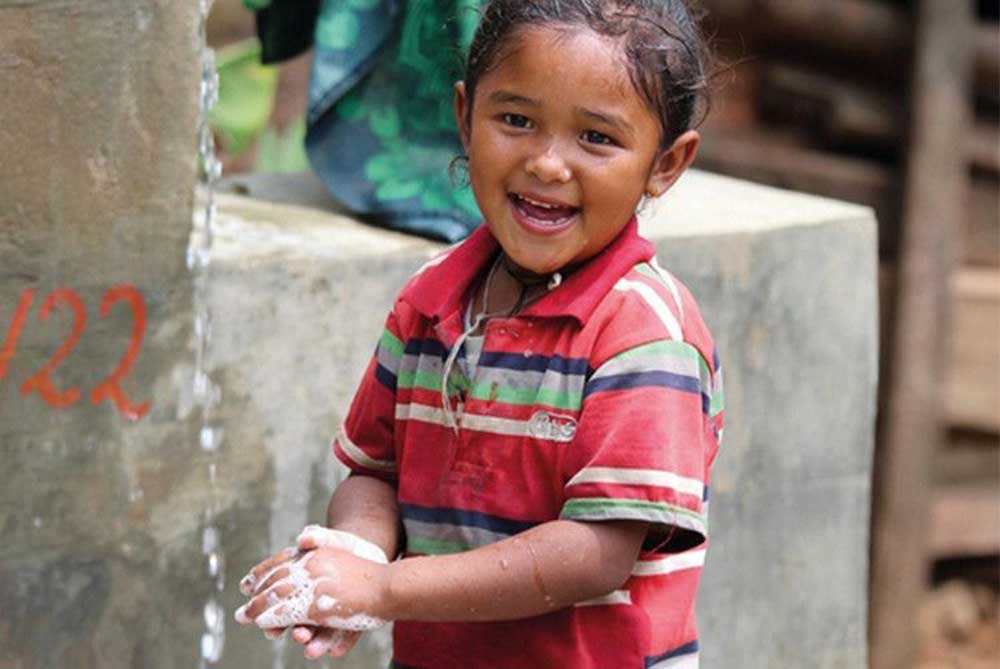 Favourite Grandfather Gift – Water Health Bundle, $64

This gift saves 16 children from waterborne illnesses with water collection and purification kids and oral rehydration salts. Tragically, nearly 1,000 children die each day from entirely preventable diseases linked to inferior water and sanitation.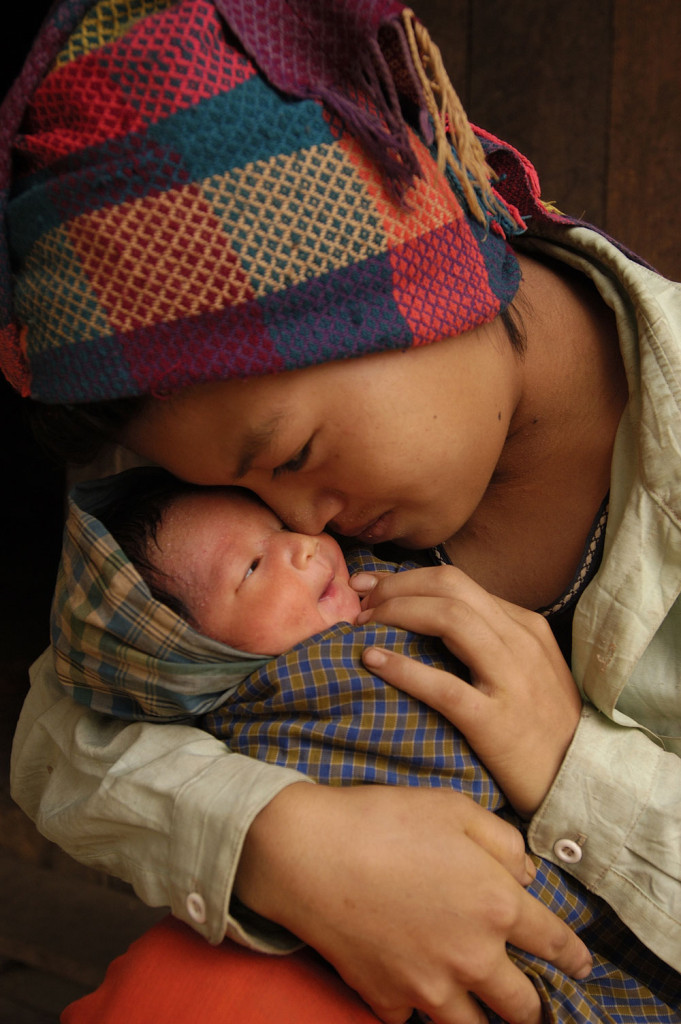 Favourite Grandmother Gift – Protect Expectant Mothers, $40 + Baby Bundle, $12 = $52
You can provide mothers-to-be with prenatal vitamins and access to health care that will help ensure they have a healthy pregnancy. Protecting mothers with care, vaccines and vitamins allows them and their babies a better chance at survival. The Baby Bundle includes a blanket to keep a newborn warm plus pays for her birth registration to ensure her access to education and healthcare.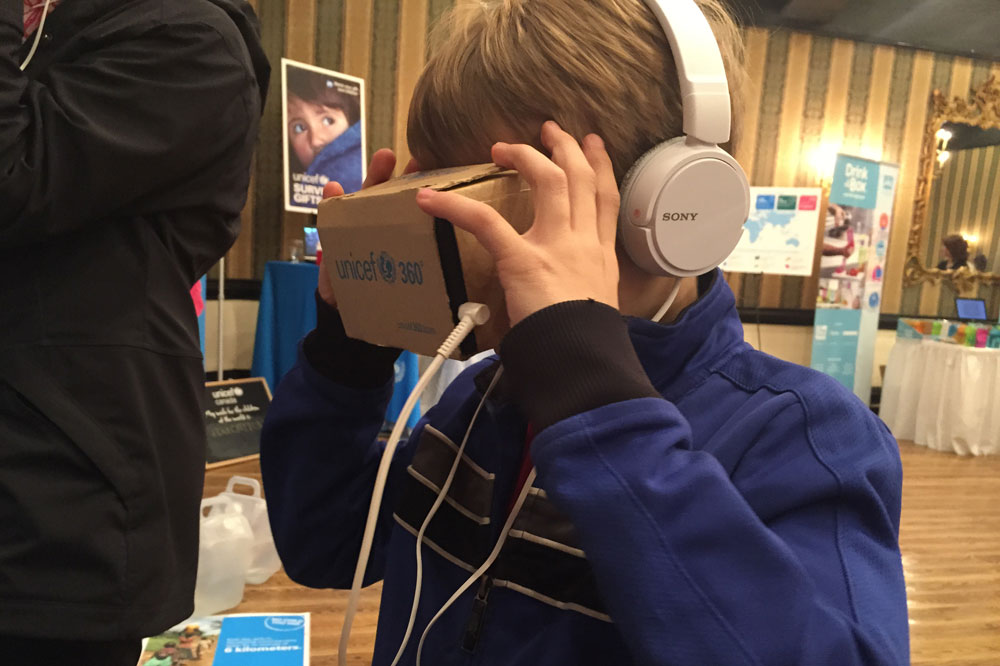 Now here's the other part I'm so keen to tell you about. Unicef has created an incredible app and is harnessing the power of virtual reality to bring Canadians closer to the field than ever before. Using a simple cardboard viewer and your smart phone, you and the kids can take turns walking in the shoes of a 12-year-old girl who is living in a Syrian refugee camp. My eight-year-old, Alister, tried it out and was truly amazed at the way he could walk around exploring the tents and classroom in the camp. Yes, he did ask if the device could be used to help him walk around the world he created in Minecraft. But his eyes truly were opened to the situation in Syria and to the good that Unicef is doing there.
The viewer comes with some of the larger Survival Gifts, or you can add one to your cart for $12. To learn about the project and download the app, just go to unicef360.com.
My boys and I are going to finish our holiday shopping with Survival Gifts from Unicef, and I hope you'll strongly consider doing the same. I truly believe there's no better way to help less fortunate children while educating yours about the importance of helping others and just how fortunate we are.
The New Family has partnered with Unicef to spread the word about Survival Gifts this holiday season.
I wrote an e-book called 11 Ways to Keep Your Family Weeknights From Spinning Out of Control. To get it for FREE, simply subscribe to our newsletter recapping the best of thenewfamily.com and the podcast!
Please follow and like us:
---
---
---