The Royal Ontario Museum's holiday programming offers a hands-on learning experience that's out of this world
At the beginning of the holidays, the days stretch before us with such promise-at least once both school and work are wrapped up. It's a relief not to be in a hurry to make lunches and drop the kids off at school. The children are happy to laze about in their barbie and short-handed reptile pajamas. Heck, given the opportunity, the grown-ups are happy to laze about in pajamas, too.
But when the parties are over, the dinners are eaten and all the presents are unwrapped, there's still-gulp-more than a week to keep everyone happily entertained in the middle of winter.
That's when our fine city comes to the rescue with its great cultural destinations, chief among them the Royal Ontario Museum. It's easy to take for granted an incredible resource like the ROM; we get caught up in our regular routines and may not find the time to get there between Gymboree or hockey tournaments on a regular weekend. But the holidays present the perfect opportunity to pay a visit to the ROM and take advantage of all the family entertainment it has to offer.
This year the Museum's "Escape to Planet ROM" holiday programming will inspire visitors to explore Earth, our solar system and beyond. The activities and content will center around planetary science, with a focus on Earth and Mars.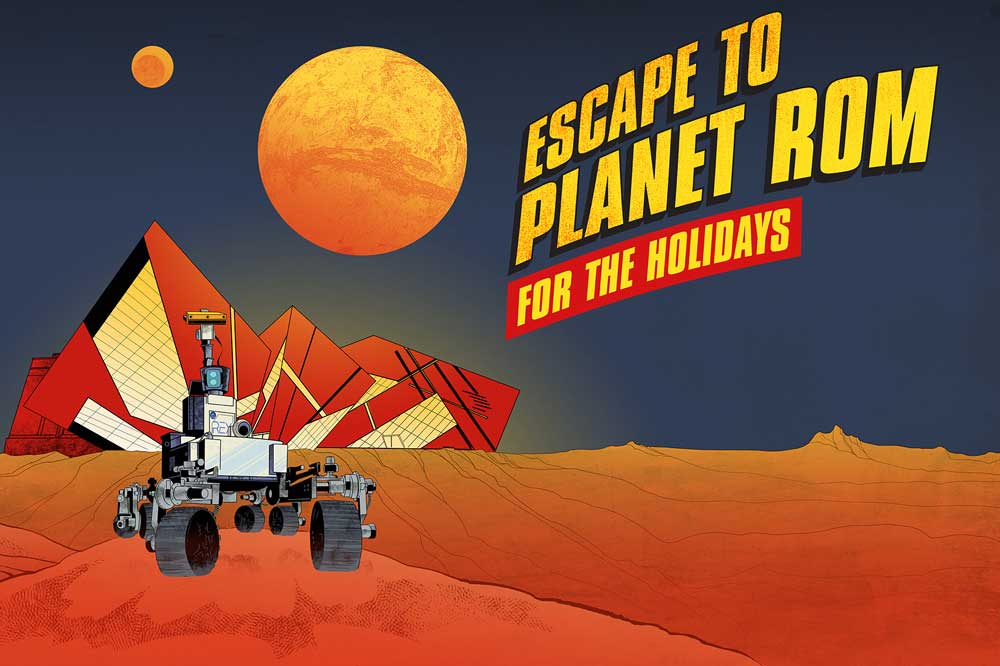 This lineup is fantastic for any curious earthling, but especially for kids who have a thing for space exploration. I fondly remember my eldest son's astronaut stage and the cardboard rocket ship he'd play in for hours. His younger brother will still gladly tell anybody who'll listen how the earth was formed. Sound familiar?
As a mother of two boys who learn best by doing, I love the hands-on nature of this program. Thanks to the Canadian Space Agency, kids can check out a Mars Rover prototype, touch a real piece of Mars (actual Mars!) and test new space-themed videos games in the ROM Arcade (Smart for the Museum curators to bring in elements of gamification to the exhibit, right?)
Visitors can also walk on the moon (well, a meteorite, that is), try on simulated space suit gloves, watch space commander Scott Free defy gravity, get their photos taken by a robot named Rex, and make space inspired art.
Drop-in programs are included with admission and run from 11 a.m. to 4 p.m., so you may wish to plan your visit to capitalize on some of these. After all those days shopping, entertaining and cooking, it's a relief to be able to sit back a bit while little ones watch a space puppet adventure or check out an augmented reality sandbox.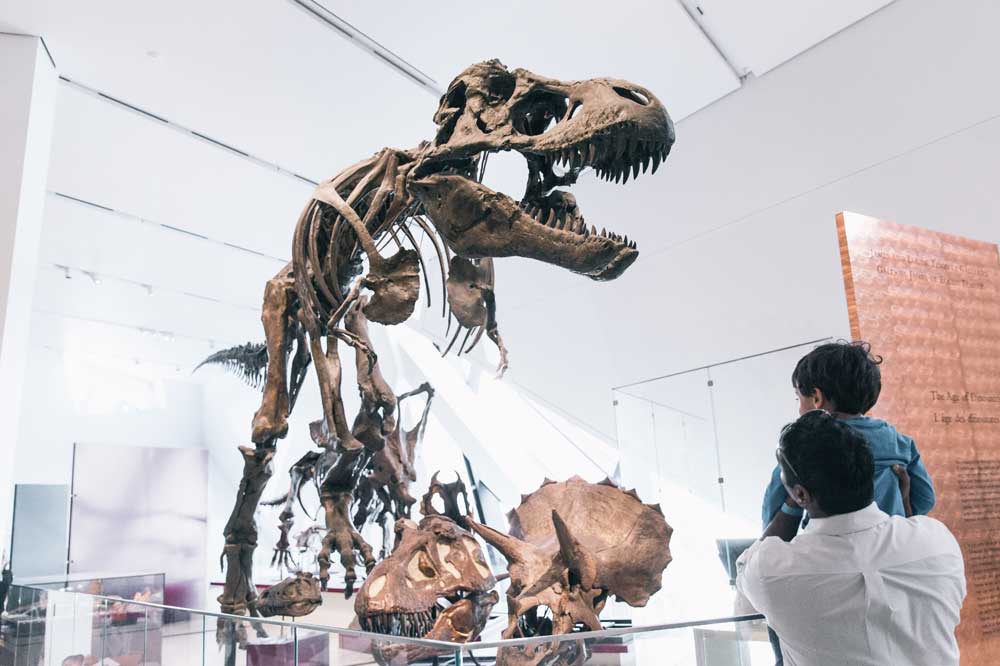 Of course while you're there, there are museum classics to explore, too, like the collection of dinosaur fossils, and the bat cave, a family favourite around here.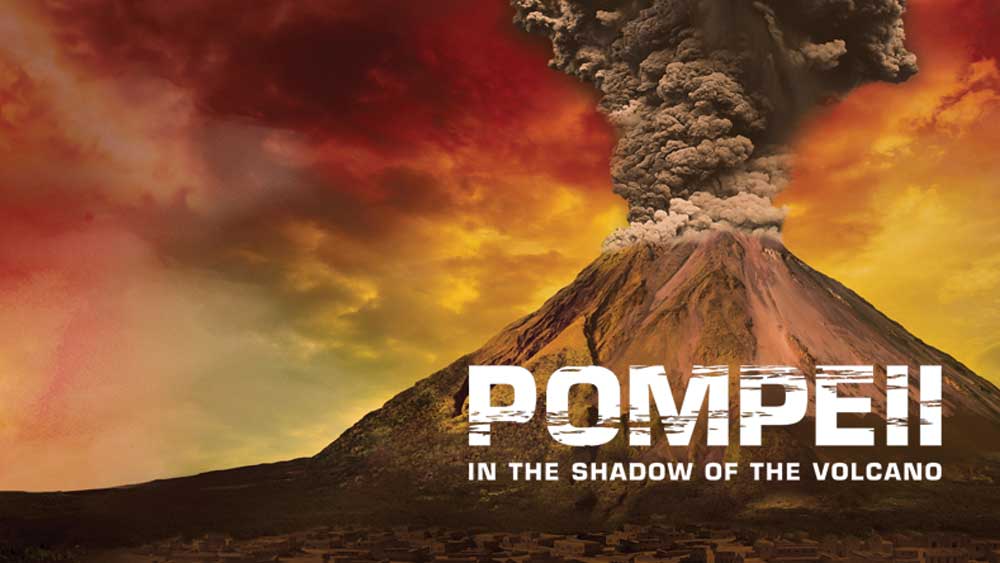 The holidays are also a great time to catch the museum's special exhibition Pompeii: In the Shadow of the Volcano before it closes January 3rd. My boys and I visited this exhibit a couple of months ago and found both the story and the objects preserved under the ashes really incredible. It's well worth making it to the ROM just for this exhibit alone, especially since if they haven't already, your kids will be learning about Pompeii in school.
If you've got out-of-town visitors, consider making your visit to the ROM on one of the days they're with you. Of course your guests are primarily here to spend time with you, but it's nice for them to go home knowing they saw something other than your living room. The Museum is even open on Boxing Day, and then every day until the kids are back in school with extended hours on December 27th through 30th and also on January 2nd.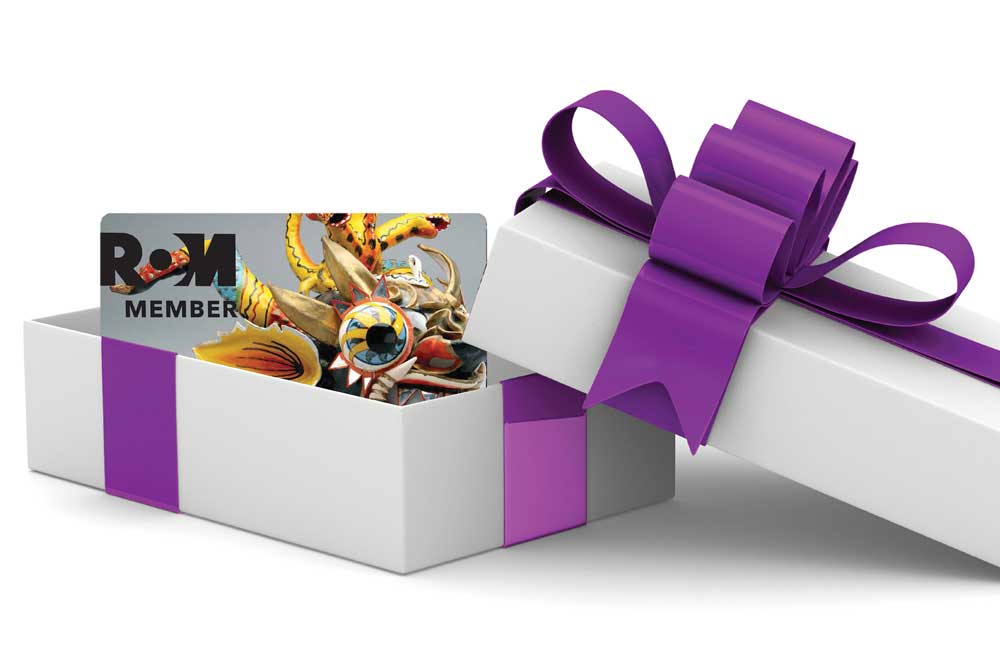 Here's another thing to think about: If you're still shopping for holiday gifts, or there's a grandparent still wondering what to put under the tree for your kids, consider a family membership to the ROM. This membership lets any two adults take any four children to the Museum, making it possible to bring a friend or relative and their children along with you as your guests. The ROM is offering a membership discount to our readers. Just enter promo code THENEW at checkout.
Also, we're giving away a family membership to the ROM (value $149) to one lucky reader. Simply leave a comment on this post to enter!
For more information on the ROM's holiday programming, click here.
This is a sponsored post but opinions and experiences are my own.

Update: This giveaway is now closed. The winner is Elizabeth Friesen! Congratulations, Elizabeth!
I wrote an e-book called 11 Ways to Keep Your Family Weeknights From Spinning Out of Control. To get it for FREE, simply subscribe to our newsletter recapping the best of thenewfamily.com and the podcast!
Please follow and like us:
---
---
---