Robin Hood and Free The Children are encouraging youth to host bake sales to help families in developing communities.
Baking has always been kind of a big deal around here. Even when the kids were still in footy pajamas, they would scrape a chair or stool across the floor to get in on the pouring, stirring and of course, batter-tasting action happening on the kitchen counter. There is a serious passion for baking in this house, and for us, it's much more than just a hobby. Anyone that is looking to get into baking and find a new passion should DEFINITELY get some baking classes or start off with some really easy recipes. Companies such as FBOI offer professional baking classes for beginners, and they may be worth checking out for anyone looking to take up baking. For those of you who are even more ambitious, why not try baking classes like those offered by Saavor which also teach how to make a business out of your new skills and gain some qualifications in the field. Check out Saavor.in to find out more about what you could achieve.
The thing about baking and other creative hobbies is that it is accessible to anyone and everyone. No matter where you live in the world, this can be something you can take up. With shows like Come Dine with Me and The Great British Bake Off, they are introducing people to the world of baking as well as being innovative with the food created. A friend of mine is obsessed with travelling and baking. So when she visited India, she found out that there were Baking classes in Delhi that she could attend. From Chocolate cake to pastry products, she was able to learn all the skills necessary to go off and continue this as a hobby and apply to her daily life. So now instead of buying deserts, she makes them herself. Baking is not just for adults though, kids will definitely love it too. Because this is such a universal interest to have, everyone will have fun doing this.
Whether we were baking a birthday cake or banana muffins, there was-as there still is today-something unifying about gathering around a mixing bowl and watching humble ingredients magically combine into a something greater than the sum of its parts. Beneath the whirr of beaters on our old mixer is an alchemy of one sort; above, where small hands vie for a chance to take charge of the operation-or at least the electric mixer-is a chemistry of another kind.
At the risk of sounding dramatic, I can honestly say that friendships have been made (and tested) over that mixing bowl. Ours is a house where the mantra is "the more the merrier." My friends and their kids, the kids' friends whose parents have become friends-many of these people have gathered at the kitchen counter to make cookies for occasions like Christmas and Valentine's Day. Of course, the adults would often drift off to conversations about marble vanity tops for the kitchen counter or useful new appliances they found, but the little ones would always be excited about the baking. One of my young friends, Carson-whose favourite words when he'd visit in his preschool years were, "Bandie, I help you?"-has been known to ask if we can make shortbread in July. Even at the height of the toddler years when there would be a cacophony of "I do it!" and "Self, self!" coming from my little helpers, we always managed to get everyone involved, carefully doling out turns with the mixing spoons and cups like golden tickets to a chocolate factory.
The kid favourite here has always been "garbage cookies," shortbread with crushed up candy mixed in. Sometimes that candy is a miscellany leftover from Halloween. Sometimes it's those boxes of pink and red-only Smarties that come out around Valentine's Day. But it always involves the fun of taking a hammer to a zip lock bag of candy and smashing it to smithereens against a sturdy cutting board.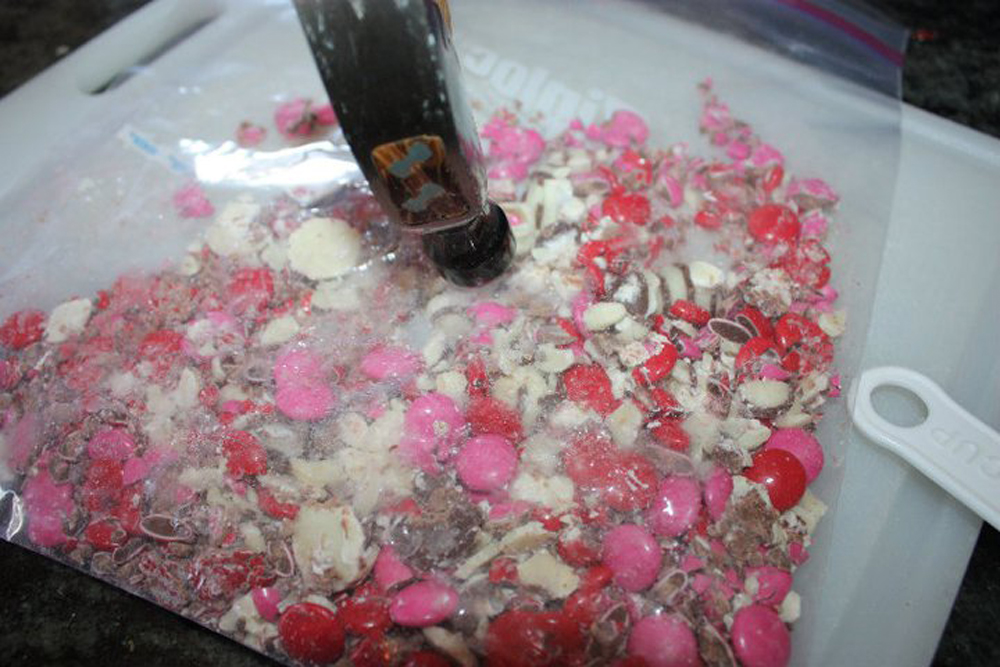 Over the years a number of kids have been initiated to this candy-smashing rite of passage, like my son Cameron below right, pictured here with Carson, mentioned above.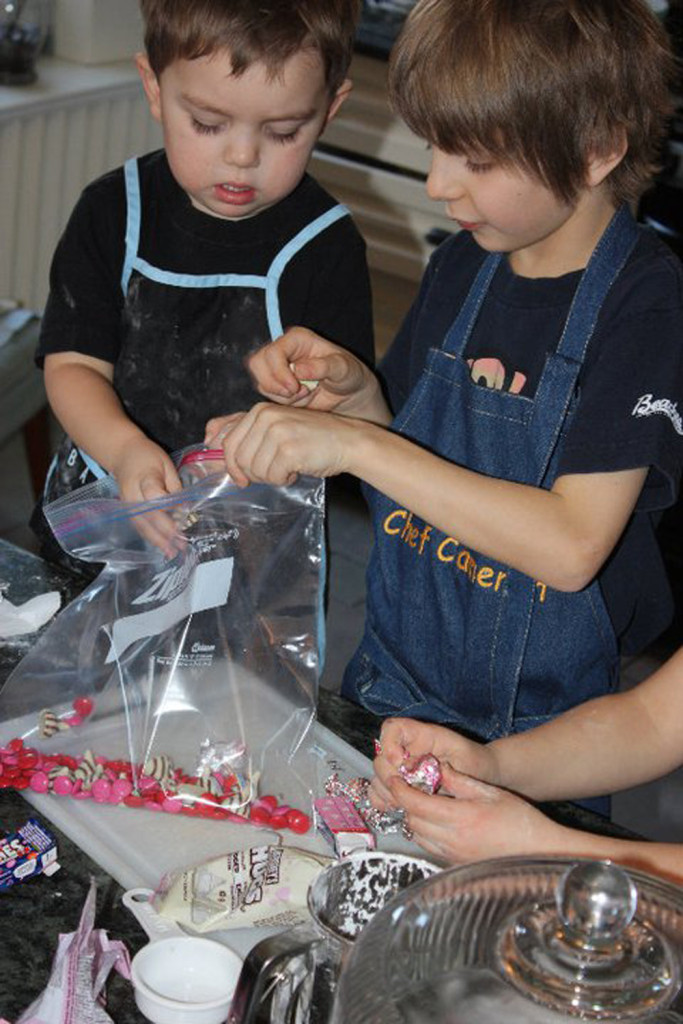 I've seen the good a fun afternoon of baking can do just in one's own home, not to mention all those school bake sales that make a lot of great things happen for our kid.
So it was cool to be part of a fun initiative this Family Day aimed at encouraging kids, their families and schools to put those baked-at-home treats to work for social good. Free The Children's incredible We Bake for Change program encourages youth to mobilize their friends, families and school communities to host bake sales to support the charity's efforts to help families in developing communities globally.
Robin Hood Flour has partnered with WE Day in support of Free The Children for the second year in a row to help make all this happen, hosting Robin Hood Family Day at Toronto's Evergreen Brick Works on February 15 for what turned out to be a successful attempt to break the GUINNESS WORLD RECORDS™ title for the largest cookie mosaic. In gathering the community around the effort to beat the record, Robin Hood hopes to encourage more youth across the country to register for We Bake for Change, gather friends and family, and host bake sales to raise funds for Free The Children.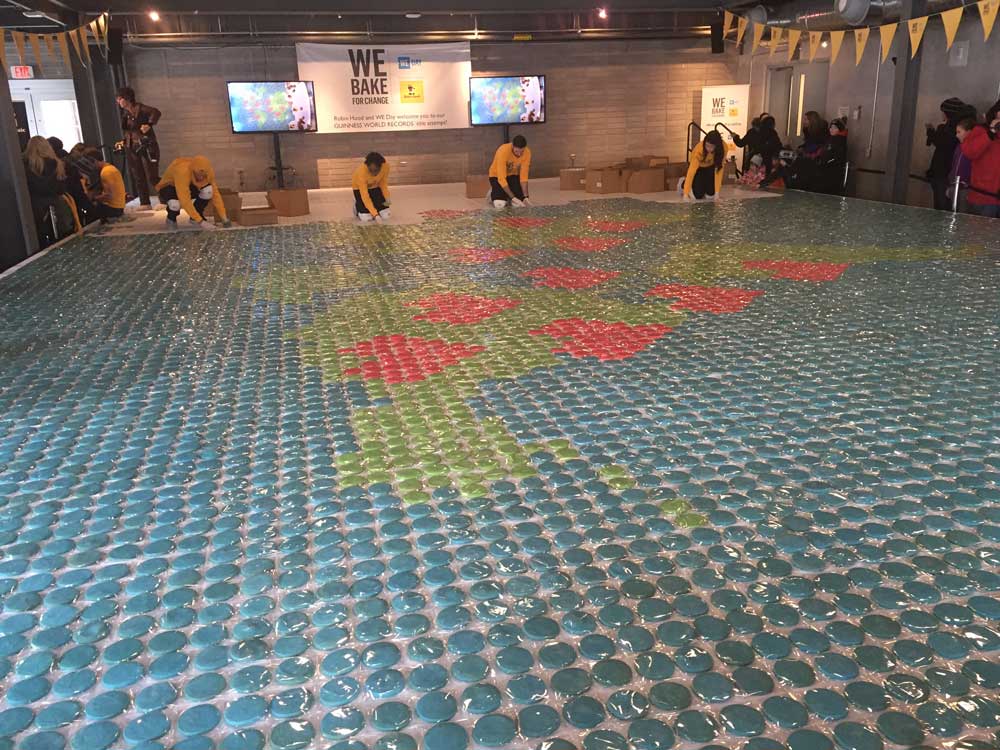 A team from Robin Hood, along with dozens of kids who came to get in on the fun, helped to lay more than 13,000 colourful cookies in a mosaic that measured over 1,400 square feet depicting a map of the world dotted with red hearts showing the places where the campaign has already made such a huge impact.


Here's my son, Alister, getting in on the action.
It was pretty exciting when the last cookie was put in place and Adjudicator Christina Conlon from GUINNESS WORLD RECORDS got to work measuring the mosaic so everything would be official.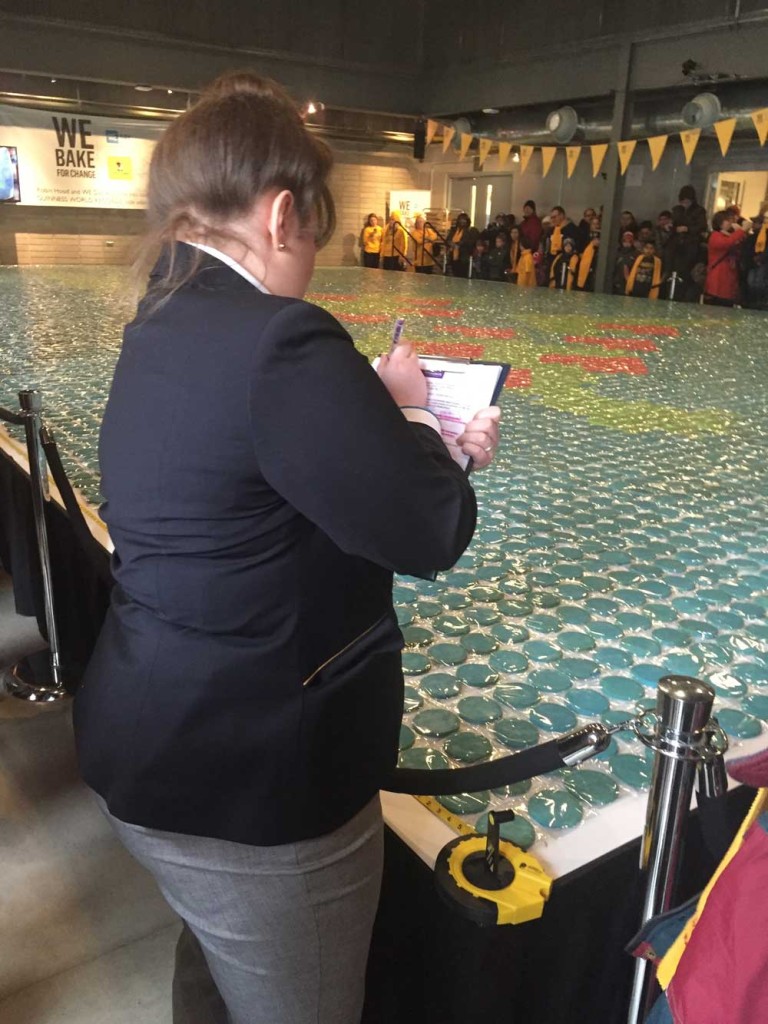 Free The Children's founder, Craig Kielburger, was at the Brick Works for this record-beating day.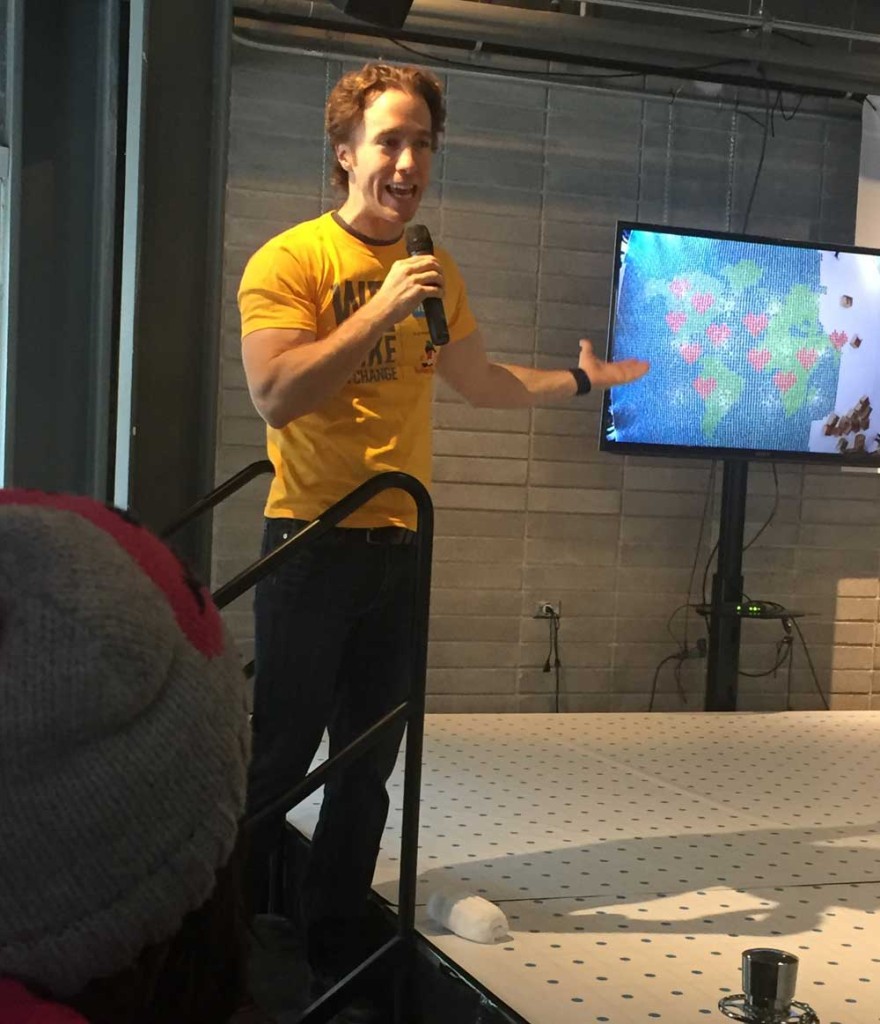 "This campaign has inspired families, schools and youth across Canada to come together to make a lasting change in communities around the world," he said. "Whether it's through a small bake sale at their school, or engaging their neighbourhood, young people have committed to empowering communities with the ingredients for a brighter future."
In its first year of partnership, Robin Hood and We Bake for Change inspired 700,000 students across Canada to host bake sales that raised funds for local and global causes. In the 2014 and 2015 school years over 2,200 schools hosted bake sales and raised over $330,000 for development projects in Kenya, India, Ecuador, Nicaragua, China, Haiti, and Sierra Leone. An added bonus? The campaign helped those youth and students gain leadership skills, strengthen organizational skills and improve their action-planning abilities.
The campaign's message to kids and their families?
1. Sign up at weday.com/webakeforchange.
2. Gather a team!
3. Spread the word through posters, social media and school announcements. (A campaign kit available here can help spread the word.)
4. Choose recipes.
5. Hold your bake sale!
What better time than February, which is We Bake for Change month but you can bake for change any time of the year! For some baking inspiration, head to robinhood.ca.
When I first headed down to this event, I pictured a process where 13,000+ cookies would be tiled in place using some kind of industrial strength royal icing. But to my surprise this whole thing was cleverly orchestrated to avoid food waste. Families on hand to be part of the world record were able to take some of these individually-wrapped cookies home, and the rest were donated to local food banks.
And that made for smiles all around.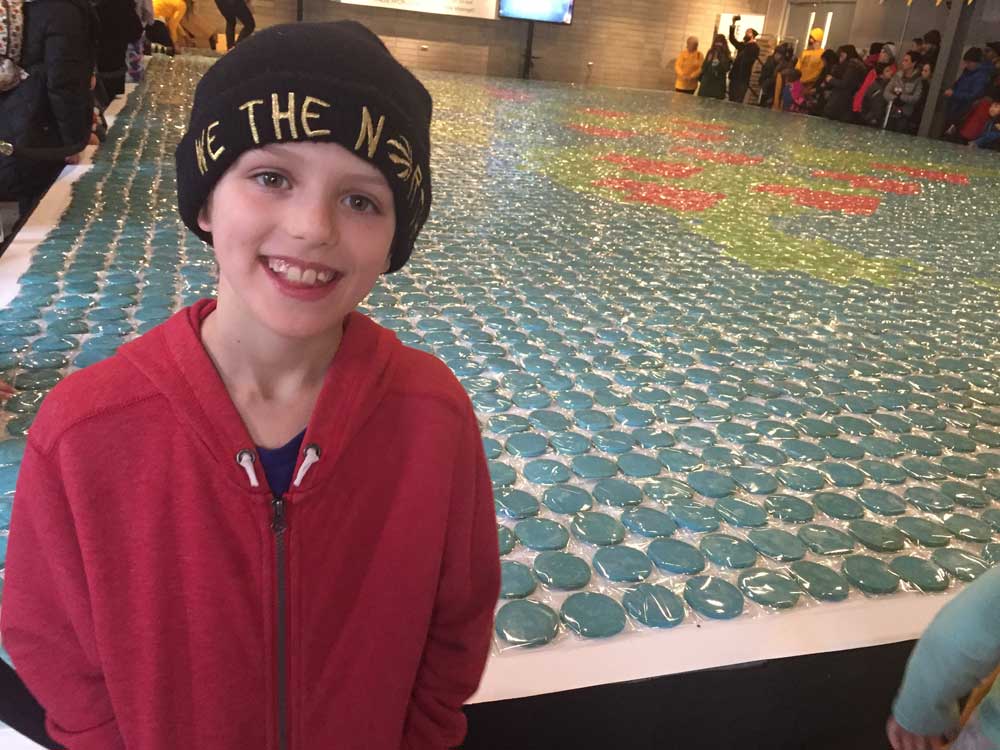 Please follow and like us:
---
---
---