Podcast: Play in new window | Download
Thanks so much for coming by to check out Episode 47 of The New Family Podcast all about parenting teens!
When conversation turns to parenting teens, it's usually cloaked in a whole lot of trepidation. Sure, these can be emotionally charged years, but as my guest on the podcast today explains, they need not be shrouded in mystery and defined by conflict. Dr. Lisa Damour is a psychologist, educator and director of the internationally renowned Center for Research on Girls at the Laurel School in Shaker Heights, Ohio. Her new book Untangled: Guiding Teenage Girls Through the Seven Transitions into Adulthood aims to demystify the process of parenting girls through the adolescent years, but the principles apply to both boys and girls. By getting to know the seven absolutely normal developmental stages on the path to becoming a grown-up, we can better understand our kids and parent them more effectively. These tips might also help you promote Mindfulness for teens so that you can successfully deal with a troubled individual without aggravating them or making them hostile, as is common at their age.
Here are some great resources related to my discussion with Dr. Damour.
Untangled: Guiding Teenage Girls Through the Seven Transitions into Adulthood
Dr. Damour's website, including speaking dates
Dr. Damour's TedX Talk "The Difference Between Adults and Grown-ups"
Toronto Speaking Dates:
March 7, 2016: Branksome Hall
April 7, 2016: St. Clement's School
April 8, 2016: NASPAG
Dr. Damour's Favourite Parenting Advice:
"The piece of parenting advice that I have held closest to my heart has to do with being a psychologist but I think it's good advice for all parents. When I was eight and a half months pregnant with my oldest, one of my colleagues said, 'Hey, do you want to hear how psychologists mess up their kids?' I said, 'Yes,' because I actually knew several psychologists' children who were not in very good shape. And she said, 'They talk about feelings way too much.' When their child is upset, they say 'Oh, you're really upset. What's going on? I'm really worried about you.'
Really often what kids need is for parents who are empathetic and ready to listen, but who don't over-react to the child's feelings. Especially for teenagers; their emotions can feel really, really big, and it's very unsettling if they're freaked out by their feelings and the grown-ups are freaked out by their feelings. Because for them it makes them think, 'Oh, my gosh, this really is out of control.'
I guess the way I would generalize what felt to me like good advice, psychologist or not, would be to say that when your adolescent comes home and is absolutely overwrought because she failed a test-that's a very common thing for teenagers-I think the important thing for the parent to remember is that just because it's a crisis for her, doesn't mean it's really a crisis. My job is to help keep this in perspective. So in that moment a parent can say, 'I know this is incredibly, hard. I think it's going to be okay. And when you're ready we can figure out some next steps forward.' But I think it's really important for the parent to not join the adolescent in that level of distress."
Sponsor for this Episode: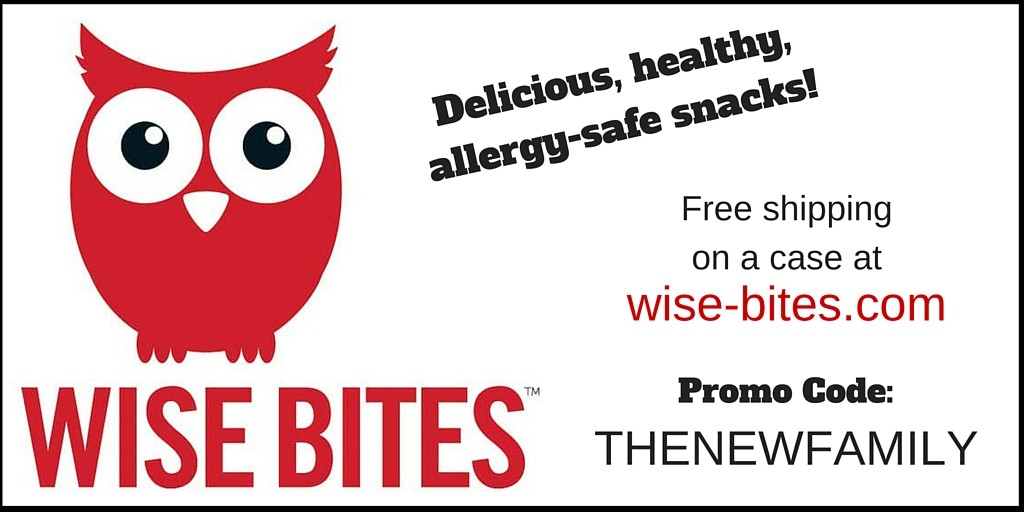 This episode is brought to you by Wise Bites, makers of healthy, allergy-safe snacks that are great for the whole family and perfect to send to school. To get free shipping on a case, go to wise-bites.com and use promo code THENEWFAMILY at checkout!.
Here are all the ways you can listen to our show:
Subscribe to The New Family Podcast in iTunes
Subscribe to The New Family Podcast on Stitcher Radio
Subscribe to The New Family Podcast on these other Android Directories
Subscribe to The New Family Podcast by RSS
I wrote an e-book called 11 Ways to Keep Your Family Weeknights From Spinning Out of Control. To get it for FREE, simply subscribe to our newsletter recapping the best of thenewfamily.com and the podcast!
Please follow and like us:
---
---
---