Podcast: Play in new window | Download
Thanks so much for coming by to check out Episode 52 of The New Family Podcast where we hear about becoming a dad at age 50.
I'm excited to welcome Dr. Timothy Pychyl back to the show. Tim is a professor in the department of psychology at Carleton University. An expert on goal setting, he was on Episode 32 for a chat about New Year's resolutions for families and on how to teach our kids to overcome procrastination. But while we were chatting it came up that he became a dad for the first time at age 50. Now a father of two, Tim jokingly refers to himself as a "dinosaur dad." I just had to have him back on to chat about becoming a dad later in life and what that's been like.
Here are some great resources related to my discussion with Tim.
Episode 32, featuring Tim's advice on teaching our kids to avoid procrastination
"Mr. Mom" feature on Tim from Carleton Magazine
Tim's Psychology Today Blog, "Don't Delay"
Tim's book Solving the Procrastination Puzzle: A Concise Guide to Strategies for Change
Tim's advice for other people contemplating parenthood later in life.
"Well, I guess if I wanted to be trite I'd say 'Go for it.' That's if you've got a loving relationship, because you need to nurture each other. It is so amazing, as one of my good friends says, 'You don't know it until you're in the game,' and it's so true. But you're going to face some losses. I have some friends who don't have any children and they're doing these really cool things. Sometimes I go, 'Geez, I could have been doing that.' Yep, I could have, but I have all these other things that I find really rewarding too. They're a little bit more mundane, like going to the school council meeting and helping with the barbecue. Or loading the car up with skis and and going to the ski hill, which isn't as exciting as what some of my friends are doing on their wicked adventures around the world. And there's a little more to worry about financially and facing your mortality; in fact my friends have been bringing up the urgency now on me to find life insurance and one even recommended a good over 50 plan with free gift options, so I'll have to look into that soon. And it's what I chose. So I think you have to recognize that there are going to be things that you can't do, but you've got to trust that there's just so much in there that you couldn't imagine, and it comes out of relationship and love and there's nothing like that notion of family that way. And the other thing I'd say is keep as fit as you can. Apart from my professional goals during my sabbatical, I've always had personal goals. And this year it's been yoga because I realized that my flexibility was decreasing to the point where it was getting in the way. So I took up yoga and holy macaroni what a wonderful thing for my old body. So I'd say that to anyone later in life: You have to keep up, so make sure you're doing something to keep you strong. It's really important as you get older. Your health is everything."
Sponsor for this Episode: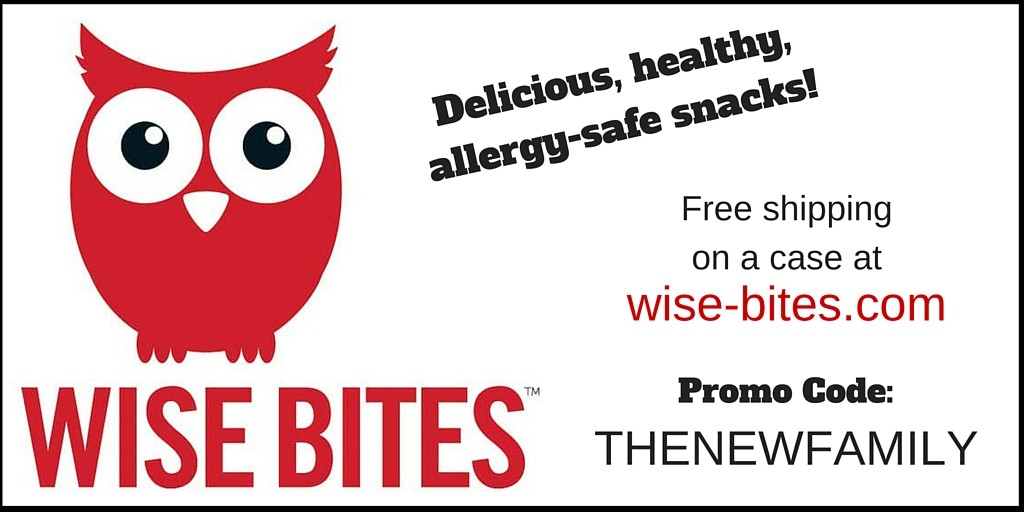 This episode is brought to you by Wise Bites, makers of healthy, allergy-safe snacks that are great for the whole family and perfect to send to school. To get free shipping on a case, go to wise-bites.com and use promo code THENEWFAMILY at checkout!.
Here are all the ways you can listen to our show:
Subscribe to The New Family Podcast in iTunes
Subscribe to The New Family Podcast on Stitcher Radio
Subscribe to The New Family Podcast on these other Android Directories
Subscribe to The New Family Podcast by RSS
I wrote an e-book called 11 Ways to Keep Your Family Weeknights From Spinning Out of Control. To get it for FREE, simply subscribe to our newsletter recapping the best of thenewfamily.com and the podcast!
Please follow and like us:
---
---
---