The New Family intern, Alyssa, got a chance to chat and ask questions with children's author Ashley Spires. Her book, Over-Scheduled Andrew, is about an over-programmed kid who takes on too many after school activities, a common issue many children face today.
Alyssa: What inspired you to write Over-Scheduled Andrew?
Ashley: Well my nephew, first off because he very much lives the life of Over-Scheduled Andrew. He goes to a private school, so he starts his morning going to band at some un-Godly hour and then he does a school, then he's got clubs after school, then he's got his own lessons that he takes. Sometimes he goes from cello to jiu-jitsu all in one day. How does a child do this? I mean he's a bit older now but he's always done that and I see a lot of kids running at that pace in my neighborhood. Also my life, I very much am over-scheduled. I think it's kind of the way of the world. Parents have got more over-scheduled and so have kids. It's hard to find that time to just play. I think it's true for adults and for kids; it's so hard to find that balance between getting stuff done and also needing that time to just sit with a book and just be still.
Alyssa: Yes, I totally agree. Why were you drawn to writing children's stories?
Ashley: I've always loved writing silly little stories. Actually I started out in the world of kids' books as the illustrator because that was the thing I was doing as a kid. I wasn't as over-scheduled as a kid. I did a couple of things but usually, my life was coming home after school and diving into drawing or using Fimo, which is polymer clay, and I was making characters all the time. So I think I've always been making little characters and it just seemed like the right fit to then write some silly stories to go with those characters and give them life. In my imagination when I draw these characters they already have a story and back-story and personality, and stuff that they do during the day. It's just so much fun to write that out and share it with kids and adults.
Alyssa: So you've always been creative, drawing and making things since you were young?
Ashley: Oh yeah, absolutely! If I wasn't doing this for a living I would be doing this anyway—I'd just be drawing. I'm so lucky my hobby is my job. But yes I've always, always been making stuff. Actually, as a little kid, I thought I was going to be an animator. I was sure I was going to make cartoons so I guess I've always wanted to tell stories through pictures somehow. But along the way, I had a couple of detours and landed in the world of publishing. It's a better fit for me than animation would have been. I have total control over getting to write your own stories and create your own characters; I don't know that all animators get to have that.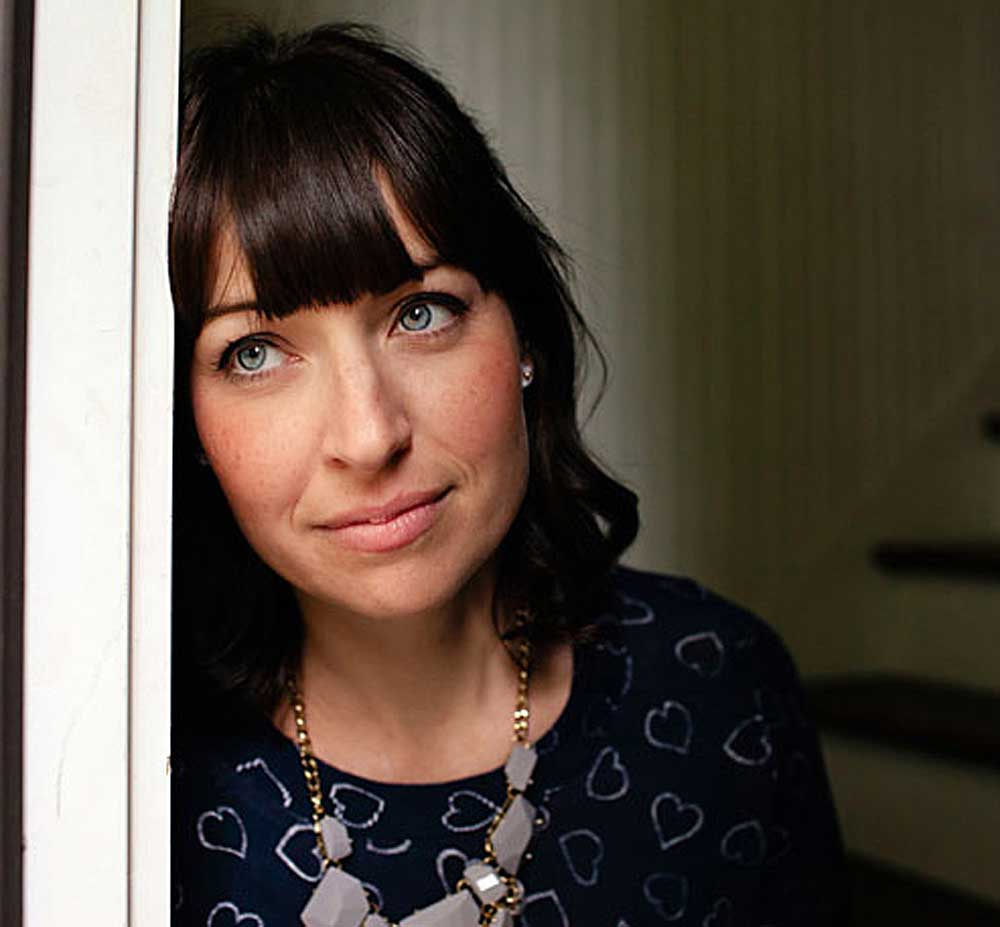 Alyssa: Is writing easy for you? Does it come naturally?
Ashley: It's fairly natural, yes but it's definitely something I struggle with more so than drawing. I went to school for illustration. I took some creative writing courses along the way but it wasn't my main focus like illustration was. Writing is still a struggle but thankfully I have some of the most amazing editors in the world, in my opinion, and they're very patient. They work with me extensively to refine my writing and help me fit my rather loquacious stories into tiny picture book form. Writing very spare is challenging, it's quite a skill and I really allow my editors to help me out.
Alyssa: How long does it usually take to complete one of your books?
Ashley: It depends. Sometimes they come fast and furious. You just get this idea and write it down and it's amazing how quickly the whole thing can happen. So in that case I can put a book together in four or five months, which is pretty fast in the world of picture books. Usually, ideally, it'd be nice to have about nine months to do a picture book. Even then it's going pretty fast. A lot of publishers prefer to have more time but I am very much like Andrew and I am very over-scheduled and so I tend to have many projects on the go at any given time so I don't always have the luxury of time. I'm usually working on three or so books at a time.
Alyssa: So what is the best and worst part of being a writer?
Ashley: The best part in my opinion is, this is terrible, is getting to stay home and work here in my own space, making my own hours. I can't even imagine what it would be like to try and force creativity based on someone else's schedule. In my experience creativity comes at really weird times. For me in particular evenings are when I'm most productive, and so being able to work until 2 or 3 in the morning, if that's when the creativity strikes then you just go for it. To have that flexibility is I think the best part about this job. But then the worst part is actually almost the same answer. The worst part is that I work at home and I don't ever stop working and begin leading into the over-scheduled idea. It's very hard to find that balance when you are at home because you're always at work and there's always another project or idea or something else that I need to work on. There's never a time where I'm caught up on everything. That has never happened.
Alyssa: Has your family and everybody in your life been supportive of this, of you being a writer?
Ashley: Oh yes absolutely! My parents, they're incredible. I guess because I did spend every waking moment making things and drawing pictures they really had no doubt that I would go into an artistic field but they weren't sure which it would be. So when it was time to go to university and wanting to go to Emily Carr, the art school out here, they were just like "Yes, of course." I didn't even realize this until I got to arts school but a lot of my fellow students were struggling with parents saying "But what are you going to do with this? This is not actually a functional job." My parents just never questioned it; they knew that it would work. Whatever I landed in they just knew it would work. I landed into this line of work and my parents have just been amazing all the way through. My husband as well—living with a creative person I don't think is the easiest thing in the world to do but he's very patient. Yeah I have an amazing family.
Alyssa: Do you ever face writers block and how do you get through that?
Ashley: Yes, definitely, lots of writers block. I think early on, in particular, I had a lot of it because you write a couple stories and then you think "well now what?" I think that it took me years to figure out that I just needed to at any time, no matter where I was or whatever was happening, if I have the tiniest little germ of an idea I needed to write it down, put it in my workbook because I knew that writer's block was going to happened eventually and if I didn't write down those ideas right at the moment I had them, even if it was like six years ago, I can go back to that book and maybe now at this stage in my life with whatever experiences I've accumulated in the last few years, this little gem of an idea now can become a whole story. So I think I'm always preparing for the next writers block if that makes sense? A couple of years ago Over-Scheduled Andrew wouldn't have happened I think because, well maybe 10 years ago I don't think kids had the same kind of schedules they do now. It was also sort of an idea that I had because I was getting busier and I was like "it's not the right time, it's not the right time," and then all of a sudden kids' lives sort of caught up to what I was dealing with and it felt like the write time to make the book. So any time I have an idea I just have to write that down or draw it out and then put it in the bank for when I'm going to need it.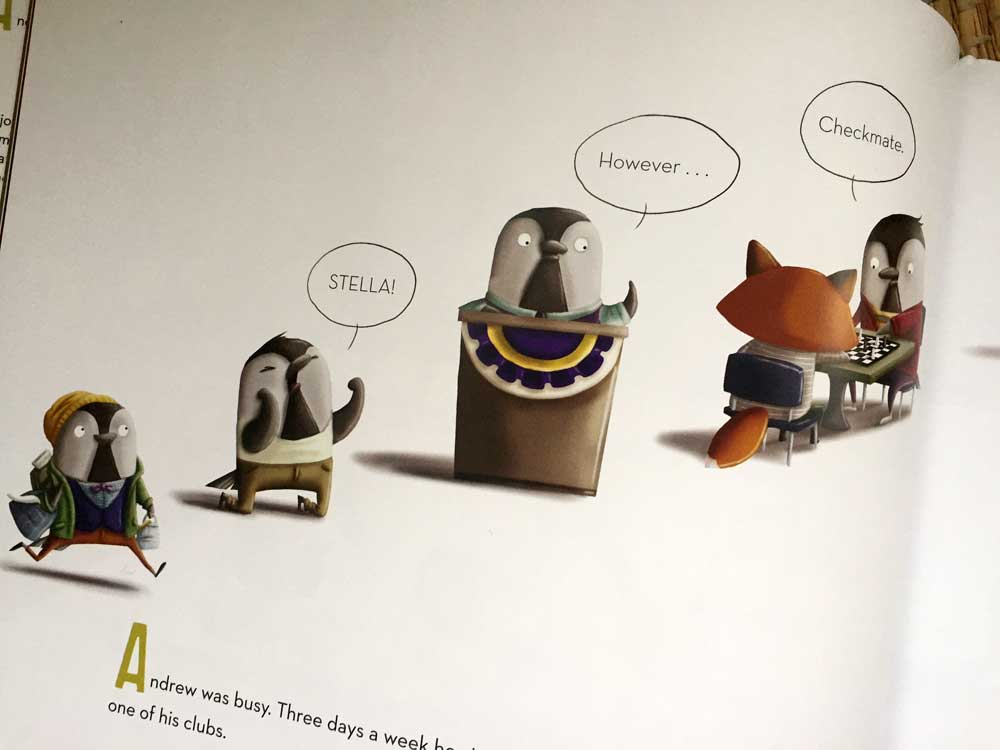 Alyssa: Have you ever thought about writing books for adults?
Ashley: Only if they'd let me draw the pictures too. I've though about doing like a graphic novel or something like that, a little bit more adult. But I'm not sure if I dare. It would still have to be something quite fantastical because I like to do things that are out of the realm of normal in my books; what's the point of having imagination if you can't make them about crazy things that don't exist? I think I'll probably stay with kid's books but I am starting to work on some stuff that would be a little bit more middle grade. That means a longer and bigger book so that's going to take me a few years to create.
Alyssa: Can you tell us anything about what you're working on right now?
Ashley: Oh sure! What am I working on right now? I am working on 3 books right now. I'm illustrating a book for Chris Barton who wrote Sharks vs. Trains, my first book with an American publisher, which is really interesting, I'm doing that for Bloomsbury. I'm also developing a picture book right now about a little girl who is stuck with a case of the "I can't," we all know those kids that are like that or adults too who just flat out "I can't do that." I'm working on a book with Tundra as well and it might actually be my first sort of chapter book but quite a young chapter book so heavily illustrated, but something that's sort of bridging that gap between the picture book world and chapter book world for kids. I'm just writing that and that in itself is quite intimidating, my first chapter book I'm finding it quite terrifying but thankfully that editor of mine if awfully good.
Fun Facts about Ashley

• A book that changed her life: Revolting Rhymes by Roald Dahl
• At home she has four cats and one dog
• For recording her ideas Ashley uses two books, one for writing and one for drawing
• Did ballet and highland dancing as a child
?I wrote an e-book called 11 Ways to Keep Your Family Weeknights From Spinning Out of Control. To get it for FREE, simply subscribe to our newsletter recapping the best of thenewfamily.com and the podcast!
Please follow and like us:
---
---
---