Podcast: Play in new window | Download
Thanks so much for coming by to check out Episode 69 of The New Family Podcast where we explore how to talk to kids about sex.
My guest on today's show is childhood sexuality expert Amy Lang, who helps parents talk to their kids about sex, love, and relationships. It's often easy to talk about sex and even take a look at phat asses wobbling with friends, family, and our partners, but how do you talk about it with children? You, of course, can't use the same lingo so might need a few tips. Yes, episode 69 features a sexuality expert, something I only realized moments before recording this episode. But don't worry, it isn't the kind of tips that may involve a pocket pussy or anything like that (not that there's anything wrong with it, just perhaps it isn't the best thing to discuss around children).
Amy has a great website called "Birds and Bees and Kids" and she's here to chat with us about how to answer that age-old question, "Where do babies come from?" She provides us with great language we can use to explain how babies are made as well as how to adapt these conversations for the many ways families are formed today. Amy explains that talking to our kids about sex can actually begin when they're newborns (tune in for her very sane explanation of how) and then walks us through how to expand upon our initial sex talks with kids in age-appropriate ways as they get older, instead of them having to learn from sites like fulltube and others. She and I also dive into what parents need to know about the changing landscape of sexuality for teens, especially with the ever-growing list of websites featuring Nude Pussy and other sensitive body parts that are easily accessible through the internet.
Here are some great resources related to my discussion with Amy.
Amy's website, "Birds and Bees and Kids"
Amy's books Birds + Bees + Your Kids and Dating Smarts: What Every Teen Needs to Know to Date, Relate or Wait
Amy's great webinars and workshops
Related Episode: Talking to Your Kids About Sexting
Related Episode: Is There Sex After Kids?/strong>
Amy's Favourite Parenting Advice
"Don't pay attention to the neighbours. I do what's right for my family and my child and trust my gut. That intuition that says 'Oh, this feels wrong. And sometimes I feel that something is wrong and it's because I needed more information. And when I got more information, I changed my mind. But really paying attention to, 'Does this feel wrong to me? Letting my kid so X, Y and Z?' I've been pretty lucky that I've had the fortitude to stick to that. And I know it's easier said than done because there's so much judgment out there in parent land. But I'm pretty proud to say that I'm an outlier parent. I don't give much of a crap about what other parents think."
Sponsor for this Episode: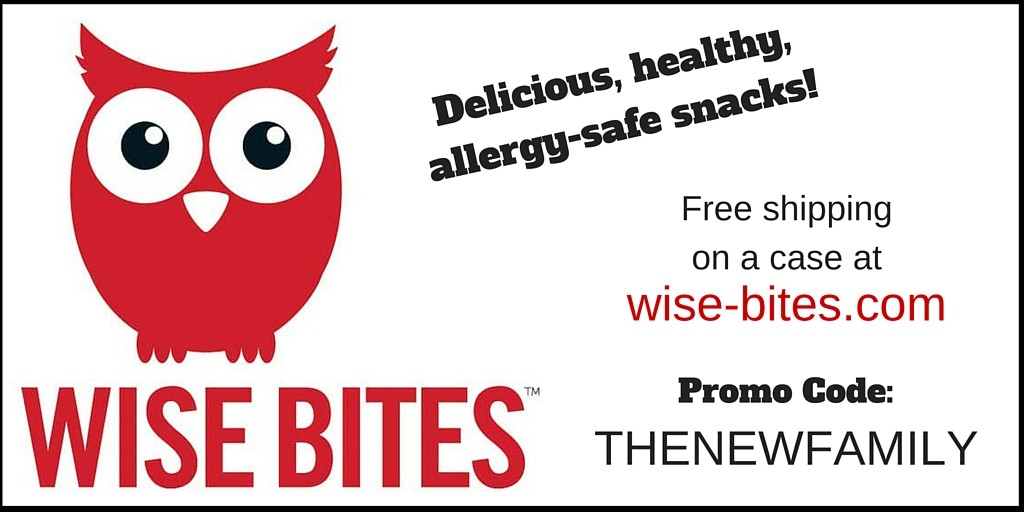 This episode is brought to you by Wise Bites, makers of healthy, allergy-safe snacks that are great for the whole family and perfect to send to school. To get free shipping on a case, go to wise-bites.com and use promo code THENEWFAMILY at checkout!.
Here are all the ways you can listen to our show:
Subscribe to The New Family Podcast in iTunes
Subscribe to The New Family Podcast on Stitcher Radio
Subscribe to The New Family Podcast on these other Android Directories
Subscribe to The New Family Podcast by RSS
I wrote an e-book called 11 Ways to Keep Your Family Weeknights From Spinning Out of Control. To get it for FREE, simply subscribe to our newsletter recapping the best of thenewfamily.com and the podcast!
Please follow and like us:
---
---
---