Podcast: Play in new window | Download
Thanks so much for coming by to check out Episode 90 of The New Family Podcast where we look at the impact technology is having on our brains and those of our kids.
When the kids are off from school over the summer, and you're trying to keep the kids entertained at home or on long car rides, chances are good they're going to be on their favourite devices a little more than usual. And frankly, whatever time of year you're listening, this can be an issue. Our kids' iPods, computers and gaming systems are all pretty alluring-as our smart phones are for us. With the ability to Download roms on Fileproto, people can access many games for free easily. Games are becoming more popular and more advanced by the minute and the fact that you can now buy ranked accounts for games like League of Legends from sites like https://www.unrankedsmurfs.com/ means it's even easier for our kids to become better at these games. The better they get, the more hooked they become. If your kids seem to be spending unhealthy amounts of time gaming, not only is this affecting their health mentally, it's also having an impact on their physical health.
Some parents like to buy gaming chairs for their children, in order to make sure they're supported whilst they game. There are many benefits a gaming chair offers. Improved posture, comfort and lumbar support are just a few of them and you should check out the top-rated gaming chairs picked by Coolest Gadgets. They looked at all the models on the market and picked the best ones. This could be one way of trying to make sure your child is in good physical health as they spend all of their summer gaming. However, your child constantly gaming will likely have a negative impact on their brain.
My guest on this episode is Dr. Mari Swingle, a neurotherapist, behavioral specialist and author of a new book called iMinds: How Cell Phones, Computers, Gaming and Social Media are Changing Our Brains, Our Behavior and the Evolution of our Species. But don't worry. This isn't another guilt-inducing report suggesting that technology will bring about the death of our social skills and attentions spans. Dr. Swingle is here to talk to us not just about the dangers of constant connectivity, but about the positive steps we can take to embrace new technology while protecting our well-being and steering our future in a more human direction.
Here are some great resources related to my discussion with Dr.Swingle.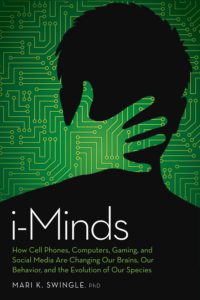 Dr. Swingle's book, iMinds: How Cell Phones, Computers, Gaming and Social Media are Changing Our Brains, Our Behavior and the Evolution of our Species
Dr. Swingle's Clinical Practice
Related Episode: Getting Smart About Kids and Social Media
Related Episode: Talking to Your Kids About Sexting
Here are all the ways you can listen to our show:
Subscribe to The New Family Podcast in iTunes
Subscribe to The New Family Podcast on Stitcher Radio
Subscribe to The New Family Podcast on these other Android Directories
Subscribe to The New Family Podcast by RSS
I wrote an e-book called 11 Ways to Keep Your Family Weeknights From Spinning Out of Control. To get it for FREE, simply subscribe to our newsletter recapping the best of thenewfamily.com and the podcast!
Please follow and like us:
---
---
---