Podcast: Play in new window | Download
Thanks so much for coming by to check out Episode 104 of The New Family Podcast where talk about conscious co-parenting after separation and divorce.
We're joined on the show for this episode by marriage and family therapist Dr. Jenna Flowers. She's got a new book out called The Conscious Parent's Guide to Co-Parenting: A mindful approach to creating a collaborative parenting plan. As many of you know, this topic is very near and dear to my heart as a passionate advocate for positive co-parenting.
Jenna shares the the key principles to co-parenting well after a relationship ends, as well as some of the common stumbling blocks that can put parenting with the best interest of the child seemingly out of reach.
Here are some great resources related to my discussion with Jenna.
Dr. Jenna's book, "The Conscious Parent's Guide to Co-Parenting: A mindful approach to creating a collaborative parenting plan"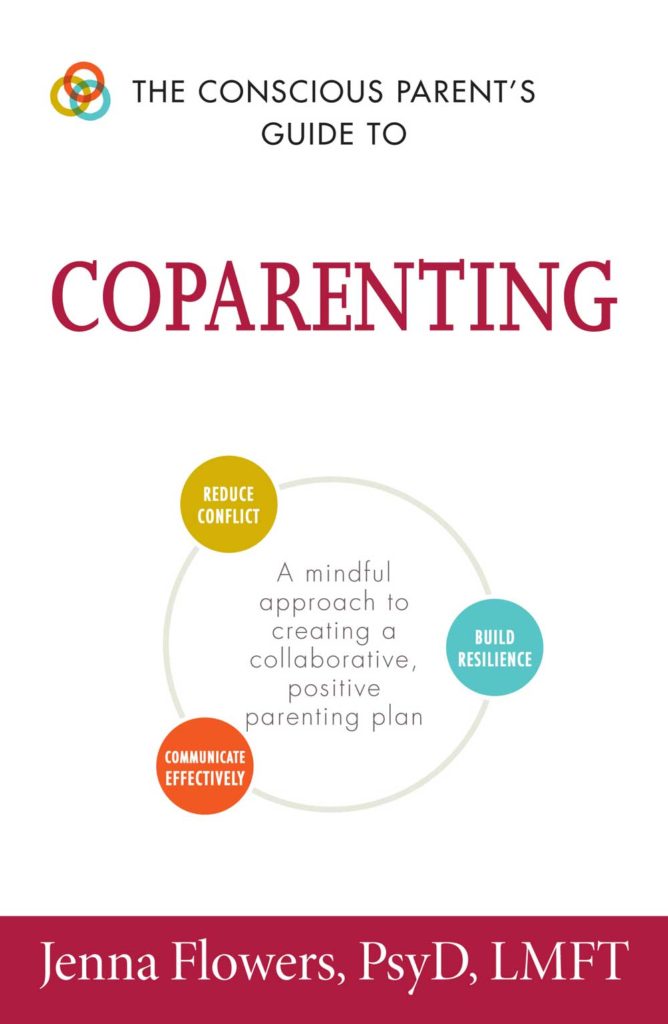 Dr. Jenna's courses, including Conscious Mothering
Our Facebook Community "Positive Co-Parenting After Divorce"
Our story, "Conscious Uncoupling Before it Was Cool"
Child psychologist Dr. Jenna mentioned, Dr. Daniel Siegel
One of Dr. Siegel's book, The Whole-Brain Child
Related Episode: Conscious Uncoupling with Katherine Woodward Thomas
Best Books to Read When You're Going Through Separation or Divorce
Blending Families: The Tricky Parts of Making Two Families into One
What to Do When You Want a Positive Co-Parenting Relationship But Your Ex is Making it Impossible

Some of Dr. Jenna's advice for people trying to co-parent well
"Be aware of being too dismissive or too intrusive in your parenting because I think sometimes people get anxious about feeling guilty or about the divorce so then sometimes they're overly intrusive with their kids. Because they become their whole world at the end of the marriage."
"You really want to be able to have the space for your child to have their social life too, and just be a kid. And then also, foster mutual respect with your co-parenting, respect their shared time. Practise gratitude. Be thankful for what your co-parent offers—what they're doing in the parenting."
"And be kind, and practise politeness. I know that sounds so simple but honestly, being kind and polite it just goes such a long distance with people."
Dr. Jenna's Favourite Parenting Advice
"I think I have two if that's okay. My first one would be what my co-therapist from the mothering group came up with, which is 'Strike when the iron is cold.' That means when we're in the heat of the moment with our kids we often really want to discipline and become really punishing and throw out the threats. Because we're really heated ourselves and we want to take back control of the situation."
"It really is best to give ourselves the space to reflect, think through it, take some deep breaths, figure out what was that about for me, why was I getting so triggered by my kiddo, and then come back and process that with my child. Often when I'm shooting from the hip, I'll say things that I regret and have to come back and apologize anyway. It doesn't mean that I'm not going to set limits with my kid, but it means I'm going to wait on setting that limit. Because otherwise it's going to become about me being triggered and not about what I'm trying to teach."
"The second piece of advice, a wonderful pastor told me years ago, 'The two goals in parenting are to promote our children and protect our children.' That has always stuck with me. So I'll often look at a situation and ask, 'I'm I trying to promote my child, or am I trying to protect?' And if I'm not doing either than I really need to sit on this one. If I'm doing too much work as a parent, I may be over-protecting. And there's a real difference between over-protecting and protecting. Because one is about the real safety of the child and the other just makes my anxiety feels reduced because I'm taking care of this, I'm fixing this for my child."
Are you a fan of the show? We'd dearly love your support.
Click here to visit our Patreon page and find out how you can become of a patron of the show to help us cover our costs. For as little as $1 per month you can help ensure the podcast will always be available.
Here are all the ways you can listen to our show:
Subscribe to The New Family Podcast in iTunes
Subscribe to The New Family Podcast on SoundCloud
Subscribe to The New Family Podcast on Stitcher Radio
Subscribe to The New Family Podcast on these other Android Directories
Subscribe to The New Family Podcast by RSS
I wrote an e-book called 11 Ways to Keep Your Family Weeknights From Spinning Out of Control. To get it for FREE, simply subscribe to our newsletter recapping the best of thenewfamily.com and the podcast!
Please follow and like us:
---
---
---